Mel Kiper Jr 2012 NFL Mock Draft: Prospects ESPN Analyst Slated Too High
April 16, 2012

For as much criticism as he takes, ESPN's Mel Kiper Jr. does a relatively good job piecing together his mocks during the pre-draft process. 
He's recently released his fourth edition, and although I agree with many of his picks, Mr. Kiper has slated a few prospects a tad too high. 
Let's take a look.  
Buffalo Bills - No. 10 overall: OL Riley Reiff
Kiper says: Buffalo has passed on offensive line options in recent years, but Reiff would be a good option to buck the trend. The Bills have made big strides on the defensive side of the ball this offseason, and that allows them to focus on shoring up the offense. Reiff will help protect, but is a complete player and will provide a spark in the running game as well.
My take: Reiff's a good offensive line prospect, but if you're taking a tackle in the top-10, he'd better be a franchise blindside protector. 
Although he's got size, he wasn't overly dominating in college and isn't the most athletically gifted lineman in the class. 
Actually, I think he's a better fit at right tackle or even guard. 
Buffalo's more pressing need is wide receiver, anyway. 
Dallas Cowboys - No. 14 overall: S Mark Barron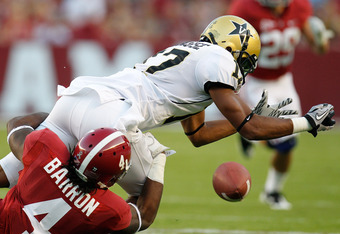 Kevin C. Cox/Getty Images
Kiper says: Dallas was aggressive in getting a solid corner in free agency with the addition of Brandon Carr, but the Cowboys still need help at safety to shore up the pass defense. I don't think another corner is out of the question at this spot, but Barron is the best safety in the draft, and the Cowboys can't go wrong if he's available. I can also see Dallas going offensive line here, as that unit could use some help, but Barron makes sense.
My take: Barron's easily the best safety in the class, but that's not saying much. He's a physical, run-stopping safety that is an adequate pass defender. 
While the Cowboys could certainly use Barron, they'd be better off with a more rangy, ball-hawking safety prospect. 
I don't hate this pick, but to me, Barron belongs in the late-stages of the first round. 
New England Patriots - No. 30 overall: DL Derek Wolfe
Kiper says: Will fit best as a 3-4 DE, where he can use his size (6-5, 295) to become a disruptive pass-rusher. Not considered explosive in terms of foot speed, he plays with great leverage and can disrupt pockets by driving linemen back, demanding extra help. Another good fit for the Patriots as they add pieces up front.
My take: Wolfe's certainly an interesting prospect, and is probably a guy the Patriots have higher on their board than other teams. 
However, he's simply not a first-round talent. They could address the interior of their defensive line with a guy like Jerel Worthy or Kendall Reyes. Even Andre Branch, a edge-rushing specialist would make more sense for New England. 
Then again, they'll probably trade this pick.