The Pittsburgh Steelers Re-Sign Charlie Batch, Can Avoid Drafting a QB This Year
April 16, 2012

Karl Walter/Getty Images
Pittsburgh Steelers head coach Mike Tomlin said a few months back that drafting another quarterback could be a possibility, as the backup situation for starter Ben Roethlisberger was looking a little thin. But now, they won't likely have to use one of their 10 picks this year now that veteran backup Charlie Batch is back in the fold.
The 37 year old Batch received a new one-year deal to remain the No. 2 behind Roethlisberger, with the No. 3 likely being Troy Smith, who was picked up by the team in January.
This probably means the end of Byron Leftwich's time in Pittsburgh. He recently was reported to have been courted by the Indianapolis Colts (where former Steelers offensive coordinator Bruce Arians currently works) to be Andrew Luck's backup and mentor.
Batch has seven starts as a Steeler under his belt and has gone 5-2 in that span, including a 27-0 win over the St. Louis Rams on Christmas Eve 2011.
Despite his age, he's proven to be a reliable backup for Roethlisberger over the years, and he provides the team with much-needed veteran presence at the position should Roethlisberger miss any time in 2012 to injury.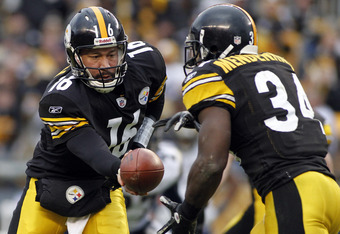 Justin K. Aller/Getty Images
The Steelers haven't had any interest in bringing back free-agent quarterback Dennis Dixon (who has generated interest elsewhere this offseason, including in Baltimore). Though they do want Leftwich back on the roster, it might not be possible if the Colts really are that sold on him backing up Luck.
Aside from Batch and Smith, the team also has Jerrod Johnson on the roster; he will likely head up the practice squad this year.
The re-signing of Batch is the latest in a small flurry of roster moves that the Steelers have made over the past week.
First, they brought on free-agent tight end Leonard Pope (formerly of offensive coordinator Todd Haley's past teams the Arizona Cardinals and Kansas City Chiefs), and then they re-signed wide receiver Jerricho Cotchery to a two-year deal.
Tomlin had mentioned the possibility of drafting a quarterback this year (going so far as to treat Michigan State's Kirk Cousins to dinner before his pro day), but he said that whoever it would be would not be groomed to be Roethlisberger's successor.
Now that Batch is back, don't expect the Steelers to use a pick on the position this year, instead focusing on shoring up other areas of more immediate need.