Boston Marathon 2012 Results: Geoffrey Mutai's Olympic Dreams Now in Jeopardy
April 17, 2012

Patrick McDermott/Getty Images
In a stunning turn of events, defending champion Geoffrey Mutai, considered by some to be the world's best marathon runner, did not finish today's heat-marred Boston Marathon.
As a result, Mutai's chances to make the Kenyan marathon team for the 2012 London Olympics have taken a major hit.
From the Associated Press (via USA Today):
Last year's winner didn't fare so well.

In 2011, Kenya's Geoffrey Mutai ran the fastest marathon in history on the Boston course (2:03:02) but dropped out on Monday after 18 miles with stomach cramps — possibly losing an Olympic berth.
A tweet from the official Boston Marathon account added:
"M: Mutai dropping out may cost him a chance to represent Kenya at the London Olympic Games this summer."
While Mutai faltered, several of his fellow countrymen prospered. Kenyan runners finished first, second and third in both the men's and women's divisions. Wesley Korir won the men's race in a time of 2:12:40, while Sharon Cherop won the women's race in 2:31:50.
Various outlets, including the International Association of Athletics Federations and the running blog LetsRun.com listed Mutai as the heavy favorite coming into the 116th Boston Marathon.
LetsRun.com offered the following metaphor for the uninitiated:
It's sort of like one of those golf questions from back when in Tiger Woods was in his prime - 'Do you want Tiger or the field?' Well, the field is normally the smart pick as even in his prime, Tiger wasn't winning half the time. Well, Boston isn't as stacked as London, but a very strong field has been assembled this year and Mutai's victory is by no means assured.
So, Tiger Woods has lost—even worse, he didn't finish the race.
What does this mean for Mutai?
It means his bid to compete in the Olympics is very much in question, despite the fact that he came to Boston as the world's third-ranked marathoner (h/t ESPN.com).
The fact that an athlete so well-regarded in his sport might not qualify for the Olympics is a testament to Kenya's utter dominance in the men's marathon. Thirteen of the world's Top 20 marathoners hail from Kenya, including six of the Top 7 and each of the Top 5.
Whatever calculus you prefer, one thing is clear: The competition for Kenya's three slots in the London Olympics marathon is fierce.
Emmanuel Mutai and Patrick Makaku, two of Geoffrey Mutai's chief competitors for a Kenyan Olympic bid, will run the London Marathon on April 22. According to BBC Athletics, Kenya will select its three Olympic marathoners eight days later.
So, while Geoffrey has made his final statement, his rivals get one more chance to turn the tide in their favor.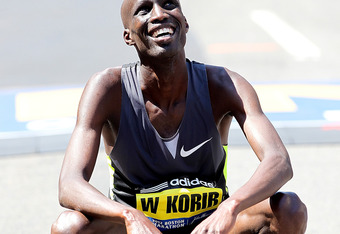 Jim Rogash/Getty Images
That can't be a comforting thought for him.
Naturally, the selection committee will have to account for the adverse conditions Geoffrey faced during today's race. The AP reports that temperatures climbed into the 80s, prompting as many as 4,300 runners to skip the race.
That is in stark contrast to last year, when temperate conditions and a prominent tailwind spurred Geoffrey to the fastest-ever marathon time.
He must now hope that his prior results are enough to see him through a poor final showing.
Former distance runner Bill Rodgers, a four-time winner of the Boston Marathon, told The Boston Globe yesterday, "If [Mutai] wasn't selected, I would be dumbfounded and fall on the floor."
One wonders if Rodgers would express the same astonishment after today's proceedings.
American Jason Hartmann finished fourth in the men's pool. On the women's side, Mayumi Fujita's seventh-place finish represented the best showing for an American woman.