2012 Stanley Cup Playoffs: The Power-Play Is Key in Capitals vs. Bruins Series
April 16, 2012

Elsa/Getty Images
Game 3 of the Eastern Conference semifinals will see the Washington Capitals return to the Verizon Center. With their series with the Boston Bruins tied at 1-1, this game will surely be a big one.
In the first two games of this series, the Caps have scored but two goals on the 56 shots they've fired at Tim Thomas. The Bruins have also only found twine twice in the 74 shots that have made it to young Braden Holtby.
As the two low-scoring games would show, scoring chances have been hard to come across, whether playing at even strength or with a man advantage. Neither the Caps nor the Bruins have converted on the power play.
The Caps have been on the power play five times this series, while the Bruins have been up a man six times.
That said, whichever team can find its niche on the power play first would gain a tremendous advantage in this series.
In the latest installment of his Washington Times blog, "Capitals Watch," Stephen Whyno spoke with star center Nicklas Backstrom, who said:
You've got to try to get more shots, get the shots through, traffic in front of the net. All the shots we've been taking right now, he's seen all the shots. We've got to create traffic and screen the goalie a little bit more.
You can't score unless you shoot the puck. That goes for both five-on-five or the power play.
From what I've seen, the Caps have struggled to set up an efficient power-play cycle. Obviously, keeping the puck in the Bruins' zone is important.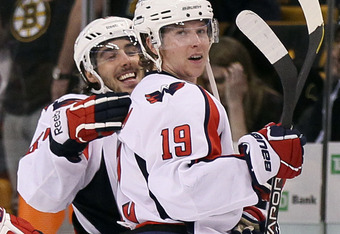 Elsa/Getty Images
Once they establish a cycle and have the Bruins back on the defensive, it's time to implement what Backstrom was talking about. Have a guy like Brooks Laich in front of the net to screen the goalie and look for tip-ins.
Also, Dennis Wideman and Alexander Ovechkin—to name two—can be lethal shooters from the point.
Wideman is especially dangerous when shooting from the blue line. When the Caps played the Toronto Maple Leafs on December 9, Wideman scored twice on the power play. If I remember correctly, both goals came from point shots.
Going back to Backstrom's point, traffic in front of Boston's goaltender is important in making sure the point shooters on the power play are best utilized.
If the Capitals can continue to launch the pucks at Thomas and try to get some traffic in front of the net, it will only be a matter of time before they score on the man advantage.
Any goal could end up being the difference-maker in not just one game, but in the entire series.