Spurs vs. Lakers: TV Schedule, Live Stream, Spread Info and More
April 17, 2012

Stephen Dunn/Getty Images
Kobe Bryant is expected to sit out his sixth straight game when his Los Angeles Lakers (39-22) take on the San Antonio Spurs (43-16) on Tuesday evening.
Although both teams have already locked up playoff berths, the Spurs have already clinched the Southwest Division while the Lakers are still battling with the crosstown rival Clippers for which team comes out on top in the Pacific Division.
Despite the Spurs playing on Monday night against the Golden State Warriors, Tim Duncan, Tony Parker and Manu Ginobili should all be feeling well-rested as each key contributor played fewer than 15 minutes in the blowout victory.
Where: Staples Center — Los Angeles, Calif.

When: Tuesday, April 17, 10:30 p.m. ET

Watch: TNT

Live Stream: NBA League Pass

Listen: ESPN 710 AM (Lakers), 1200 WOAI/1350 KCOR (Spurs) 
Betting Line: Not available, according to Bovada.lv at 7:30 a.m. on 4/17.

Key Injuries: Kobe Bryant (shin)
What They're Saying
Bryant has been drawing a lot of attention on the sidelines even though he hasn't been playing, and it's not just because of his sharp suits.
He's been noticeably coaching up his teammates at various points in the game, and it's been intriguing to watch him play that role while out with his shin injury.
Kobe has also borrowed the elevated chair that Phil Jackson used to sit in when he was still coaching the team. However, that's not the only thing Bryant has borrowed from Jackson (via Kevin Ding, Orange County Register).
Bryant has been everywhere, preparing everyone for everything – and commanding nothing, which is completely uncharacteristic of him.
Jackson and Bryant are actually in far more regular contact than you might imagine, so Jackson isn't altogether invisible.
The "Zen Master" has left a good mark on the Lakers despite no longer being around the team.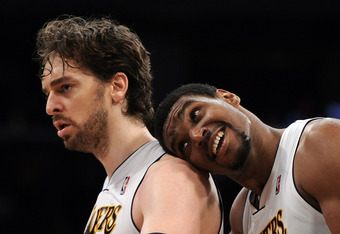 Harry How/Getty Images
Most Important Player to Watch: Andrew Bynum, C, Los Angeles Lakers
Bynum lit up the Spurs for an insane 30 rebounds the last time these two teams met, including eight on the offensive glass.
The Lakers' length will certainly give the Spurs problems, but San Antonio can't afford to allow Bynum to dominate inside like he did when the teams played just six days ago.
Los Angeles will be looking to go to Bynum early and often, and there is no doubting what the plan of attack will be following Bynum's dominant performance in the last one.
Key Matchup: Ramon Sessions vs. Tony Parker
Each point guard struggled the last time these two teams played, but a strong game from either one could be the X-factor that swings the rematch in a particular direction.
Sessions had just 10 points and five assists, while Parker logged only four points to pair with eight assists and neither player had a huge impact on the flow of the game.
Each team should be looking to stretch the floor early to open up some options inside, and both Sessions and Parker will play a crucial part in that as they'll have to use their ability to penetrate to find open shooters on the perimeter.
Prediction
Lakers 97, Spurs 92