National Lacrosse League 2012: Week 16 Previews and Predictions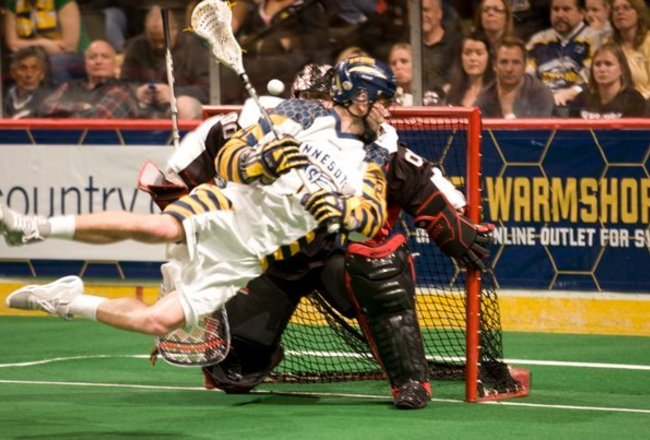 Jordan MacIntosh with the diving, Around-The-World shot (Photo: mnswarm.com)

The NLL playoff picture is continuing to come into focus.
After last week's games, both the Minnesota Swarm and Rochester Knighthawks have earned playoff berths. This leaves two spots open for the three teams still on the outside looking in.
Four of the five games on tap this weekend have major playoff implications for the bottom three teams. The other teams will also be jockeying for position, trying to gain as much advantage as possible.
The other big storyline still ongoing is John Grant Jr. and his pursuit of the single-season scoring record. Now at 104 points, he still has two games to run down John Tavares' record of 115. One really good night could do it; two nights of sub-par performance (for Grant, at any rate) will still accomplish the feat.
Edmonton Rush (5-8) vs. Colorado Mammoth (11-3)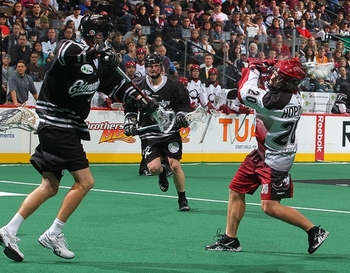 (Photo: Michael Martin)
The Rush came up big in a game last week against the Buffalo Bandits.
However, the 2012 Bandits are not the 2012 Mammoth.
Of the three teams still fighting for a playoff spot, the Rush are the only team that can still get to .500 if they win the rest of their games.
The problem is that those last three games are against three of the top four teams in the NLL. But the good news is they only have to win one of those three games to seal up a playoff spot.
Colorado has gotten back to steamrolling teams after a bit of a mid-season lull. John Grant Jr. is continuing to be utterly dominant, averaging a whopping 8.7 points per game. With solid contributions from Gavin Prout and Adam Jones, the Mammoth have been averaging 17 goals a game over their last three.
Edmonton will be relying on their solid defense and Aaron Bold's excellent goaltending to keep them in the game. If it comes down to pure scoring, the Rush simply don't have the arsenal the Mammoth have. Shawn Williams is having a solid season, as are Zack Greer and Scott Evans, but the Rush have only managed to score 10 or more goals six times in 13 contests to date.
I'm looking for a 13-11 win for Colorado in this one.
Toronto Rock (7-7) vs. Washington Stealth (4-10)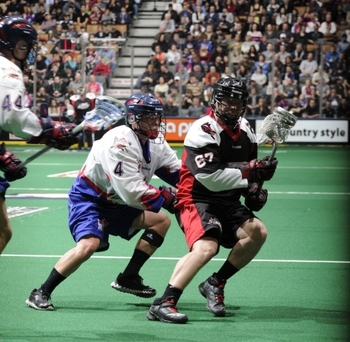 (Photo: torontorock.com)
How the mighty have fallen.
Since the Washington Stealth moved to Everett from San Jose, they have been to the Champion's Cup both years, winning it once.
This year they are in dead-last in the league and in real danger of not even making the postseason. They either need to win twice and have Rochester beat Philadelphia, or they need to beat Buffalo and have Buffalo lose to Rochester. It's complicated.
So, in spite of the fact that this is the second meeting of the year between the defending East champs and the defending West champs—with the Stealth winning in March—it is shaping up to look pretty one-sided in favor of the Rock.
The Rock are once again at the top of their division, tied with the Philadelphia Wings for first. Although they were soundly defeated last weekend by the Colorado Mammoth, their offensive output was solid, with 12 goals scored.
The return of Blaine Manning to the lineup has signalled a return to a more consistent and balanced attack by Toronto. Meanwhile, Colin Doyle's four points last weekend moved him into a second-place tie with Gary Gait on the all-time scoring list.
By contrast, Washington's offense sputtered last week against Minnesota. The Stealth need their snipers to step up if they are going to compete in this game.
I have to go with Toronto on the road in this one. I'm calling it a 12-11 squeaker for the Rock.
Rochester Knighthawks (6-8) vs. Buffalo Bandits (5-9)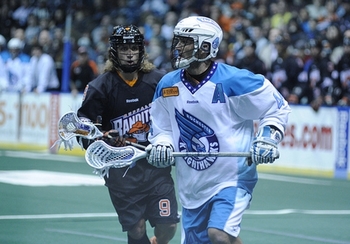 (Photo: Ward Laforme)
Rochester secured a playoff spot last weekend with a home victory against the Calgary Roughnecks. Buffalo got beaten by the usually anemic Edmonton Rush offense. Those two events add up to Buffalo being in pretty bad shape.
Amazingly enough, however, if the stars align just right and the Bandits win their last two games, they could actually win the East division!
Based on their recent history, though, that looks like a real stretch.
The Bandits have only won one of their last four, scoring fewer than 10 goals a game in all three losses.
Notwithstanding the continued excellent play of John Tavares (38 G, 35 A) and Luke Wiles (35 G, 29 A), there just hasn't been much good to say offensively.
On the upside, their checking has been good. Having collected 974 loose balls as a team, they have outdone their opposition by almost one hundred balls. Of course, the trademark aggression of the Bandits has also led to 100 penalty-kill situations for them, as compared to only 88 power-plays.
The Knighthawks have looked pretty good in their last two games, both of which were played against the Calgary Roughnecks. After getting behind early, they nearly came back to win two weekends ago and last weekend they took it to the Roughnecks in the middle frames and won.
Although Cody Jamieson (35 G, 42 A) continues to pace the offense, rookie Johnny Powless has come on strong recently, posting identical three goal, four assist games against Calgary.
At the end of the day, Buffalo's inconsistent play in the last month makes me think they'll be in trouble against Rochester. I'm calling it a 13-10 Knighthawks win.
Philadelphia Wings (7-7) vs. Minnesota Swarm (7-7)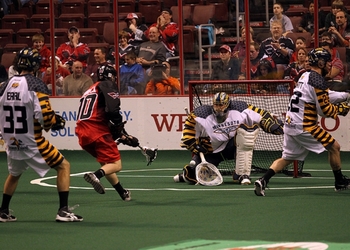 (Photo: mnswarm.com)
While Philly had a week off, Minnesota put the boots to the Washington Stealth and locked up the third playoff spot in the West.
The Wings' last game was against the Swarm and they came up well short, losing 13-9. Their one-two punch of veteran Dan Dawson and rookie Kevin Crowley will have to do much better against the Swarm's rookie goalie tandem if they want to stay in first place in the East.
Minnesota is solidly in third place in the West and riding a two-game winning streak. The platoon of Tyler Carlson and Evan Kirk between the pipes is continuing to pay dividends, with their combined goals against average at an excellent 10.95.
The return of Ryan Benesch to the Swarm lineup last week after losing some time to a concussion was a great sign for the offense, and makes them a serious threat heading into the playoffs.
The way Minnesota has been playing recently, I have to give them the edge. Call it a 13-11 win for the Stealth.
Calgary Roughnecks (11-4) vs. Edmonton Rush (5-8)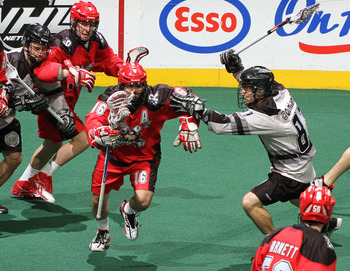 (Photo: calgaryroughnecks.com)
The final game of this week's NLL slate sees the provincial rivals meeting for the fourth and final time of the year, this time in Edmonton.
Historically, the Roughnecks have utterly dominated this rivalry. They are 19-4 against Edmonton, including having won the last nine in a row.
Over and above that, Calgary will be looking to move past a tough loss last weekend to Rochester and get back into the win column heading into the post-season.
Last weekend, for the first time in two years, Mike Poulin was not in the starting lineup for Calgary. With the "Poulin Wall" at home resting and recovering from a lower body injury, rookie Frankie Scigliano got the nod in net and acquitted himself reasonably well, picking up some valuable experience in the meantime.
If Poulin still isn't good to go on Saturday, expect to see Scigliano back between the pipes.
Edmonton, meanwhile, faces the top two teams in the NLL this weekend and will be fighting to pick up a win in one of those games. Collecting that win at home against their arch enemies from down the highway would be particularly sweet.
Aaron Bold will need to be especially sharp in net for the Rush as he faces not only the two winningest teams in the league, but also the two best offenses. He'll need to be at his very best to keep his team within striking range, as Edmonton's offense has the fewest goals for in the NLL.
An interesting sidebar to this game is the brotherly rivalries. Calgary and Edmonton both have an Evans brother and a Cornwall brother: Shawn Evans and Travis Cornwall for Calgary, Scott Evans and Jeff Cornwall for Edmonton. It will once again be interesting to see who elevates his game to stick it to his sibling.
On paper this appears to be no contest, although the Rush have made a few games much closer than expected. I'm still going to go with Calgary, 13-11 over Edmonton.
Keep Reading