Bring Me the Head of Sidney Crosby
April 16, 2012

And Arron Asham. And James Neal. And Craig Adams.
Let's start with the appropriately named Kid. Or perhaps "Kid" is too generous. Is there a bigger baby in sports than Sidney Crosby? Knocking away Jake Voracek's glove is no big deal. That's just part of the game. But it's what he did before and after in the first period of Sunday's Eastern Conference Quarterfinals game that were typical Crosby behavior.
This particular incident started when Crosby took several whacks at Ilya Bryzgalov's glove after the goalie had frozen the puck. The first whack was borderline legitimate, the second and third over the line.
The subsequent pushing had subsided when Crosby went after Kimmo Timonen. Not surprisingly, Crosby never dropped his gloves. He ended up fighting with Claude Giroux, then waited till he was safely in the penalty box, separated by distance and glass, before exchanging words and trying to act tough. 
Late in the game, Crosby grabbed the back of Scott Hartnell's jersey from behind. When Hartnell tried to oblige, Crosby hid behind Craig Adams, who double teamed Hartnell and threw five punches at the back of Hartnell's head before the Flyer could free himself. Meanwhile, Giroux pulled Crosby away from Hartnell. Crosby declined to drop his gloves with Giroux and Schenn.
After the game, Crosby, sounding on the verge of tears, said, "I don't like any guy on their team." Boo-hoo. 
It's interesting to note that the Flyers haven't taken any runs at Crosby, who has played only 63 regular season games the last two seasons due to the effects of a concussion.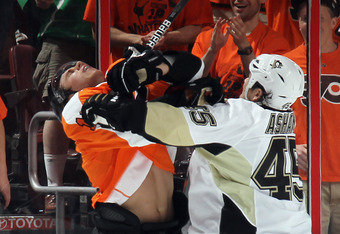 Bruce Bennett/Getty Images
Every check on Crosby has been clean. No headshots.
The same cannot be said for the Penguins. In the first period, Arron Asham followed Brayden Schenn's clean hit on Paul Martin with a cross check to the chin and a punch to the back of the Flyer's head after he lay defenseless on the ice.
In the 3rd period, James Neal got into the act, leaving his feet and hurling himself at Sean Coutrier. The play – and the puck – was behind Couturier. Neal later went head hunting on Claude Giroux, precipitating the Adams-Hartnell fight.
Giroux, not coincidentally, missed four games in December after suffering a concussion. 
And so the Penguins flew back to Pittsburgh after the game to prepare for Game 4 on Wednesday. If it's apparent at the end of that game, or a future game, that the series will be over, the Flyers may want to exact some revenge.
Maybe the Flyers won't be so respectful of Sidney Crosby's stature in the game. Maybe Crosby won't be able to hide behind a teammate or a linesman. Maybe he's playing with fire given his history of concussions.
We'll see on Wednesday.