Green Bay Packers Mock Draft: Trade Down Then Up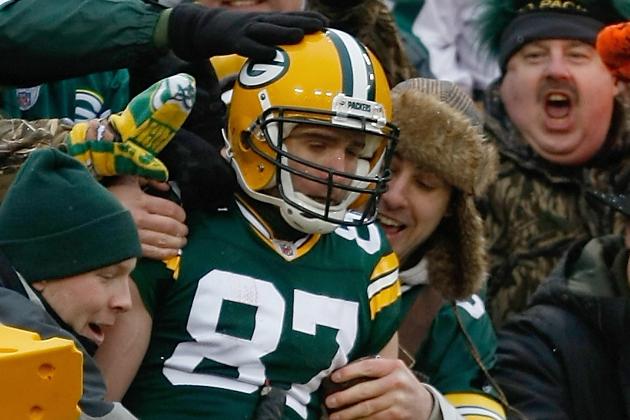 Scott Boehm/Getty Images
Jordy Nelson may go down as one of the best "trade down" picks in many years. Will the Packers trade out of the first this year?
In general manager Ted Thompson's tenure, he's played every angle of draft strategy.
From trading up to land Clay Mathews in 2009 in what many thought was a costly move (more than most trade charts would suggest) at the time, to trading down for wideout extraordinaire Jordy Nelson in 2008, Thompson is envied league-wide for his roster.
Though the Packers could very well stay put and land another quality player, this mock takes some creative license by envisioning a trade down out of the first round.
Using a basic trade chart, the approximate value of the Packers 28th pick is 660 points.
With this in mind, this scenario posits that the Packers could find a trade partner to trade out of the first round with the Seattle Seahawks for the 44th pick in the second round (worth 460 points). With 220 points remaining, it works out well to envision the Packers also receiving the Seahawks' third-rounder (76th player in the draft, worth about 210 points).
Thus, the Packers' picks after this trade would look like this (asterisks denote trade with Seahawks):
Second (44th pick)*
Second (60th)
Third (76th)*
Third (92)
Fourth (124)
4a (compensation pick)
4b (comp)
Fifth (156)
Sixth (188)
Seventh (from Jets)
7a
7b (comp)
7c (comp)
Since Thompson isn't in a re-build mode (obviously), he won't necessarily want MORE picks. Thirteen total picks is a ton, so this is where the "trade up" portion comes into play...
Begin Slideshow

»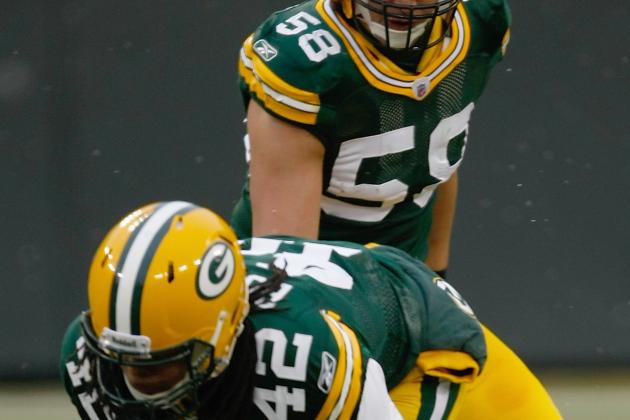 Scott Boehm/Getty Images
Ball-hawk Morgan Burnett is a good example of an ascending mid-round pick.
Since compensation picks can't be traded, the Packers could then use their normal third and fourth picks, worth 180 points in trade chart value, to move up about 10 slots. This is where the Chargers currently pick at selection No. 82.
Chances are, if the Chargers didn't want to part with their pick, either the Bengals or Titans (around the same draft territory) might be interested in adding a greater volume of picks to strengthen their overall roster.
Never content to stop wheeling and dealing, let's take the liberty to envision Thompson trading his standard fifth- and sixth-rounders as well as the seventh-rounder they received from the Jets (worth 53 points total in the trade chart) to add a late fourth-rounder of equivalent value (around the 121st pick).
The resulting trades would leave the Packers with a more manageable total of 10 picks. It would also give them a better chance to land a more talented player in the middle rounds (rather than loading up on so many late picks).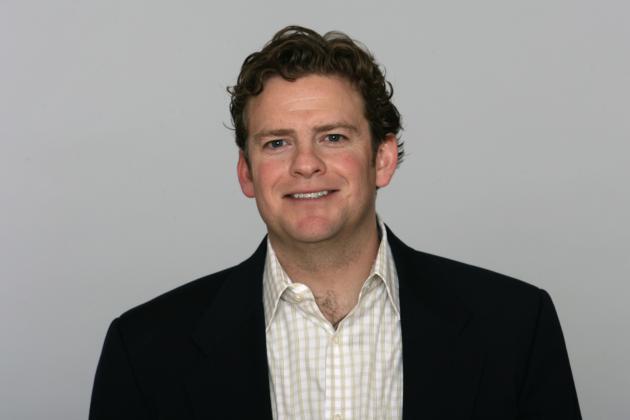 Handout/Getty Images
As GM of the Seahawks, John Schneider has roots in the Packers organization. Perhaps this will enable mutual trading between Green Bay and Seattle.
Let's take a look at the post-trading list of picks in a more linear format.
Here's what the Packers picks would look like based on these trades (*=Seattle trade down, **=San Diego trade up, + = Houston trade up):
Second (44th pick)*
Second (60th)
Third (76th)*
Third (82)**
Fourth (121)+
4a (compensation pick)
4b (comp)
Seventh
7a (comp)
7b (comp)
A lot of draft experts are suggesting McClellin is moving up into the first round, but most of these same pundits see the Packers as the main driver for his rise.
With this in mind, I'm predicting McClellin is still available at No. 44.
As I've explained in previous mock drafts, McClellin epitomizes the "Packer people" Thompson and McCarthy seek to bring in.
McClellin is more athletic than he gets credit for and, unlike many other OLB and DE prospects, has an endless motor.
With a strong work ethic and humble background, McClellin will fit well in Green Bay while providing another threat opposite All-Pro Clay Mathews.
Otto Greule Jr/Getty Images
This man is not deprived of size, let's put it that way.
It's well noted that finding 3-4 nose tackles with athletic ability is a rare occurrence. Each draft year has less than a handful of prototypical nose tackles equipped to play the 3-4. This year, once Dontari Poe is drafted in the first round, Ta'amu will be reached for in the second or early third round with a number of teams targeting him.
In this scenario, the Packers pounce at the opportunity to add an athletic 3-4 nose.
The reasoning? When the Packers were in base 3-4 the past year and a half, they often used three nose tackles on the line at once (Howard Green, B.J. Raji and Ryan Pickett). This suggests Dom Capers likes this type of lineup for run support.
What better way to improve on the loss of Howard Green while also preparing for the twilight of Pickett's career than drafting Ta'amu?
Further reason this pick makes sense is Thompson's philosophy of never having enough quality big men in the trenches.
Chris Polk, RB, Washington

With no intention of drafting two Washington products, let alone back-to-back, it just so happens that Polk would add the final, ultimate weapon to the Packers' already-dominant offense: a pass-catching running back.
Polk's soft hands and advanced route running ability for a college running back has been documented widely in draft circles.
While Alex Green (drafted in the third round of last year's draft) is coming back from injury, it couldn't hurt to shore up the running back corps.
James Starks is a weapon but rarely healthy. Ryan Grant is reaching the wrong side of 30 and really doesn't pass-catch in a pass-happy NFL.
In recent years, the running back depth has been so debilitated by injury that fullback John Kuhn took over carries in 2010, and practice squad flyer Brandon Saine became commonplace in the backfield in 2011.
With tutelage, I envision Saine as the future blocking back to protect MVP Aaron Rodgers and Polk as a new wrinkle, pass option and respectable runner on standard zone-running plays as well. There would still be room for the talented Green to make plays too.
Josh Norman, CB, Coastal Carolina
For a more detailed analysis of Norman, click here to see my previous mock.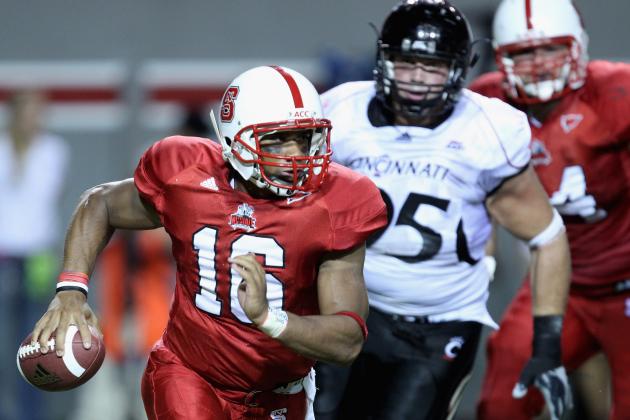 Streeter Lecka/Getty Images
The big fella Derek Wolfe chasing down N.C. State's Russell Wilson 2 seasons ago.
With a knack for finding talent after the first round, expect Thompson to make some amazing finds in the mid-rounds this year.
Derek Wolfe, DE, Cincinatti
You can't teach motor, and Wolfe brings it every play. Wolfe may be a "tweener" on the defensive line, but with an advanced defensive mind in defensive coordinator Dom Capers, Wolfe would find an effective role with the Packers while improving the pass rush along the line.
Anthony Hargrove was a nice, cheap, short-term signing, but Thompson will continue to add pass rushers with McClellin and Wolfe.
George Iloka, S, Boise State
I've been wanting to find a way to have Iloka in a mock since before the combine and when Walter Football recently had Iloka in the fourth going to the Packers, I had to concur.
For a big safety, he's skilled in coverage, making him a rare type of prospect for the secondary. Even if Nick Collins comes back, it could be worthwhile to groom a third safety, and it may even be possible to use Iloka's versatility as a dime corner as well.
Tony Bergstrom, G/T, Utah
I've stuck with this pick since early March, and I think it still makes sense the way this latest mock unfolds. Thompson will have to invest in blockers for his franchise quarterback as a high priority year after year. Bergstrom has the versatility Packers' brass looks for and a great background.
Very few coaching staffs in the NFL have developed late rounders into viable game-day options the way the Packers have in recent years.
With this in mind, don't sleep on the Packers' multiple seventh-rounders this year.
Austin Davis, Southern Miss, QB
It wouldn't surprise me if the Packers invested much earlier than this in a QB, but if not, Davis is the man in the seventh. More in-detail explanation can be found here.
Scott Wedige, Northern Illinois, C
Another guy to compete for the backup center spot with upside to possibly take over for Jeff Saturday if given development time.
Matt Conrath, Virginia, DL
Call this a luxury special teams pick. Much like last year, a loaded roster means a team like the Packers can take a flyer on someone like Conrath.
With a knack for blocking field goals and few teams viewing him as a viable DT in the 4-3 or DE in the 3-4, it may allow Conrath to develop on the practice squad without the Packers getting raided by other teams.
With a 6'7", 280 lb frame, Conrath could become a force with added strength and time to develop technique (needs consistent "low pad level," as McCarthy's mantra goes).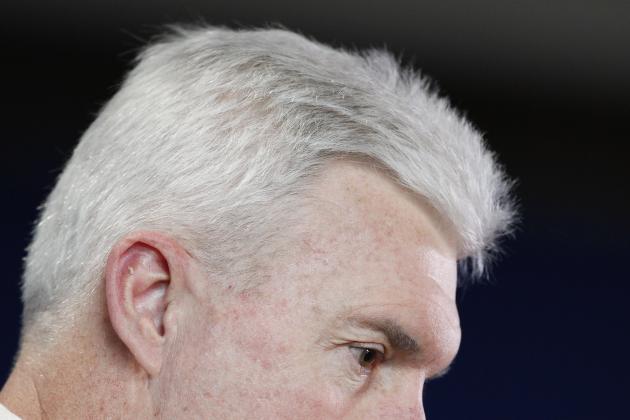 Joe Robbins/Getty Images
One thing's for certain: GM Ted Thompson will have some surprises up his sleeves on draft day.
None of us know for sure if the late first round will prove to be as lackluster in talent as many are predicting, but if it is, trading out of the first round may be a smart move.
With an abundance of quality talent in the second and third rounds, this trade scenario gets the most bang for your buck.
This mock increases the Packers' talent from top-to-bottom while coincidentally meeting needs through a best-player-available approach that Thompson preaches.
The biggest surprise of this mock draft may be reaching for Ta'amu in the second, and I recognize that as an "out there" pick.
That said, most scouts recognize there are very few human beings with the size, strength and athleticism of a guy like Ta'amu walking the earth. Furthermore, every 3-4 team repeatedly emphasizes that the whole defense revolves around the success of the nose.
With no rush to start Ta'amu, the Packers could position themselves well to give Raji and Pickett rest and one day allow Raji to wreak havoc all across the defensive line depending on the situation.
That said, regarding the reach or surprise factor, who saw most of Thompson's picks coming?
Nobody thought they'd take a top-talent WR last year (Randall Cobb) and it was widely reported that the Packers intentionally ignored Clay Mathews to avoid showing their cards when they ultimately got him in 2009. Greg Jennings was met with some question marks coming out of a tiny school as a second-rounder... and we could go on and on.