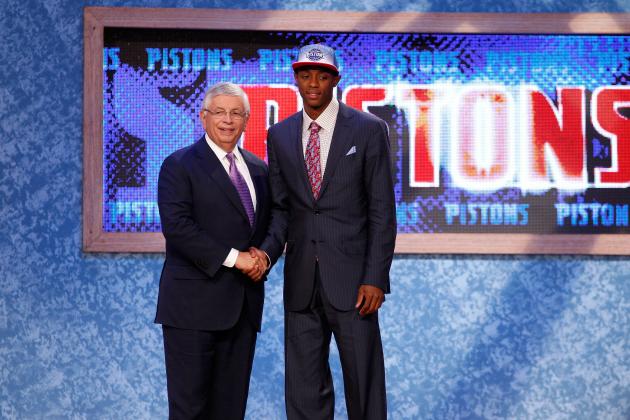 Mike Stobe/Getty Images

While many pundits are chatting up the NFL draft, we often overlook the NBA draft and who is in and who is out. This year's NBA draft looks to be deep on talent, and the first round could have upward of 15 possible future all-stars.
The draft is deep at both forward positions and at shooting guard, but rather weak at center and point guard. There are some names I did not include who could slide in at some point like Kris Joseph, John Shurna and Yancy Gates.
Begin Slideshow

»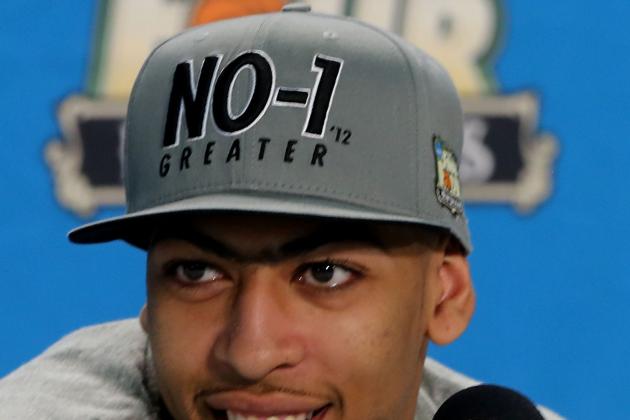 Jeff Gross/Getty Images

The Charlotte Bobcats need help all over their lineup and who better to help build up the team than the defending player of the year, freshman of the year and defensive player of the year in college basketball.
Anthony Davis brings a lot to the table in the pro-style game. He may need a couple of seasons to really bulk up, but when he does, look out—he will dominate the interior for more than a decade. While I do not see Davis as an elite scorer, he should average between 15 and 20 points per game in the NBA. He will, however, dominate in many other areas.
Davis has some of the best ball-skills of a big man we have seen in years. He can control a game without making a shot and makes the opposition change their game plan when he is in the game. He is a force in the middle and can even slide out and show off some range. I think he can play like Dirk Nowitzki on the outside and Al Jefferson in the middle. He should be exciting to watch from day one.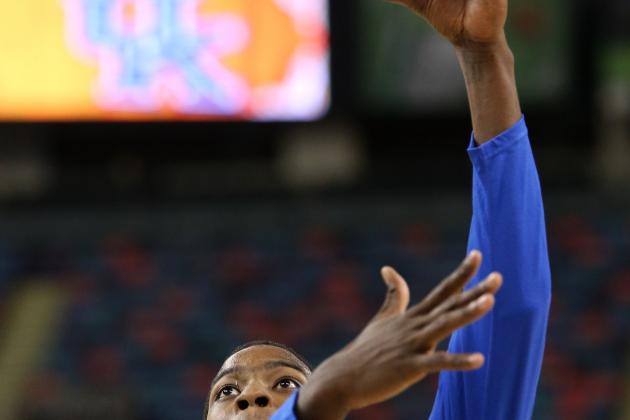 Ronald Martinez/Getty Images

The Washington Wizards have a franchise point guard, but they lack a supporting cast to help make him better. The second-best player in the draft is Michael Kidd-Gilchrist, and as we have seen this past season, Kidd-Gilchrist makes his team better all around. The Wizards should jump all over him with the second pick.
Michael Kidd-Gilchrist is a natural leader and game changer. He has massive amounts of ability and can score at will when needed to. We did not get a chance to really see his offensive prowess at Kentucky, due to the team being loaded all around and his unselfish style of play.
When he enters the NBA, he will be a scoring threat and could easily become a 25 PPG player at that level. Kidd-Gilchrist needs to work on his range, but he really started to come along during the tournament. This is my pick for rookie of the year in the NBA in 2013.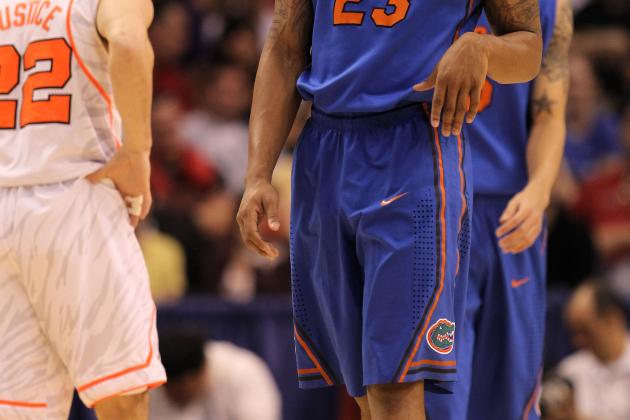 Jamie Squire/Getty Images

The New Orleans Hornets do have a talented shooting guard in Eric Gordon, but it appears they will dangle him as trade bait this offseason. The Hornets must find someone who can score the ball and can show range. Bradley Beal has more range than almost anyone in the draft, except for John Jenkins and possibly Doron Lamb.
Bradley Beal has opportunities to take over on both ends of the court and should be able to do so early in his career. He reminds me of a young Jason Terry with his shot and he has shown a knack for getting to the rim. Beal is going to be a star some day.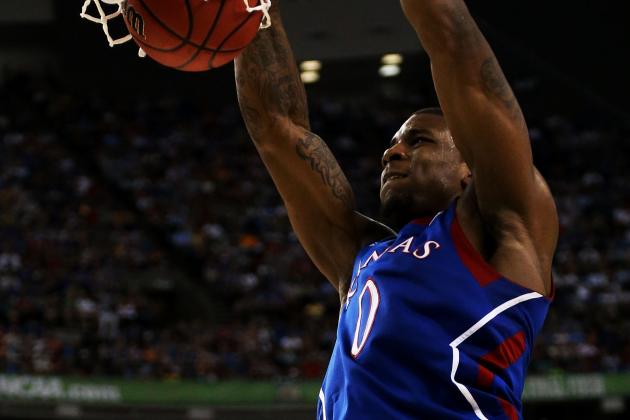 Ronald Martinez/Getty Images

The Sacramento Kings seem lost in translation a bit. They have immense talent on their team, but seem to lack that true leader to help put them over the top. DeMarcus Cousins is elite with talent, but lacks motivation and the drive to help this team grow. Tyreke Evans is almost in the same boat as Cousins. While it may not look good to draft another power forward here, the Kings desperately need a leader and Thomas Robinson is it.
I do not think Robinson will be an offensive force in the NBA, but his defense and leadership qualities are what the Kings need. Robinson can provide a spark off the bench or can line up with Cousins to help him down low. Like I said, Robinson will not be elite, but he will turn this team into a winning franchise. The Kings have to pick him here if he falls.
Jim McIsaac/Getty Images

Andre Drummond has more upside than anyone else in the draft, but he is also the highest risk pick as well. Drummond can either turn into Dwight Howard or Kwame Brown, but I think his upside alone allows him to be taken in the top five.
The Cleveland Cavaliers have lacked an interior presence since Zydrunas Ilgauskas left a few years ago. Drummond may be seen as a bit of a project initially, but if he puts in the work, he should become a franchise player in Cleveland in just a couple of seasons.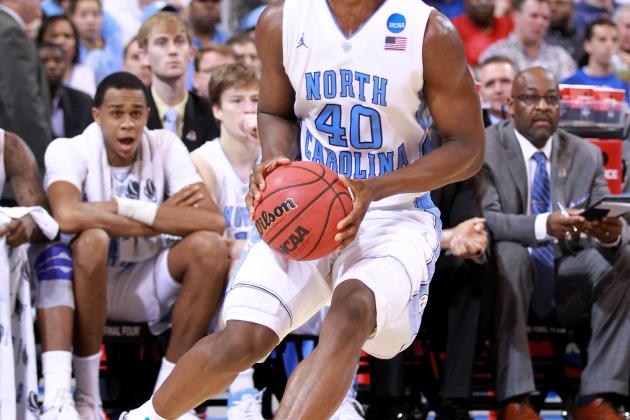 Andy Lyons/Getty Images

Harrison Barnes has NBA ability, but I do not see an NBA demeanor every time he steps on the floor. It seems as though Barnes loses focus easily and when he goes cold, he stays there. There is no question Barnes has capability to be the best player on the court, but the issue is when will he show up.
The Toronto Raptors are in need of a true scoring threat that can shoot the ball anywhere on the court. This may seem like a risky pick in the draft, but if Barnes can find himself, the Raptors may have a solid building block to go on for the future.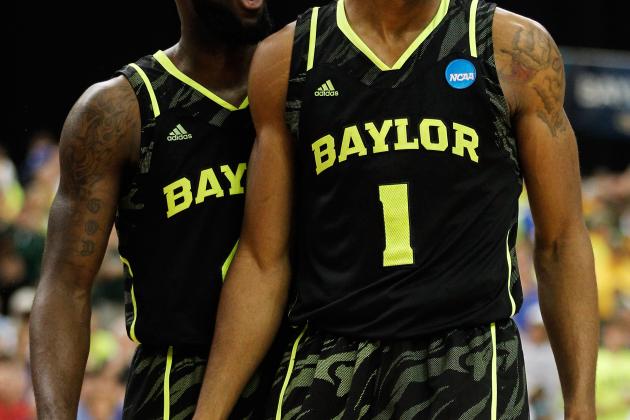 Streeter Lecka/Getty Images

The Portland Trail Blazers do have LaMarcus Aldridge manning the four-spot right now, but he is about the only one who is contributing at the moment. Perry Jones could come in and help alleviate some pains the franchise is going through right now.
Perry Jones is tall, but freakishly athletic and has enough ball skills to play the three in the NBA. Much like Harrison Barnes, the question is when will Perry Jones show up and when will he decide to take the day off. I think Perry Jones fits in the Portland system better than anyone else in the draft, and pairing him with Aldridge down low could pay off in the long run.
Ronald Martinez/Getty Images

I honestly see Terrence Jones playing the small forward in the NBA more than a power forward. He has incredible ball skills, so much so, he could play the point in certain situations. I see Terrence Jones as the ultimate boom or bust in the draft.
The Utah Jazz are always looking for players to help make the team better in the long run, and landing Jones could pay dividends immediately. Jones has some things he needs to work on, but he also comes with a full repertoire of skills that make him a surefire lottery pick. I do think there are some maturity issues that will arise in his career to begin with, but if he can put in the work, he should become a very good player for many years. Jones reminds me of Antoine Walker when he first came into the league.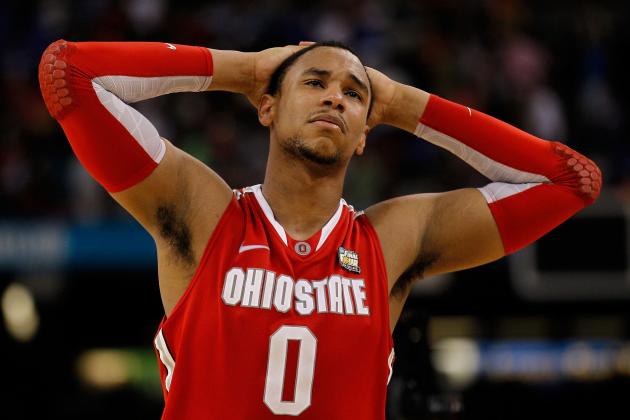 Chris Graythen/Getty Images

Jared Sullinger is a gamer and plays harder than probably anyone else in the draft not named Michael Kidd-Gilchrist. Sullinger is tough down low and has the ability to move players around with his body. He is a bit undersized for the 4 position, but he reminds me of a scoring Chuck Hayes.
The Detroit Pistons have a 4-way platoon right now at the power forward position, but lack a true starter there. Jason Maxiell and Jonas Jerebko are no more than bench players right now, so finding someone to keep them on the bench would be a plus here for Detroit.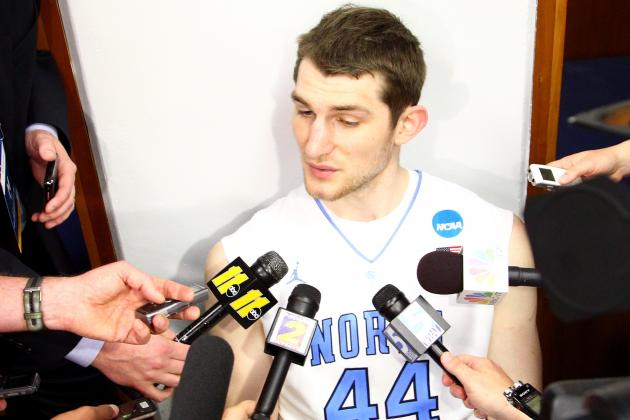 Dilip Vishwanat/Getty Images

I mentioned before that the New Orleans Hornets are in rebuilding mode, so their second priority would be to find a big man down low to pair with their previous pick of Bradley Beal. The Hornets do have Chris Kaman at the moment, but I do not believe he is the future center of this team.
Tyler Zeller had an amazing career in Chapel Hill and should be able to continue that style wherever he may land at the next level. Zeller is extremely quick down low and is a rebounding machine. Zeller may not go for much of a scoring average in the NBA, but he will bring other things to the squad to help them win down the line.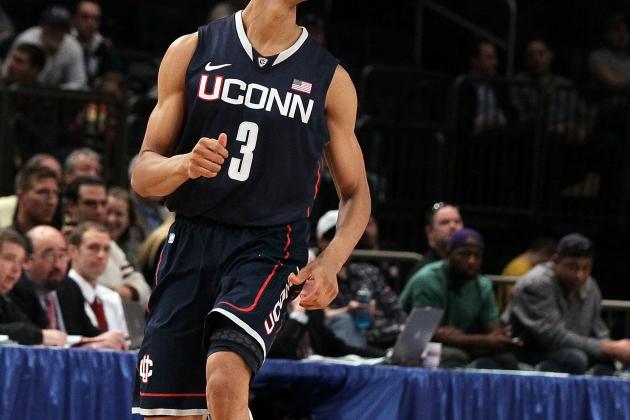 Jim McIsaac/Getty Images

Jeremy Lamb has tremendous ability in all facets of the game and should be a major contributor at the next level almost immediately. Lamb is a bit thin, but should be able to bulk up and fill out his athletic frame in no time. The Trail Blazers lack a true scoring threat outside of LaMarcus Aldridge.
Jeremy Lamb has great range on his jump shot and is a good enough penetrator to make the defense play up on him. The major plus for Lamb is his defensive abilities. Lamb is a lock- down defender who can cause fits for whoever he may be guarding. This is one of the best value picks in the draft in my opinion.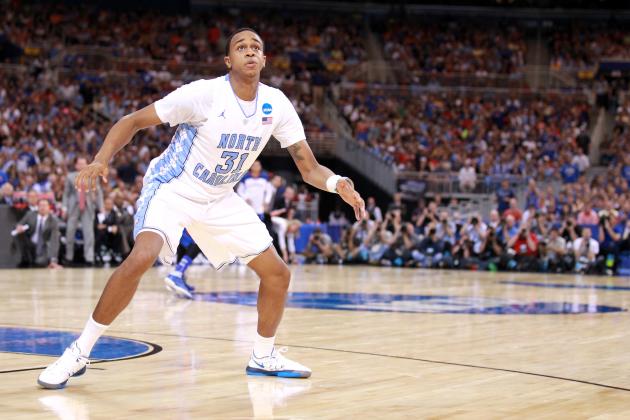 Andy Lyons/Getty Images

Drew Gooden has been valuable to the Milwaukee Bucks, but his career is winding down and the Bucks will need someone to fill his shoes. John Henson has an excellent game that translates well to the NBA if he can bulk up a bit, which I have no doubt he can do. Henson is a defensive machine and could become a decent scorer as well.
John Henson could be another steal of the draft here, but we may not know for a few years. He will probably be a bench player for a couple of years until he adds strength, but give him time and watch out.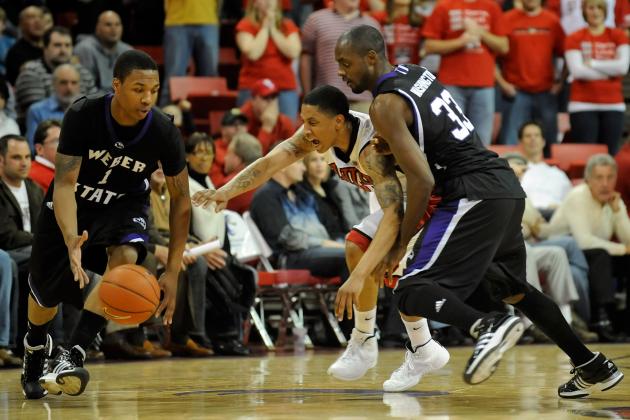 Ethan Miller/Getty Images

I will be quite frank, I do not see Jrue Holiday as the starting point guard in Philadelphia. I think Holiday is better suited coming off the bench as a scoring threat. This is why I think the 76ers will try and land Damian Lillard out of Weber State. Lillard comes with a bit of a chip on his shoulder because unless you are a die hard fan of the game, you have probably never heard of him.
Lillard brings many aspects to his game that are designed for the NBA. While Lillard was not a top assist man in college, I look for him to improve those numbers at the next level. At Weber State, Lillard was the offense of the team, and was not needed to dish the ball around. When he steps up to the NBA he will have a better supporting cast; thus allowing him to become a better all-around point guard. Watch out for Damian Lillard.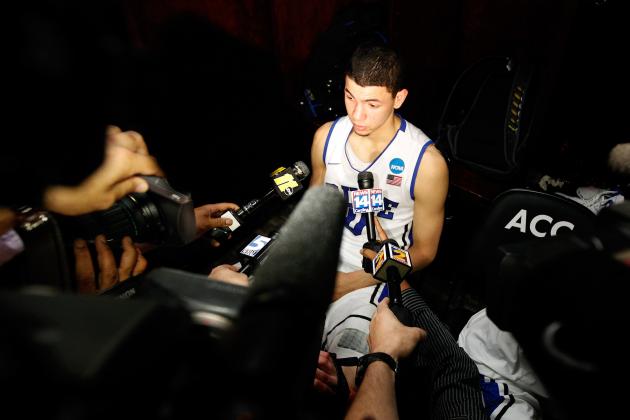 Streeter Lecka/Getty Images

Austin Rivers could have used another year in school to develop his game, but since he left, he should be a lottery pick nonetheless. Rivers has some excellent qualities that scouts love, like his knack for the big plays and his confidence level, but he is not super athletic and he tends to take shots that are not needed.
Rivers is not an exceptional defensive player, but landing in Utah, he would have a decent defensive supporting cast.
I think Austin Rivers is one of the most overrated prospects in this draft, but he should still go between 10-15.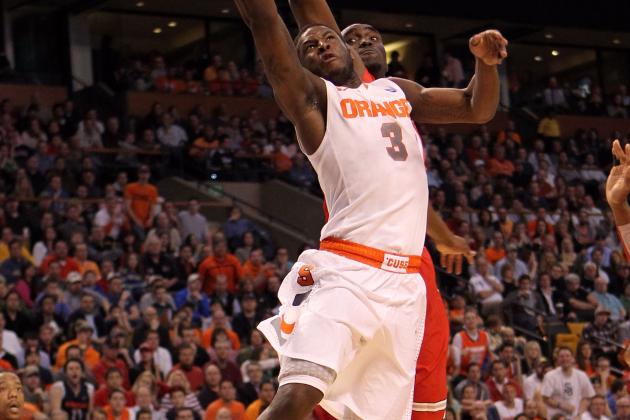 Jim Rogash/Getty Images

Dion Waiters appears to be the second coming of Jamal Crawford. Waiters should rack up many sixth-man awards in his career and I find him more valuable in that position than as a starter. Waiters should be a great scorer at the next level and his range seemed to be improving as the college basketball season went along.
The Rockets have a decent cast of shooting guards on their roster now, but adding Waiters to back up either Kevin Martin or Courtney Lee would be a huge addition.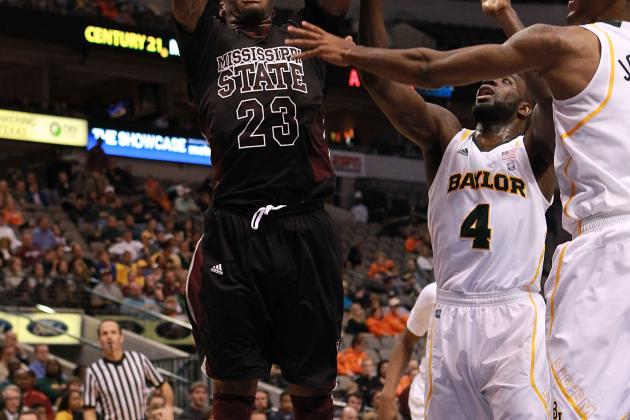 Ronald Martinez/Getty Images

The Phoenix Suns are looking for improvements all over the floor, and finding someone like Arnett Moultrie could be the answer. Channing Frye has been mediocre at best in the four, so adding Moultrie would relegate him to backup—which is probably where he would bring the most value.
I do not think Moultrie will become elite, but he should be a solid scorer all around and be a starter in this league for many years. Moultrie reminds me a lot of Josh Smith from the Atlanta Hawks and I fully expect him to have the same impact in Phoenix.
Andy Lyons/Getty Images

I really think Meyers Leonard should have stayed in school, but he does have some NBA potential. Leonard will struggle early on in his career, but should become a solid big-man once he grows into the role. The Houston Rockets are aging at the center position and finding someone to groom must be a priority for them to succeed.
Meyers Leonard is quick for his size, which should help him stay around for awhile, but do not be surprised if he ends up in the D-League for a bit.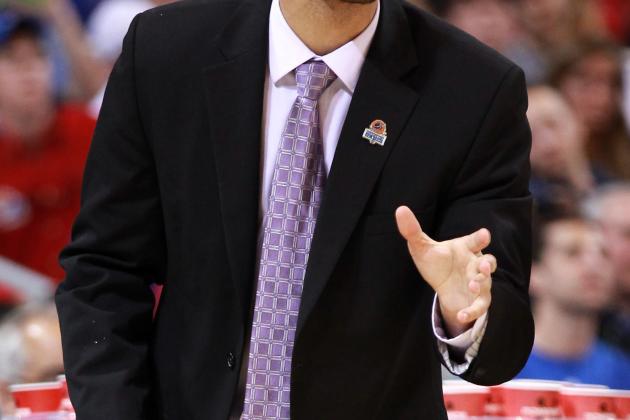 Andy Lyons/Getty Images

Kendall Marshall is a pure point guard and a tremendous leader on the court. I think Marshall has the potential to be a Jason Kidd-caliber player. He is not overly athletic, but he knows how to dictate the game and slow down or speed up if need be.
The Los Angeles Lakers seem like the perfect destination for Kendall Marshall to become one of the best points in the league. Kobe Bryant is aging, but is still one of the best if he has a capable point guard running the show.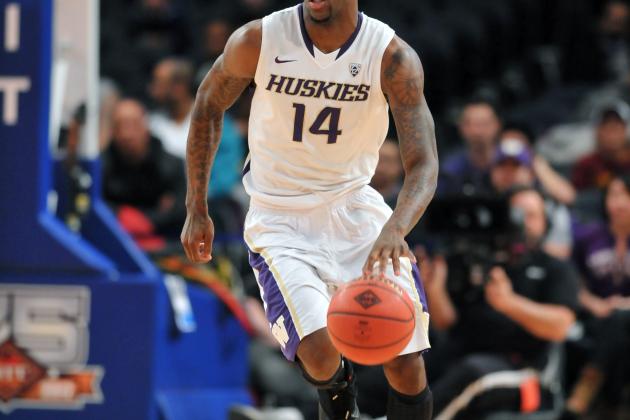 Jason Szenes/Getty Images

Tony Wroten is another player I think could have benefited from an extra year in school, but a lack of top point guards has vaulted him to a first-round pick. Wroten has some major upside and is definitely suited as a combo guard at the next level. The Nuggets do have Ty Lawson at the point but he underachieves year in and year out, so it may be time to find someone else.
I do not see Wroten as an exceptional talent and in many other drafts, would probably be a second-rounder, but the lack of depth at the position in this year's draft means he goes higher than his talent suggests. He has a Derek Fisher feel about him though, which should make him a valuable role player.
Jason Szenes/Getty Images

Terrence Ross is another one of my sleepers in this year's draft and I really expect him to come out and become a very talented two-guard in the NBA. The Boston Celtics have relied upon Ray Allen for a long time, but Allen is running on empty and it may be time for a changing of the guard.
Ross needs to become more focused and learn how to take smarter shots, but the NBA is where people learn those sorts of tools to bring out as much talent as possible. Ross should shine at the next level.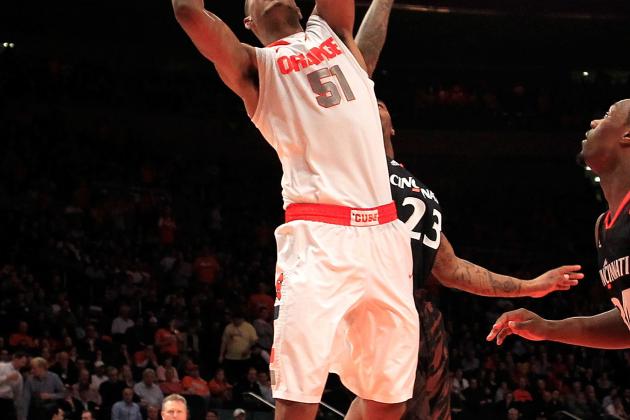 Chris Trotman/Getty Images

I think Fab Melo has a legitimate shot to blossom at the next level. He never really showed off his true game in college and may be a few years away from really showing his full potential, but there is a lot to like about him.
Fab Melo does not have much of an offensive game yet, but neither did Marc Gasol when he first came into the league. I think Melo should learn quickly and he will be a monster on the defensive end right away. I am intrigued by his motivation, and he seems to be a good kid who loves the game.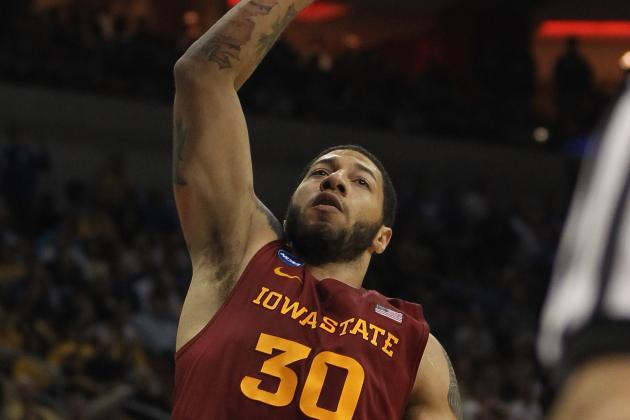 Jonathan Daniel/Getty Images

Royce White really showed improvement while at Iowa State, but there are some major question marks as he enters the NBA. White has some character concerns that could turn out to hurt the franchise he goes to, but there is so much promise in him that it is worth the risk.
Orlando needs role players to help Dwight Howard, who looks like he will probably stay around after all. I do not see White being a star, but there is no question that he has talent and should be a piece of the pie in Orlando.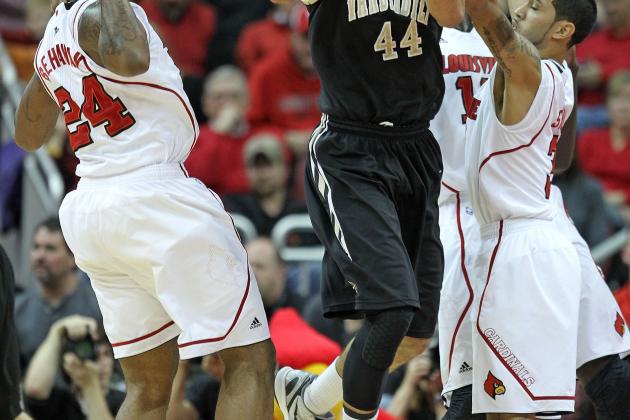 Andy Lyons/Getty Images

The one thing the Atlanta Hawks lack is a true defender and finding one in the draft should be priority number one. Jeff Taylor out of Vanderbilt is one of the best around. The Hawks do have Joe Johnson at the small forward position, but he is known for his offense, not his defense. Taylor may be no more than a sixth-man at best in the NBA, but he brings fire and tenacity that the Atlanta Hawks lack.
There is a lot to like about Jeff Taylor, which is why he slides into the first round. He should become a leader rather quickly and while he may not be a star, he should have a Shane Battier-type career to follow.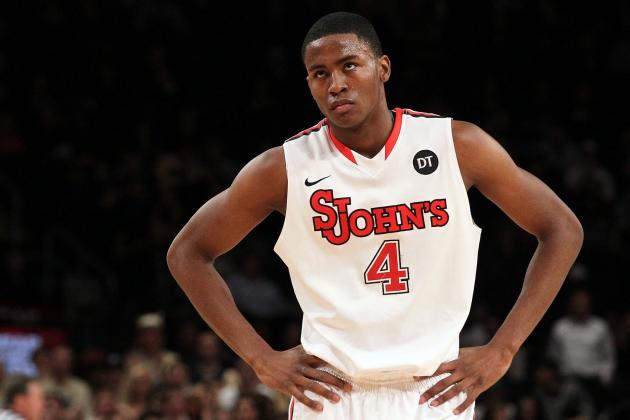 Jim McIsaac/Getty Images

Moe Harkless has flown under the radar all year long, but his immense athletic ability and huge upside help him land in the first round. Harkless could have benefited from staying another year in college to work on his shooting and intensity, but he has NBA ability.
The Boston Celtics are aging quickly at about every position, and finding the heir to Paul Pierce looks to be a major priority for them. Harkless has the chance to learn from some of the best and this may mean he rides the bench for a year or two, but he should be able to build up over time and become a solid contributor.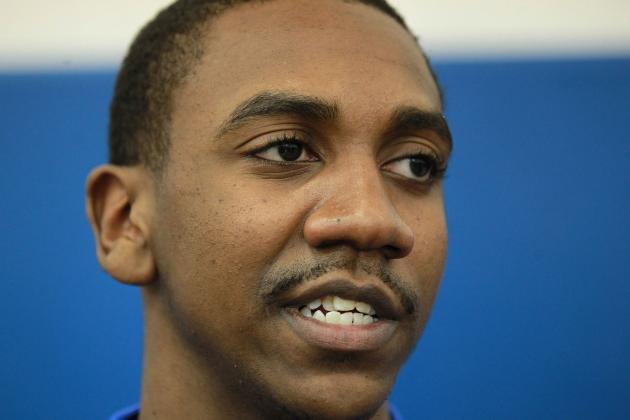 Andy Lyons/Getty Images

Marquis Teague is another one of those players who could have used more experience at the collegiate level, but the point guard position is rather weak in this years draft, so Teague has made the leap. Marquis Teague really improved as the year went on and has shown some flashes of greatness.
The Pacers have a lacked a true point guard for many years and snagging Teague here may end up being a major steal. I think Teague is a couple of years away from being a big-time threat, but he should be able to start within his rookie season. There is a lot of promise with this pick.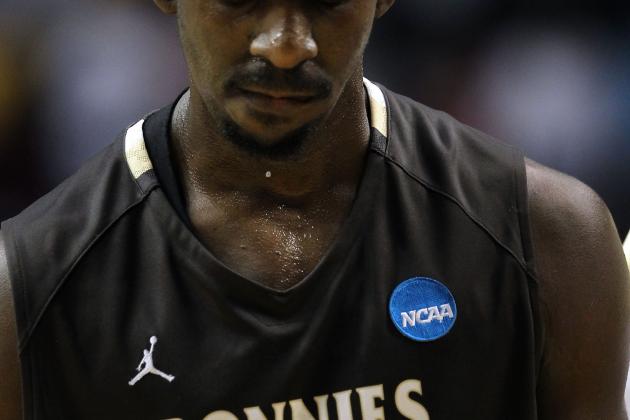 Jamie Squire/Getty Images

Andrew Nicholson is one of those players who should have possibly made the jump a year earlier. Nicholson has major ability and should be a very good pro. There are some inconsistencies in his game, but he knows how to play and he has a motor that does not stop. I see an all-star game or two in his future.
The Cavaliers are set to lose Antawn Jamison after this season and by having a bevy of picks, finding his replacement should not be too hard. Nicholson could step in and start right away.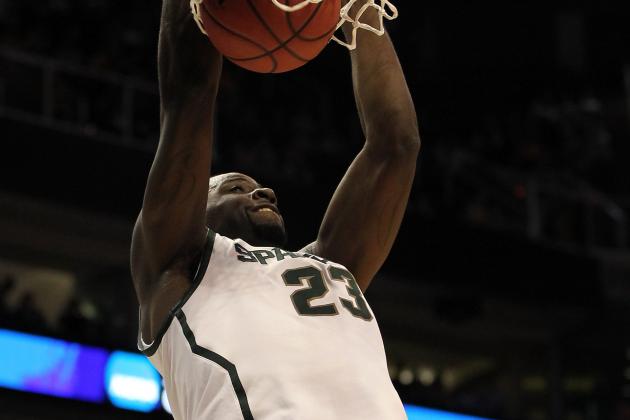 Jamie Squire/Getty Images

Draymond Green may not have a true position in the NBA, but he does the little things to make his teammates better. He may never be more than a bench player, but if a team like the Miami Heat take a flyer on Green, he should be able to help improve a team full of stars.
Green is not super-athletic, but he knows how to play the game and he can do more than just score. Green is one of the best passers in the draft and is also a beast in the paint, even though he is smaller than most players his position. I certainly see Green having a Chuck Hayes-type impact in the NBA.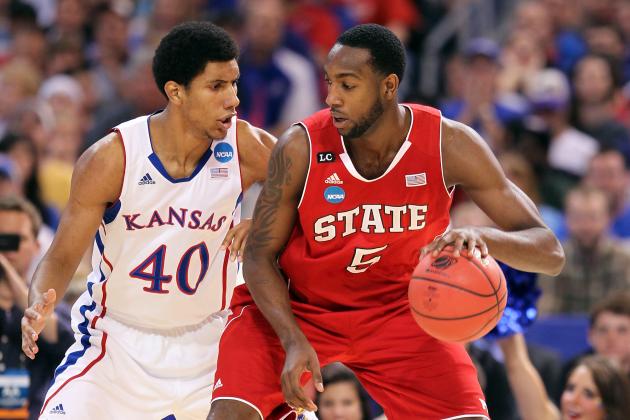 Andy Lyons/Getty Images

C.J. Leslie has not declared for the draft just yet, and he may not. I still give it a 50/50 shot right now, but if he does, he should fall in somewhere late in the first round. Leslie has some really good attributes that transfer well to the next level, but he will have to bulk up quite a bit before he really contributes.
The Oklahoma City Thunder seem like a perfect fit to allow Leslie to develop his game, and he could become a contributor in just a couple of years. Leslie may be suited for some time in the D-League or another year in school before he really makes the leap.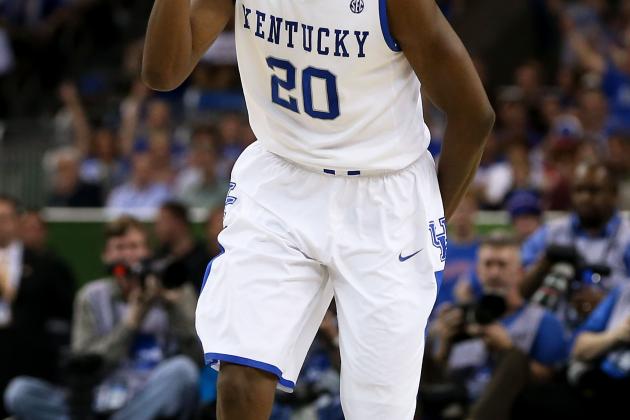 Jeff Gross/Getty Images

I have a feeling Doron Lamb is going to become one of the best shooters in the NBA right away. There is so much to like about Lamb's overall game. He may not be a star, but he should be a threat from deep anytime he touches the ball.
The Golden State Warriors lack a real outside shooter with any consistency and they also lack someone who can play several positions. Lamb is designed as a two-guard, but can easily play the point and with enough work, may end up as a point guard later in his career. This is an excellent value pick late in the draft and a safe one at that.
Evan Fournier is by far and away the best international option in the draft and should fall late in the first or early in the second round. There is a lot of positive to his game, but he may be better suited to developing for a few more years overseas. The Chicago Bulls have the luxury of being a deep team, so stashing away Fournier for a couple of years would be wise.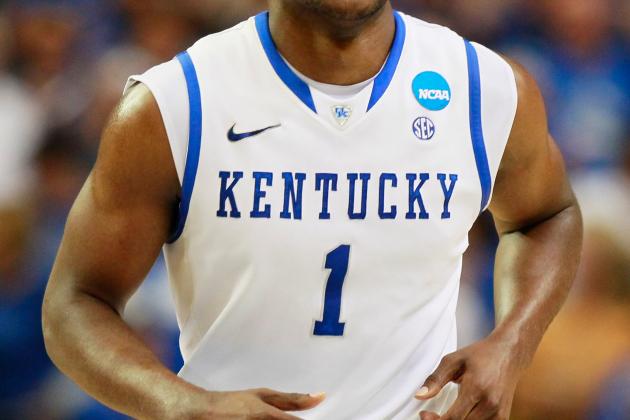 Kevin C. Cox/Getty Images

31. Charlotte Bobcats: John Jenkins: SG: Vanderbilt - Hands down the best shooter in the draft
32. Washington Wizards: Festus Ezeli: C: Vanderbilt - Strong Big Man with Excellent Size and Defensive abilities.
33. Cleveland Cavaliers: Tyshawn Taylor: PG: Kansas - Perfect backup to Kyrie Irving with a knack for the big plays.
34. Washington Wizards: Will Barton: SG: Memphis - A major scoring threat and excellent value for the second round.
35. Cleveland Cavaliers: Kevin Jones: PF: West Virginia - Great leader with loads of experience to help balance a young team
36. Toronto Raptors: Scott Machado: PG: Iona - Small school player with big time ability. Will be an assist machine.
37. Golden State Warriors: Tomas Satoransky: SG: Czech Republic - A stash away guy who can really become a solid player on both ends of the court.
38. Denver Nuggets: Jared Cunningham: SG: Oregon State - Should have stayed in school another year, but has superb defensive skills
39. Detroit Pistons: William Buford: SG: Ohio State - Excellent shooter with long, long range. Unselfish player who can score quickly.
40. Dallas Mavericks: Alex Abrines: SG: Spain - Seems like a Mark Cuban kind of pick. Probably will stay overseas to work on his game for a couple of years
41. Portland Trail Blazers: Khris Middleton: SF: Texas A&M - Should have left the season before, but he has an excellent touch on his shot.
42. New Jersey Nets: Darius Miller: SG: Kentucky - Excellent shooter with tons of range and major leadership abilities, possible steal of the draft.
43. Philadelphia 76ers: Kevin Murphy: SF: Tennessee Tech - Small school player with tremendous upside. Very real scoring threat.
44. Utah Jazz: Henry Sims: C: Georgetown - Developmental prospect with a chance of being a solid bench player in the future.
45. Detroit Pistons: Kyle O'Quinn: C: Norfolk State - Relatively unknown player with excellent defense, could become very good backup center in NBA
46. Atlanta Hawks: Eric Griffin: PF: Campbell - Another unknown player who can really get up at the rim, possible steal pick late in draft
47. Phoenix Suns: Jae Crowder: SF: Marquette - Tough player who could develop into a solid contributor in the NBA
48. Washington Wizards: Marcus Denmon: SG: Missouri - Probably will be more of a bench/depth guy, but he can really play.
49. Denver Nuggets: Orlando Johnson: SG: UC Santa Barbara - Can really score the basketball and should do the same in the NBA, great sixth man type player
50. Boston Celtics: JaMychal Green: PF: Alabama - Excellent role player at the next level, will not be an elite scorer, but should be solid depth guy
51. Miami Heat: Furkan Aledemir: PF: Turkey - NBA ready rebounder who is physical and can become a small sized center if need be, Ronny Turiaf type player
52. Orlando Magic: Nenad Miljenovic: PG: Serbia - Has a chance to blossom into a really nice point guard in the future, will probably stay in Europe a couple of years
53. Atlanta Hawks: Tu Holloway: PG: Xavier - Should have entered the draft last season, but he is clutch and could push Jeff Teague in the future.
54. Los Angeles Clippers: Alex Young: SG: IUPUI - A diamond-in-the-rough-type player who could develop into a starter.
55. Indiana Pacers: Darius Johnson-Odom: SF: Marquette - Should be able to provide some major depth in Indiana, has a chance to contribute right away.
56. Dallas Mavericks: J'Covan Brown: PG: Texas - I do not think he is ready for the NBA and could spend a couple of years in the D-League, could be a solid future backup.
57. New Jersey Nets: Drew Gordon: PF: New Mexico - A pure developmental prospect who is adept at getting rebounds and not much else, strictly a bench player.
58. Oklahoma City Thunder: Robbie Hummel: SF: Purdue - Injuries depleted his draft stock, but could surprise a ton of people—reminds me of Gordon Hayward.
59. San Antonio Spurs: Ricardo Ratliffe: PF: Missouri - Agile big man who could provide nice depth off the bench. Needs to improve his outside game to stick around the league.
60. Los Angeles Lakers: Quincy Acy: PF: Baylor - This guy is tough as nails and will bring it every night; could really become an impact bench player in his career.