2012 NFL Draft: Why Robert Griffin III Will Be Better Than Andrew Luck
April 16, 2012

Ronald Martinez/Getty Images
Robert Griffin III is going to be better than Andrew Luck. Griffin is part of the new age at quarterback. If you remember from a year ago there were two pretty good rookie quarterbacks. But, one stood out more than the other.
Cam Newton won the Rookie of the Year award after having one of the best rookie seasons ever. Newton broke Peyton Manning's rookie record for yards passing.  Newton also took a team that was 2-14 and made them 6-10, and they were competitive in almost every game.
Griffin is more like Newton than a standard quarterback. In today's NFL, young quarterbacks don't have time to sit in the pocket and stare at coverages. If they don't like what they see when they get into their drop, they have to make a decision. Newton and Griffin both have the ability to get out of the pocket and either run or then try and make a throw.
Throws from outside the pocket are harder but for real athletic guys it won't be as hard. Outside the pocket throws can actually be easier, as long as you can keep your composure. When a defense sees a guy with the athletic ability of a Griffin or Newton they have to make a decision. Do they leave their man or zone and come up for the tackle or do they stay put.
If Griffin can read what defensive players are doing then he will have a big leg up on Luck. Griffin is also walking into a better situation. Andrew Luck is going to be throwing to an over the hill Reggie Wayne and maybe Dallas Clark. Also, Luck is probably going to be getting a new center in the draft; which in the long run could be good but for short term it could be disastrous.
Griffin is walking into a better situation. Griffin has a solid tackle in Trent Williams. He also has more weapons than Luck is going to have. Washington has two up-and-coming backs in Roy Helu and Evan Royster, so they can lean on the run at times.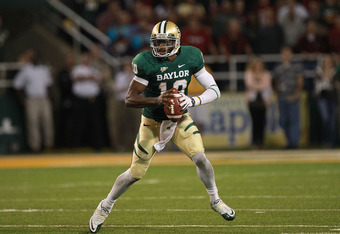 Ronald Martinez/Getty Images
Griffin's receivers are far better than Luck's. He will have two solid tight ends in Fred Davis and Chris Cooley; the tight ends will probably be Griffin's best friend. When he feels pressure being able to dump to a big guy is always nice.
The Redskins went out and added Pierre Garcon and Josh Morgan this offseason as wide receivers. Garcon and Morgan are burners, so mixing them with Santana Moss and his consistent hands will be fun combination.
The defense is also an area that's going to make Griffin a better quarterback. The Redskins' defense is light years ahead of the Colts' defense. They already have two established outside linebackers in Brian Orakpo and Ryan Kerrigan, and bringing back London Fletcher is good for stability reasons.
Luck is going to feel the pressure to score every time in Indianapolis and to never turn the ball over. While Griffin will know it's OK to not score every time. He'll be able to concentrate on not turning the ball over.
Griffin has the potential to be every bit as good or better than Newton did last year. If the Washington Redskins make life easy for him like Panthers did for Newton, then he could be great. Luck has a lot of work to be done. If the Colts aren't winning in a couple of years people are going to start looking at the quarterback. Griffin, on the other hand, is on a team that could win eight games this year.
Robert Griffin III is already a hard worker and when you mix his drive with his athletic ability, he could be a top ten seven quarterback in no time.