WWE: Looking Back at 'No Holds Barred' Now That It's Coming out on DVD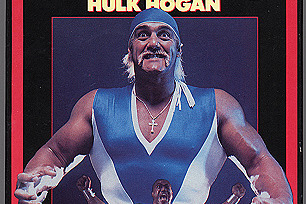 photo from wikipedia.com

When WWE announced on their official site that No Holds Barred , a major 1989 movie starring Hulk Hogan and financed and produced by Vince McMahon, was finally getting an official release on DVD, members of the WWE Universe rejoiced.
Well, OK, a small bad movie-loving subset of the WWE Universe rejoiced. Everyone else most likely just went, "What?" and promptly went back to whatever they were doing.
You see, No Holds Barred doesn't have that great a reputation in wrestling. Or in Hollywood. Or anywhere, for that matter.
The film (you can see the trailer here) can be considered Vince McMahon's first real attempt to branch outside wrestling and attempt to garner mainstream credibility (flop body-building group the WBF is generally considered the first of Vince's long list of failed outside projects, but that wasn't started till 1990, a year after this film's release).
It was also Hulk Hogan's first leading role as an actor (he had previously appeared in a small but memorable role in Rocky III as Thunderlips, a one-time Rocky foe). Apparently, there were strong hopes where that this would be the movie that turned Hogan into a fully-fledged Hollywood superstar (note: it didn't.) Jesse Ventura and Tom "Tiny" Lister (who, due to his appearance in the film, even showed up on WWF television later for a few disastrous matches playing off his role here) also have supporting parts.
The plot of No Holds Barred is very paint-by-the-numbers. In what must have been quite the stretch for him, Hulk plays Rip Taylor, a charismatic, muscle-bound wrestler in the World Wrestling Federation, which is, unsurprisingly, presented in this film as the nicest, most wholesome place to work ever.
Sadly, this idyllic tranquil is shattered when Rip finds himself the unsuspecting target of evil, power-mad corporate executive Mr Brell, the head of the World Television Network (any comparisons to then-WCW owner Ted Turner are, of course, purely coincidental) who wishes to poach Rip's services as part of his ruthless attempt to take over wrestling and TV.
The honourable and strongly loyal Rip refuses, citing his commitment to the company he works for. In response, Brell sends Zeus and a whole lot of other scary bad guys after him and his little brother. There's also a stunningly beautiful love interest, played by former Playboy playmate Joan Severance, thrown in for good measure.
The movie struggles for various reasons. The script is sub-par, even by the low, low standards of the '80s action genre and makes about as much sense as your average episode of TNA: iMPACT. Like John Cena, it constantly tries to be funny at various points, but simply isn't. The tacked-on romance storyline is awful and unconvincing—Hogan and Severance's supposedly passionate love scenes are almost cringe worthy to watch.
Hogan—who went on to make even more terrible films after this one—isn't exactly bad, but as noted, he's really only playing a version of himself, so that's hardly impressive or worth any praise.
Indeed, despite being directed by Thomas J. Wright, a name with a respected resume in the film and television industry, having filmed episodes of popular shows like NCIS, The X Files, Smallville, Alias, Firefly and Castle, the entire endeavour never really feels like a proper movie. Despite having a fairly decent budget, the production values aren't really up to much either.
In fact, No Holds Barred comes off as exactly what it is: Vince McMahon and Hulk Hogan trying to make it big in the movie business, but simply not putting in the required time or care that is needed to make a successful film.
That's not to say No Holds Barred has no redeeming qualities whatsoever. No doubt there are many nostalgic wrestling fans that loved this film as a kid and have fond memories of it. After all, it's Hulk Hogan and other wrestling names as the stars in a wacky wrestling movie; that had a lot of novelty at the time. Upon its release, it had a great novelty value, something that seems to have lasted. No doubt the new DVD release will do well. Maybe not spectacularly well, but it can be expected to perform decently.
Another factor in its favour is that, watching it as an adult, the whole thing has a cheesy, subversive quality that makes it appealing and hilarious in its own way, like The Room or Birdemic: Shock and Terror, two absurdly awful movies that have become esteemed in some circles for how rotten they are.
Indeed, getting around some friends, opening a pack of popcorn, putting on No Holds Barred and laughing uproarisiously as the unintentional hilarity plays out sounds like a fantastic way to spend the evening.
Believing that No Holds Barred would be a sure-fire success, Vince McMahon financed the movie entirely by himself, as Hogan noted in his 2002 official biography, Hollywood Hulk Hogan. All said and done, Vince barely broke even.
Hogan would write in his book that while the film performed decently at the box office, neither he or Vince had realized that, in the movie business, you often have to make back two or three times what you invested in it to make a profit.
Ideally, McMahon would have learned his lesson from No Holds Barred's failure and opted to get out of the movie business for good. But, as we have seen from the fiasco that is WWE Studios, he really, really hasn't. And it has cost the company millions as the company churns one mediocre, badly-performing release after another to an indifferent and bored audience.
Interestingly, for all the (justified) criticism it garners, No Holds Barred is probably a step up from your average dire WWE Studios' movie release because at least it emanates a sense of fun and gleeful cartoonishness. It's ridiculous but, as noted, like The Room or Birdemic: Shock and Terror, it manages to be the right kind of bad.
Of course, "better than a WWE Studios' movie" isn't exactly great praise, but really, No Holds Barred is probably worth checking out if you haven't seen it. For the unintentional laughs, if nothing else.
This article is
What is the duplicate article?
Why is this article offensive?
Where is this article plagiarized from?
Why is this article poorly edited?