Zdeno Chara Reaches 1,000th Game
April 16, 2012

Elsa/Getty Images
While he proved to be a great fit in his one season of Canadian major junior hockey, there was at least one place where Boston Bruins' captain Zdeno Chara, who recently played in his 1,000th NHL game, wasn't quite so comfortable.
Rick Brodsky, a familiar name in the Western Hockey League and the man who owns the Prince George Cougars, remembers the day he first met the strapping young man from Slovakia.
Although the defenseman didn't speak much English, there was no need to interpret what he could bring to the Cougars' blue line for the 1996-1997 season.
"There are lots of things I remember about 'Z,'" Brodsky said, of the player who skated in his milestone 1,000th NHL game on March 24 against the Los Angeles Kings, a game the Bruins won 4-2.
"Obviously, the first thing you notice is his size, the sheer physical nature of him. He was very quiet when he came here, but the guys liked him. He wanted to make an impact. Unfortunately, he broke his arm and missed some games, but he worked hard to get back into the lineup. He also worked hard to become more at ease on the ice."
On the long road trips, however, Chara wasn't such a natural fit, so to speak.
"I do remember he had a tough time stretching out on the bus," laughed Brodsky, of the defenseman, who at 6'9" is the tallest player ever to play in the NHL. "I can still vividly recall that."
Brodsky also has fond recollections of watching Chara blossom from a tentative type to a confident contributor for the Cougars.
Bruce Bennett/Getty Images
And while Chara might not have had much to say in his early times with Prince George, his physical style and cannonading shot spoke volumes of what he brought to the ice.
Opponents found out early on that dropping the gloves with Chara in an attempt to test out his toughness was an unwise decision.
"I think they learned pretty quick not to go that route," said Brodsky of Chara, who won the Norris Trophy with the Bruins in 2008–09. "They tried him early, and then the word got out. I think that carried through to the NHL. He doesn't fight a lot, and there's a reason why."
While Brodsky wasn't certain—at least in the first few months he knew Chara—that a long-term big-league career was in the cards, he liked what he saw in the aspiring NHLer.
"He's a phenomenal physical specimen," raved Brodsky over Chara, who was the 56th overall selection of the New York Islanders in the 1996 NHL Entry Draft. "And does he ever have the heart of a lion. He was a great teammate here, tough as nails, and everyone really respected him."
Brodsky still can't grasp the concept of Chara reaching the four-digit mark in NHL games.
"It makes me feel older, that's for sure," offered Brodsky. "But he's such an exceptional guy, a great leader that just wants to win and do what is best for his team. While it was kind of hard to predict he'd play in 1,000 games at that time, you can see why he has played for so long. It was only one year with us, but it was memorable, I think, for him and certainly for us."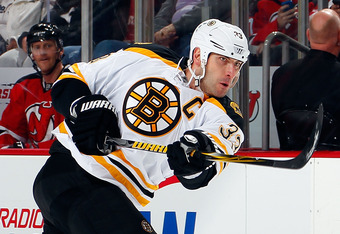 Paul Bereswill/Getty Images
A six-time All-Star, who turned heads at the 2012 NHL All-Star Skills Competition, when he recorded the hardest shot, 108.8 miles per hour, Chara, who also won the NHL Plus-Minus Award in 2011 with a plus-33 rating, continues to be one of the game's top defensemen.
For Brodsky, he couldn't be prouder of the 35-year-old man who holds the distinction of being the first Slovakian to captain a Stanley Cup winner.
Chara will look to net his second consecutive Cup score in 2012. In Game 1 of Boston's Eastern Conference quarterfinal overtime 1-0 win against the Washington Capitals, he had 21:46 of ice time from 27 shifts.
"'Z' just fit right in after a short period of time," remembered Brodsky of Chara, who is also a very community- and charity-driven person, proof by projects such as spending time in Mozambique  with Right to Play in 2008. "We're just really proud that he played for us."
All quotes were obtained first-hand.
Players' PlayBook
Check out these new behind the scenes videos created by your favourite NHL players:
Scott Hartnell And The Flyers Explore Pittsburgh
Biron QA: Which Rink Is Toughest To Play At?
Lupul's Fourth Period Magazine Photoshoot