NHL Disciplinary Standard: CBA Changes Needed to Hit Offenders Where It Hurts
April 16, 2012

Bruce Bennett/Getty Images
The title says it all.
The inconsistency of hockey's VP of Player Safety Brendan Shanahan is something for the books.
The key thing that I have read in his decisions should never be part of the equation in my opinion: presence of an injury.
Whether there's an injury or not should never weigh into Shanahan's decisions regarding the supplementary discipline that he hands out.
An action that occurs may not guarantee an injury, but the act itself should be punishable for its level of recklessness.
While the Zdeno Chara hit on Max Pacioretty was a hockey move gone wrong, the play itself was reckless, warranting—at the very least—a heavy fine, a few games' suspension or both.
Then there are the blatant plays, such as Shea Weber planting the Detroit Red Wings' Henrik Zetterberg's head into the glass at the end of regulation of Game 1.
It was bad enough that Weber punched him in the back of the head, but then to turn it into a WWE move was not only reckless, but downright crazy.  
For his troubles?  A $2,500 fine.
CapGeek.com says that he is making $7.5 million this year...that is not even a shift for this "fine," if you want to call it that.
Had that not been a star player, there would have been games levied, as well they should have been whether a star player is the offender or not.
Speaking of game suspensions...
Byron Bitz of the Vancouver Canucks barreled into the Los Angeles Kings' Kyle Clifford and got two games.
Here come the inconsistencies.
Days later, New York Ranger Carl Hagelin got three games for elbowing Ottawa Senator Daniel Alfredsson—just as reckless, but the amount of games doesn't match up.  Both players are questionable (Clifford is out for now, and Alfredsson has not been declared officially out yet).
That is just the tip of the iceberg.
Players, GMs and fans have been enjoying a good, physical game of hockey for decades.  Even in the world of the cap era, many players are still enjoying millions of dollars per year and virtually all are making/have made millions in their careers.
We have all seen the greedy nature that some players have adopted, and why wouldn't they?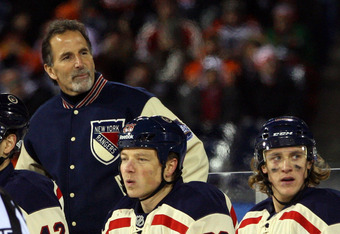 Bruce Bennett/Getty Images
If someone was going to toss millions of dollars my way to play a game that I excel at and love, I wouldn't turn it down, either.
So how can we get the attention of these players to play hockey and stop causing potentially career-ending injuries?  
Hit them where it hurts: their wallet.
The NHL seems to have no problem hitting the league's coaches with fines for words said.
John Tortorella has amassed $50,000 in fines so far.  I say so far, because his season isn't done yet, and I'm sure the NHL has its ear in his direction.
So that leads me to ask the question: Does the NHL truly value NHL players' safety?
Judging from the fines/games levied for their actions as opposed to coaches' words, I say no.
In the 38 fines doled out so far, 33 of them were handed out to players, according to Wikipedia.
According to the figures presented, the remaining five fines were handed to coaching staff, for a whopping $72,500.
Every player fine was $2,500.  If you averaged the coaches' fines at $2,500, it would cover 29 of the 33 players' fines thus far.
The unfortunate part of this story is that this is the maximum allowed according the current Collective Bargaining Agreement (CBA) and it needs to be changed.
Ottawa Senators coach Paul MacLean said it best when asked for his opinion after the game against the Boston Bruins, saying, "I can't afford it," according to ProHockeyTalk.com.
Would it be too far a stretch to ding the players with similar fines for actions that can cause injuries?
How much would you wager that if a player is hit with a $20,000 fine, they will think twice about it?
If the league insists on injury being a factor, then hit them with a double whammy.  Hit them with a $20,000 fine for the action, plus games if an injury is present, as missed games also cost the players money.
The message sent?  Make every effort to make the hits clean, or it will cost you.
The CBA needs to change if players are going to be held accountable and keep the respect and sportsmanship of the game.  Otherwise, a $2,500 fine is not even a slap on the wrist and they may deem to worth the shot to their opponent's head.
It's possible that some plays could go wrong, and the intent could be obvious.  Then there are the hits that are reckless and completely avoidable.  These are fairly easy to pick out.
Just one guy's thoughts and opinions, and I welcome yours as well.
This is Cory Ducey saying, "Hit Hard, But Keep It Clean...or make it Expensive."