Stanford Football: Post-Spring, 2-Deep Depth Chart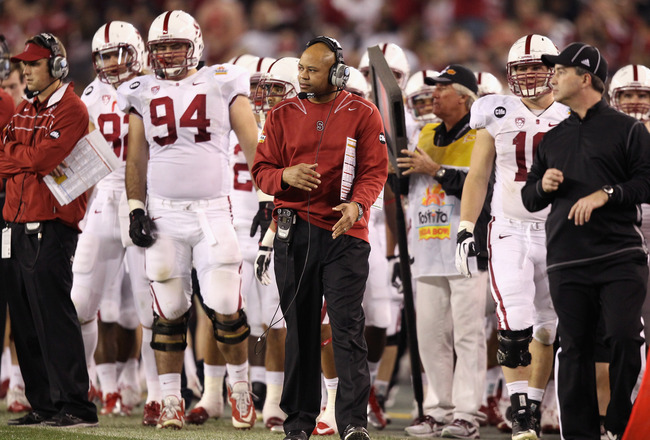 Christian Petersen/Getty Images
Stanford obviously has a lot of work to do since losing several key players from a year ago to the NFL and graduation. They have officially wrapped up spring practice, as the spring game came to an end this weekend. Many fans are feeling very optimistic about their team's chances from what they saw in the spring game.
But while the spring game may provide time to work on some things as a unit, it's also a chance for players to increase their playing time and move up the depth chart.
With spring officially in the books, here's what the post-spring depth chart for Stanford should look like.
Quarterback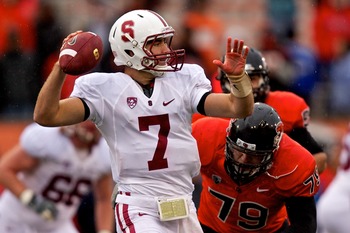 Craig Mitchelldyer/Getty Images
Starter: Brett Nottingham
Backup: Josh Nunes/Robbie Picazo
Truthfully, this is a battle that will last well into the fall, as nobody has separated themselves from the pack yet. Until that happens, you have to give the most experienced quarterback the nod, and that is, of course, Nottingham.
Fullback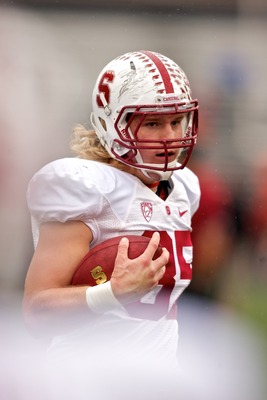 Craig Mitchelldyer/Getty Images
Starter: Ryan Hewitt
Backup: Geoff Meinken
Hewitt will be the starting fullback for the Cardinal this season, as he's really stepped it up throughout the spring. He's a converted tight end who could also catch the ball out of the backfield, which makes him a very dangerous weapon.
Running Back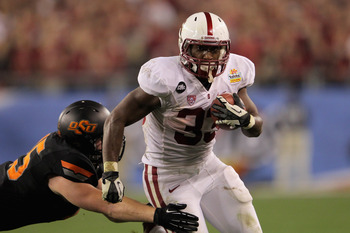 Doug Pensinger/Getty Images
Starter: Stepfan Taylor
Backup: Tyler Gaffney
There's no question Taylor will be the starter entering the season after rushing for over 1,000 yards the last two seasons. With questions at the quarterback position, he will be the workhorse for this offense, and the Cardinal will likely go as far as he carries them.
Wide Receiver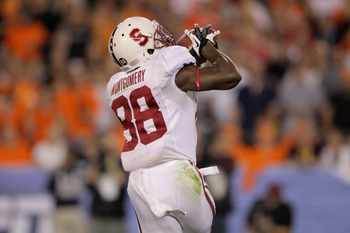 Doug Pensinger/Getty Images
Starter: Ty Montgomery
Backup: Anthony Wilkerson
Montgomery had a solid freshman season where he racked up 24 receptions for over 300 yards and three touchdowns. In the spring game, he caught six passes for 87 yards and two touchdowns. It appears he's ready to take that next step and have an even bigger season with a year under his belt.
Wide Receiver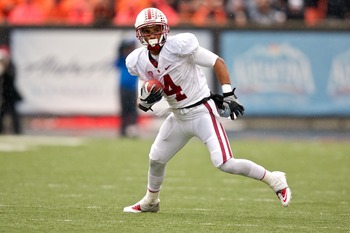 Craig Mitchelldyer/Getty Images
Starter: Drew Terrell
Backup: Jamal-Rashad Patterson
Drew Terrell will likely get the starting role simply because he has experience more than the others competing for the job. He has yet to really fulfill his potential his first three years on the squad, but he does have the right skill set to have his best season yet this year.
Tight End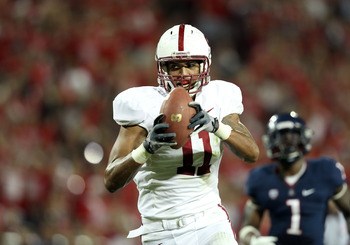 Christian Petersen/Getty Images
Starter: Levine Toilolo

Backup: Zach Ertz
Toilolo will remain the starting tight end and should expect a much larger role due to the lack of targets this team has. He finished last season with 25 receptions for over 300 yards and six touchdowns.
Left Tackle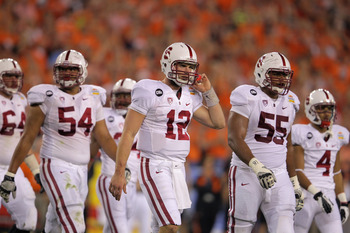 Doug Pensinger/Getty Images
Starter: David Yankey
Backup: Brendon Austin
David Yankey was really the surprise of the spring game, as he lined up at left tackle after spending all of last season at the left guard position. Head coach David Shaw said it was a "Plan B" and he may end up shifting back to his normal position. Either way, this is likely where he's at until the Cardinal figure more out in the fall.
Left Guard
Ezra Shaw/Getty Images
Starter: Khalil Wilkes
Backup: Dillon Bonnell
If Yankey stays at the left tackle position, it'll open up a spot for Wilkes to play left guard like he did in the spring game. Wilkes was a back-up center, but does have experience at nearly every position on the offensive line and played well in the spring game.
Center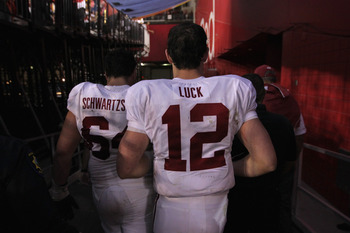 Doug Pensinger/Getty Images
Backup: Conor McFadden
With an offensive line that lost so many key pieces in the offseason, Schwartzstein is truly a breath of fresh air. In his first year as a starter last season, he did a great job. Granted, more will fall on his plate with his quarterback gone, but Cardinal fans have to be more comfortable with him than some of the other players on this roster.
Right Guard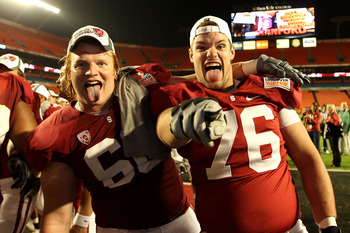 Mike Ehrmann/Getty Images
Starter: Kevin Danser
Backup: Cole Underwood
Although Danser has never been a starter in his career, he has seen enough playing time in his career to be considered one of the more experienced players on the line. Danser has made progress throughout spring practice and could easily fill this role nicely.

Right Tackle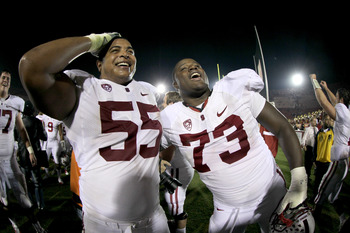 Stephen Dunn/Getty Images
Starter: Cameron Fleming
Backup: Cole Underwood
Fleming was a starter at right tackle last year for Stanford and did a solid job, so it's only right that he'll hold that position again this season. With two major holes in the offensive line, the Cardinal will take any consistency and experience they can get.
Defensive End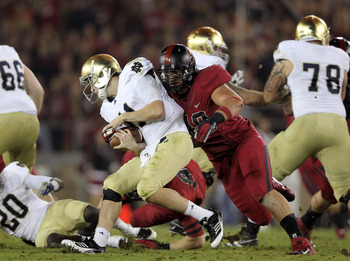 Ezra Shaw/Getty Images
Starter: Ben Gardner
Backup: Josh Mauro
Gardner has a chance to really be special along the defensive line, as he finished his junior season with 35 tackles and 4.5 sacks. With a whole year under his belt, he should increase that production this year and become a force at defensive end.
Nose Guard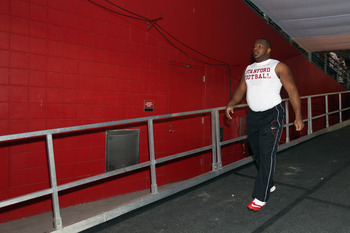 Christian Petersen/Getty Images
Starter: Terrence Stephens
Backup: Anthony Hayes
Stephens was a starter last season at the nose guard position and drew enough attention his first season as a starter to help this team finish second in the Pac-12 in sacks. He'll remain the starter in the middle of this defensive line.
Defensive End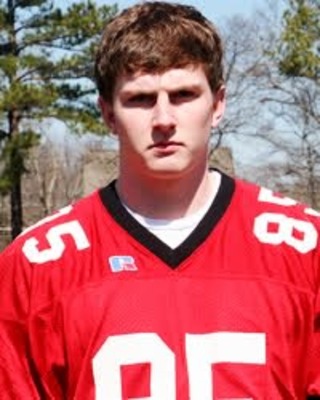 goldhelmet.com
Starter: Henry Anderson
Backup: Charlie Hopkins
First-year starter in Henry Anderson will have big shoes to fill. We saw a little bit of what he was capable of last season when he racked up six tackles and returned a fumble 37 yards. Overall, Anderson is a versatile player who can play either side of the line and has a motor that just doesn't quit.
Linebacker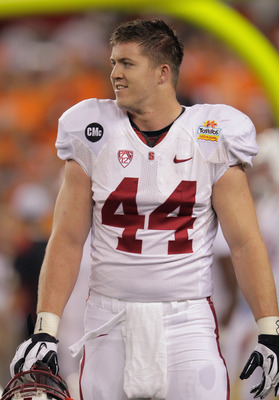 Doug Pensinger/Getty Images
Starter: Chase Thomas
Backup: James Vaughters
This really doesn't need much explanation, as Thomas was an All-Conference player last season. He's been consistent as they come at the linebacker position and should have another solid season for Stanford.
Linebacker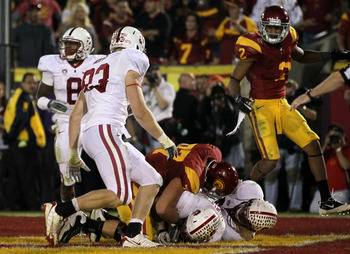 Stephen Dunn/Getty Images
Starter: A.J. Tarpley
Backup: Jarek Lancaster
It doesn't get much better than Tarpley, who played outstanding in his first season and did a little bit of everything. He finished third on the team with 57 tackles, broke up four passes, intercepted a pass and picked up 1.5 sacks. He should have another big season with a year under his belt.
Linebacker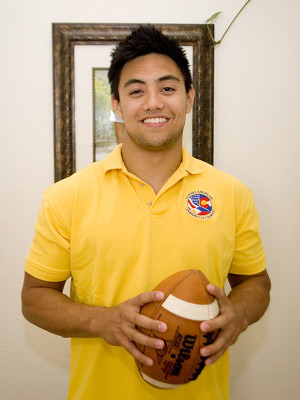 asiaxpress.com
Starter: Joe Hemschoot
Backup: Alex Debniak
Hemschoot barely gave us a sneak peak of what he was capable last season as he didn't play much in only 11 games. He'll get his chance this year at inside linebacker to show some of that explosive hitting ability that he was known for in high school.
Linebacker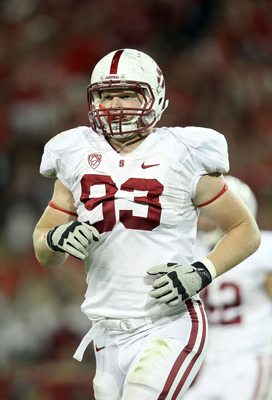 Christian Petersen/Getty Images
Starter: Trent Murphy
Backup: Kevin Anderson
Murphy is a great compliment to Thomas on the outside and showed some of his ability as a starter last season, racking up 40 tackles, 10 for a loss and a solid 6.5 sacks. Hard to argue with that production from another good linebacker on this defense. He'll keep his starting role.
Cornerback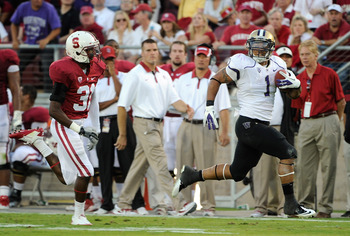 Thearon W. Henderson/Getty Images
Starter: Barry Browning
Backup: Wayne Lyons
We'll give Browning the starting role for now because he did play well at times in the back-up role last season. But head coach David Shaw has been very high on Lyons, and I believe this could be a battle to watch when the fall rolls around.
Cornerback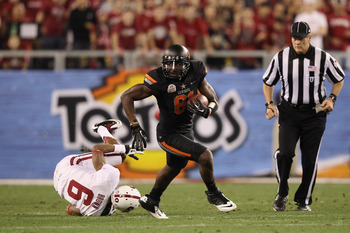 Christian Petersen/Getty Images
Starter: Terrence Brown
Backup: Harold Bernard
Brown showed that he was a solid corner last season, as he batted down five passes and intercepted one as well. He's quick enough to match up with nearly any receiver in the country and makes great plays on the football. He was a starter last season for Stanford and will stay in that role.
Strong Safety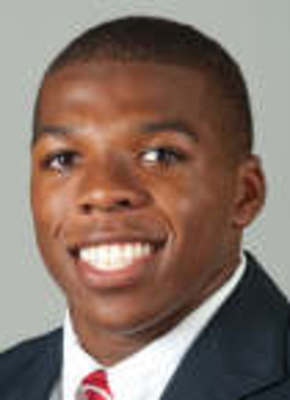 gostanford.com
Starter: Jordan Richards
Backup: Ed Reynolds
Jordan Richards wasn't a starter last season, but you couldn't tell by looking at his stats, as he finished with 31 tackles and a broken-up pass. He will likely become the strong safety this season and has a chance to become game-changer for Stanford. He is a former wide receiver, so the ball skills are there.
Free Safety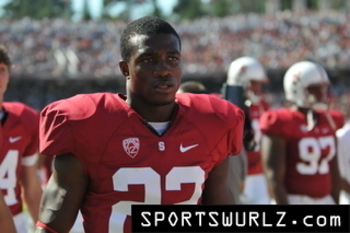 sportswurlz.com
Starter: Kyle Olugbode
Backup: Devon Carrington
Olugbode only played in four games last season, and there was almost no talk of him being in the starting lineup. A great spring will take someone who never started a game in their career and make them a full-time starter heading into the fall. But this will remain a battle because Devon Carrington won't give up his position quietly.
Keep Reading

Stanford Football: Like this team?