2012 WNBA Draft: Lack of Elite Stars Leaves League Looking Toward 2013
April 16, 2012

Doug Pensinger/Getty Images
You don't have to pay attention to women's college basketball or the WNBA to know who Brittney Griner, Skylar Diggins or Elena Delle Donne are. The superstars of women's college hoops were all over ESPN throughout the past few months.
Ultimately, Griner led Baylor to a title win over Diggins and Notre Dame but neither of them, nor Delle Donne, are in today's draft.
There is only one proven star in this draft at all, actually, and that leaves teams eyeing next year's draft with more excitement.
Stanford forward Nnemkadi Ogwumike, a two-time Pac-12 Player of the Year, is expected to go No. 1 overall to Los Angeles and she's the only "lock" of this draft.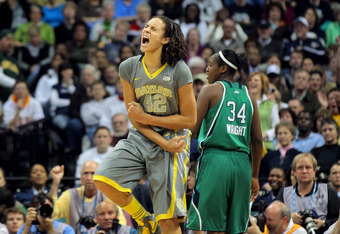 Justin Edmonds/Getty Images
This is affecting everything from the No. 2 pick all the way down.
More than anything, jockeying for position in next year's draft continues to the theme of this year's draft. Or lack of jockeying.
Teams don't want to make any moves that could cost them a shot at one of the future stars.
Tulsa coach Gary Kloppenberg, a former WNBA assistant, said (via the Seattle Times):
The general feeling I get from talking to coaches is that nobody really wants to give up any picks for next year's draft just because of those reasons, the high quality of players that are coming out next year. (But) there definitely will be a lot of talk, and coaches and GMs trying to maneuver to do that.
As this year's draft unfolds, don't be surprised if the all the focus is on next year's selection process.