2012 WNBA Mock Draft: Future Stars Who Will Provide Best Value in Round 1
April 16, 2012

Ezra Shaw/Getty Images
With the WNBA Draft set to take place today, teams around the league will be looking to upgrade their rosters with college players from around the nation. Nnemkadi Ogwumike should be the first player off the board, but things are far less certain after that.
Here's a complete mock draft of the opening round featuring players who should provide the most value to their new franchises.
1. Los Angeles Sparks (15-19): Nnemkadi Ogwumike, SF, Stanford
Ogwumike averaged a double-double in her final season with the Cardinal and asserted herself as the class' top player in the process. She can play multiple positions and shouldn't have much trouble with the transition to the next level.
Candace Parker will continue to serve as the Sparks' top offensive threat, but Ogwumike should thrive as a secondary scoring option. Los Angeles has more talent than its record would indicate and landing the first pick will only add to the team's depth.
It's only a matter of time before the Sparks get back in the championship mix, and Ogwumike will play a key role in any title run.
2. Seattle Storm (via CHI 14-20): Shenise Johnson, SG, Miami
Johnson averaged 17 points and eight rebounds in her senior season while also playing solid defense. She's a complete player who can help the Storm contend for a title right away.
3. Minnesota Lynx (via WSH 6-28): Glory Johnson, PF, Tennessee
The rich will get richer as the defending champions get the third overall pick thanks to an earlier trade with the Washington Mystics. Since the Lynx are in such good shape, taking the best player available in Johnson would be their best course of action.
She averaged 14 points, nine rebounds and more than a block per game in her final season with Tennessee. She'll be able to make her presence felt on the defensive end immediately and her offensive game shouldn't be far behind.
Earning extended minutes on such a talented team won't be easy, but Johnson brings enough different skills to the table to warrant the playing time.
4. Tulsa Shock (3-31): Shekinna Stricklen, SF, Tennessee
The most versatile player in the class, Stricklen will help the Shock begin to turn things around. The team was unlucky not to land the first overall selection, but they still get a very good player.
5. San Antonio Silver Stars (18-16): Devereaux Peters, PF, Notre Dame
Adding size during the draft should be San Antonio's top priority. Now that her injury problems have faded away, the Silver Stars won't find a more consistent player than Peters.
6. Phoenix Mercury (19-15): Riquna Williams, PG, Miami
Williams makes the most sense here because Phoenix lacks depth on the perimeter. She can run the offense as a starting point guard or contribute off the bench at either guard position.
7. New York Liberty (19-15): LaSondra Barrett, SF, LSU
There isn't a more underrated player in the draft than Barrett. She played a key role for LSU and should do the same for New York. Whether it's getting to the rim for easy looks or stepping back to knock down outside jumpers, she brings plenty of offense to the table.
The Liberty are in need of size to go along with their strong perimeter play. Barrett will provide that and there won't be many games where she gets outworked, which is the hallmark of any successful team. That work ethic often gets overlooked in drafts.
All told, she illustrated her ability to adapt and excel in any role in college. It's unclear how she'll fit in right away for the Liberty, but she'll make an impact.
8. Washington Mystics (via ATL 20-14): Samantha Prahalis, PG, Ohio State
Prahalis would be a perfect fit for the Mystics. They have been searching for a pure point guard like her to run the show on offense for quite some time. She would finally fill the void.
9. Connecticut Sun (21-13): Natalie Novosel, SG, Notre Dame
Since the Sun don't have any glaring weaknesses, they can afford to take somewhat of a luxury pick in Novosel. She's the best player available at this point and no team ever has enough outside shooting.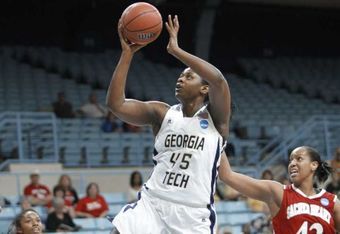 10. Washington Mystics (via SEA 21-13): Sasha Goodlett, C, Georgia Tech
Having already filled their point guard need, the Mystics can look to the post with their second pick. Goodlett is a key defensive contributor and has added more punch to her offensive game as well.
11. Indiana Fever (21-13): Khadijah Rushdan, PG, Rutgers
Rushdan made gradual improvement during her time in Rutgers to become a potential first-rounder. She can play either guard position and creates offense off the dribble, which makes her a valuable asset.
12. Minnesota Lynx (27-7): Lynetta Kizer, C, Maryland
The Lynx have the most complete roster in the league, so they can afford to take Kizer. She won't make the immediate impact of some other first-round picks, but her potential makes her a smart selection.