Heat vs. Nets: TV Schedule, Live Stream, Spread Info and More
April 16, 2012

Chris Trotman/Getty Images
Coming off of an impressive road victory against the New York Knicks that clinched a playoff berth, the Miami Heat (42-17) will look to keep the momentum moving in the right direction against Deron Williams' New Jersey Nets (22-39).
It's been an extremely frustrating season for the Nets, a team that has received just five games out of starting center Brook Lopez due to foot and ankle injuries.
After struggling mightily on the road, the Heat finally beat a formidable opponent in the Knicks, a game that Miami had to have after recent scrutiny from a variety of places in regards to how the team was performing away from home.
Chris Bosh will have to play like his aggressive self down the stretch for the Heat to be the team that so many believed in prior to the start of the campaign.
Where: Prudential Center, Newark, NJ
When: Monday, April 16, 7:30 p.m. ET

Watch: Sun Sports (Heat), YES (Nets)

Live Stream: NBA League Pass

Listen: WAXY 790/WQBA 1140 AM (Miami),  Bloomberg 1130 (New Jersey)
Betting Line: Not available, according to Bovada.lv at 7:30 a.m. on 4/16

Key Injuries: Brook Lopez (ankle), Gerald Wallace (hamstring), Jordan Farmar (groin), Damion James (foot)
What They're Saying
Much of the attention has been focused around LeBron James and Erik Spoelstra of late, but Dwyane Wade is still the leader of this team.
Wade knew how much the Heat needed a win over the Knicks in order to right the ship, and he sounded like someone who was happy to emerge with the victory. Via Brian Mahoney, AP:
We were struggling, as in to play a complete game on the road, and what better place to come in and focus then (sic) here, where this team has been playing well and can embarrass you if you don't play your game.

So understanding that this could obviously be a first-round matchup as well, I thought today we came in, we didn't play amazing, but played good enough to win the game. We did a lot of good things, so it was a good time for it.
Wise words from a smart player.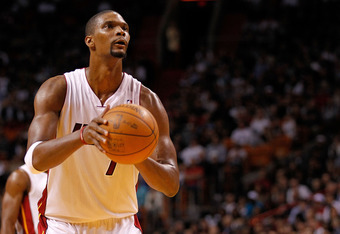 Mike Ehrmann/Getty Images
Most Important Player to Watch: Chris Bosh, PF, Miami Heat
There is no reason that Bosh shouldn't be able to do whatever he wants from the perimeter in this game.
Although his counterpart, Kris Humphries, is enjoying another solid season, Humphries tends to struggle defensively when forced to move away from the basket and patrol unfamiliar territory.
Bosh, who had 14 rebounds against New York on Sunday, recorded a double-digit effort on the glass for the first time since April 1, and he's going to need to do that regularly if Miami wants to fulfill its potential.
Key Matchup: Deron Williams vs. Mario Chalmers
As Williams goes, so go the Nets. It's been that way for the entire season, and there is little reason to think that will change at any point moving forward.
Williams has struggled in two games against the Heat previously this season, failing to register 20-plus points in either contest. Not surprisingly, the Nets have lost both games.
It's going to take a monster effort from D-Will in order to propel the Nets in this one, and he'll have to shoot better than his 40.7 percent season average for that scenario to occur.
Prediction: Heat 108, Nets 93