Detroit Lions 2012 NFL Draft: 5 Day Three Targets with Starting Potential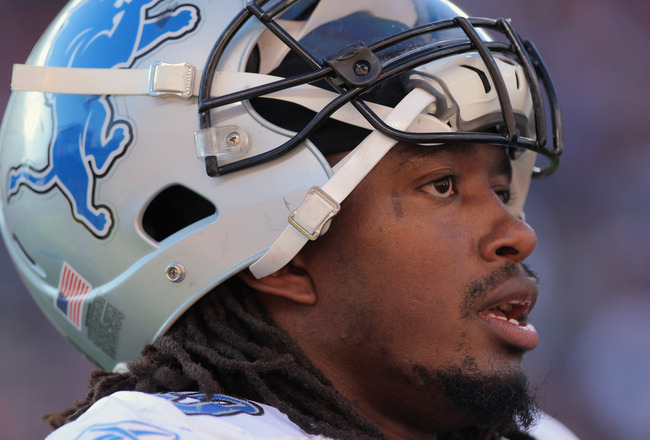 Mayhew's greatest late-round gem to date
Doug Pensinger/Getty Images
Martin Mayhew, deserved or not, has developed a reputation for plucking talented footballer out of the third day of the NFL draft. In his tenure as GM, the Lions have received quality (for a day-three player) contributions from Sammie Hill, Zach Follett and Willie Young. He has also added talented depth players like Jason Fox, Doug Houge and Johnny Culbreath, who have yet to get a chance to play.
With this in mind, day three of the draft is still very important for Lions fans, so I will break down five players who I think have the potential to be contributors despite their lowly draft status. They are also mainly players in positions of need, as taking developmental players who do not fill need only occurs when there is an unexpected slider in the draft. This is impossible to predict without being bashed, so I will steer clear of that.
Enjoy!
Wayne Tribue (OG): Temple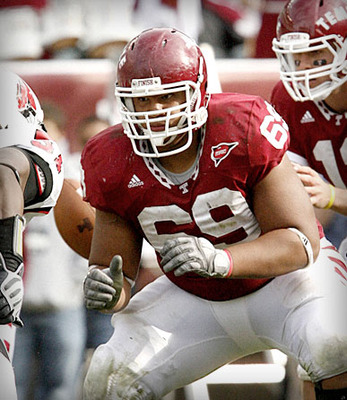 To kick this list off, I will highlight a player who is very similar to an early round Lions target, Brandon Brooks. For those who did not read it, here is a link to my article on Brooks. Both players are eerily similar in terms of play style, and the only real differences between the two is athleticism and the opportunities they have had to show off in front of NFL scouts.
Tribue was a senior at Temple last season, and helped anchor their powerful offensive line from his position at right guard. He is best known for his powerful in-line run blocking, but also showed that he could be very effective as a pulling guard during his final season in college. Like all late-round picks with upside he is raw and often struggles to sustain his blocks, but this appears to be rooted in technique rather than a lack of power.
Wayne is also a very coordinated pass protector, and this has allowed him to mirror defensive linemen effectively so far in his career. He also has a very powerful punch, can set anchor against bull-rushers as well as anyone in the draft and, unlike in the run game is very hard to disengage from in pass protection.
Tribue also put on a show at the Temple Pro Day. Despite weighing in at 329 lbs, he ran the 40-yard dash in a mere 5.09 seconds. This would have made him the fifth fastest offensive lineman at the scouting combine. He also showed decent flexibility in the agility drills, and managed 28 repetitions on the bench press.
Tribue also fits the Lions man/power blocking scheme like a glove. He can win one-on-one in tight spaces in the run-and-pass game, and has enough range to be a factor pulling. Add in the fact that he will probably still be on the board when the Lions are picking in the seventh round, and he adds up to one very attractive package—the perfect consolation prize if the Lions miss out on Brooks earlier in the draft.
Demario Davis (LB): Arkansas State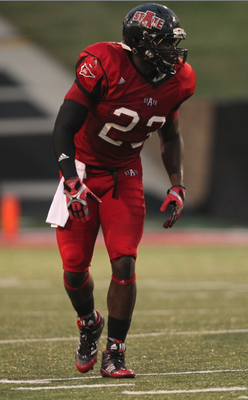 This is a pick that I am a bit cautious about. Davis is still being mocked in the fourth-round bracket, but his name has been ascending fast ever since he put in a dominant display at the scouting combine. If a 4-3 team falls in love with his athleticism and run-stuffing ability, he could easily be taken on the second day.
As it stands, people still think that he will be a fourth-rounder, and at that position he would be a brilliant pick for a Detroit Lions team that needs to get better at outside linebacker. Davis is a physical specimen at 235 lbs who is one of the best athletes at the linebacker position. He ran a 4.52 40-yard dash at his pro day, jumped 38.5" in the vertical, pumped 225 lbs 32 times in the bench press and completed the three-cone drill in 7.19 seconds. This athletic ability alone would intrigue many teams on day-three of the draft, but Davis also has some great tape.
At Arkansas State, Davis put on a show as a run stopper. He has good instincts, gets to the ball very quickly and is a powerful and sure tackler when he reaches his target. He also does a great job getting off blockers in the box, and takes good angles in pursuit. In all, if all a team was looking for was a run-stopping linebacker, he could creep into the first round.
Davis is also a good blitzer, which is not entirely surprising given his elite first step, speed and power. He does not have many moves if he is blocked, but often brings pressure and if given a free run at the quarterback he will make the most of it. On a Lions back seven with little pass-rush skill, his blitzing could really cause headaches for offensive coordinators.
The reason that Davis could fall to the third day is his coverage and the weakness of his college. Arkansas State play in the Sun Belt Conference, so Davis has not played against NFL calibre competition much in his career. He also struggles in coverage, as his footwork in man eliminates much of his athleticism and his instincts in zone can make him a liability. Nevertheless, he is athletic enough to be a standout cover linebacker given some time.
The Lions could possibly be losing both starting outside linebackers next off-season, so getting some depth at the position is imperative over the next two years. While I would not take one early in this draft, a player like Davis who could step in and replace Justin Durant would be a no-brainer pick if he was available to the Lions in the fourth round.
Michael Smith (RB): Utah State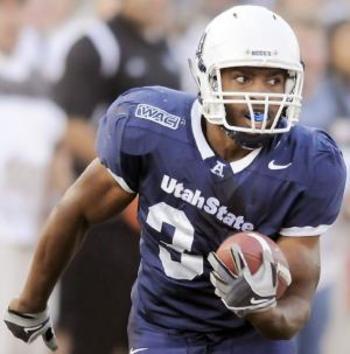 With lingering concussions and marijuana arrests, the Lions have not received much from their back-to-back early running back selections over the last two drafts. While it is much too early to give up on Mikel Leshoure or Jahvid Best, some late-round insurance would be prudent for the Lions.
Michael Smith is an explosive runner who would be able to replace Best as the team's scat back if he cannot play this season. Playing behind Robert Turbin largely kept Smith off the field for his entire career at Utah State, but he made a name for himself in his final bowl game against Ohio, where he ran for over 150 yard and two touchdowns. He also made waves at his pro day. His 4.33 40-yard dash would have been the best at the combine, and both his broad jump mark of 10'6" and his vertical leap of 40.5" would have been second. He also did 23 reps on the bench press. His 10-yard split in the 40 of 1.48 seconds would have also been the best mark of any at the combine, and is the same as Best and C.J. Spiller.
Smith may have similar explosiveness of Best, but he has a much more durable frame. At 5'8" and 207 lbs, he has a well-built upper body and solid legs, which should stop him from becoming injury prone as a pro. It also allows him to run much more powerfully than most speed backs.
Smith's great strengths are his speed, burst and ability to make yards after contact. He is a naturally elusive runner who often forces and then breaks arm tackles.
However, while he is a talented runner who can kill with speed and pick his way through the line, he too often bounces runs outside. He also lacks the bulk to be an every down runner, and does not break many tackles in tight spaces. He is also an average pass protector and receiver.
Despite his flaws, Smith has great potential as a ball carrier, and this alone should make him appealing to a Detroit team that needs to improve its running game. Given that Smith should still be available in the fifth round, he could be yet another late-round running back who shows up as a quality starter as a pro.
Robert Golden (CB/S): Arizona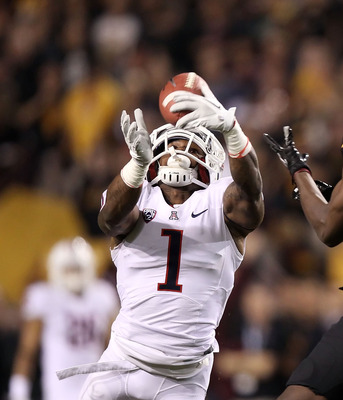 Christian Petersen/Getty Images
With the Lions' weak secondary, it is not surprising that there are plenty of late-round cornerbacks they could stick on their roster. Also, with cornerback being a very deep class in the 2012 NFL Draft, a few guys with starting potential could fall to day three. One such player is Robert Golden, who played his college ball for the Arizona Wildcats.
Golden was a five-star recruit coming out of high school, and while he has not measured up to that potential, he still was a key playmaker and leader in the Wildcats defense. However, he is currently lost in the wash of late-round cornerbacks, and may not even have his name called at the draft. However, I believe that the Lions should definitely take him with one of their seventh-rounders.
Golden should be especially attractive to the Lions because he can play either safety or cornerback in their scheme. He started both positions in college, and has the size and athleticism to arguably play both in the NFL. He weighed in at his pro day at 201 lbs, and while his 4.51 second 40-yard dash was not excellent, his 37.5" vertical leap, 7.04 second 3-cone drill and 19 reps on the bench press showed that he is a NFL level athlete.
The reason for his versatility is his run support skills. He is a sure tackler who could be one of the hardest hitting and most consistent of all the cornerbacks in the draft. He showed the same skills at safety in 2009, and was able to make plays because he could consistently get off blockers and get clean hits on ball carriers.
Golden also is developing as a cover man, and has solid instincts in zone coverage, where he is often near the ball due to his burst and intuition. His ball skills are also impressive, and could contribute as a return man due to his elusive nature with the ball in hand. While he often struggles in man coverage to stay on his man and deal with sudden cuts, he has the natural abilities and developing technique to be a good press corner as well. He has the long arms, strength and lateral movement skills to interrupt receivers at the line.
All in all, his press and zone skills fit perfectly with the Lions' aggressive zone coverage schemes, and his run defense is a great asset. He has the potential to either replace Amari Spievey at strong safety, or work as a nickel or dime back who can cover tight ends or play outside. For a possible seventh-rounder, that is pretty good return.
Terrell Manning (LB): N.C. State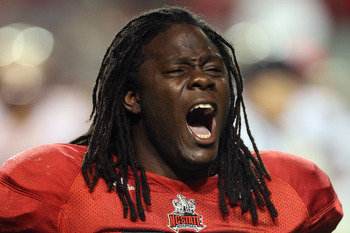 Streeter Lecka/Getty Images
As stated earlier in the Demario Davis slide, the Lions need to get some depth at outside linebacker. Fortunately, it is one of those positions where good players are always passed over on draft day. Last year K.J. Wright, who was one of the best rookie linebackers last season, lasted until the end of the fourth round, and a similar wait is likely to be in store for Terrell Manning, a junior from N.C. State.
Manning got a lot of bad press for his diminutive playing size in college, which was listed as 225 lbs. However, when he turned up for the scouting combine he had bulked up to 237. Nevertheless, he still showed off the athleticism that made him a terror in the ACC. He ran a 4.71 40-yard dash, jumped 32.5" in the vertical leap, managed 22 repetitions on the bench press and completed the 3-cone drill in 7.18 seconds.
On top of his athleticism, his tape shows a linebacker who is elite in coverage. Manning has supple hips, and combines his speed and burst with good instincts. He can make plays in man and zone coverage, and while he does not reel in a lot of interceptions, he keeps quarterbacks from completing passes in his area.
Manning is also a very good blitzer. In fact, there has been talk of him converting into a pass-rusher if he is taken by a 3-4 team. He has a nice array of moves, excellent lateral agility and the burst to threaten the edge or make the most of free lanes to the quarterback. He should be one of the best blitzing linebackers in the NFL early in his career.
Finally and most importantly, Manning is a good run defender. In college he struggled to get off blockers and was never a very big hitter, but some of these issues may have been taken away now that he has added 15 lbs of muscle. Even at his light weight, Manning had great functional strength, and had the awareness against the run to always be one of the first players to the ball. He is also a very effective tackler who rarely misses tackles. Unfortunately, he rarely delivers a big hit either.
It is very hard to get a handle on exactly where Manning will be taken in the draft. Some people think he will go in the third round, and other think he will be a sixth-rounder. Personally, I think he will still be available when the Lions are picking in the fourth, and that late in the draft he is a steal. He has the refined game to start early in his career, and the athleticism to become a top-15 player. Even if he never becomes a force against the run, his coverage skills and pass-rushing would make him a great nickel linebacker who can bring heat or smother running backs and tight ends.
Keep Reading

Detroit Lions: Like this team?