Denver Broncos: 5 Players Peyton Manning Must Trust in 2012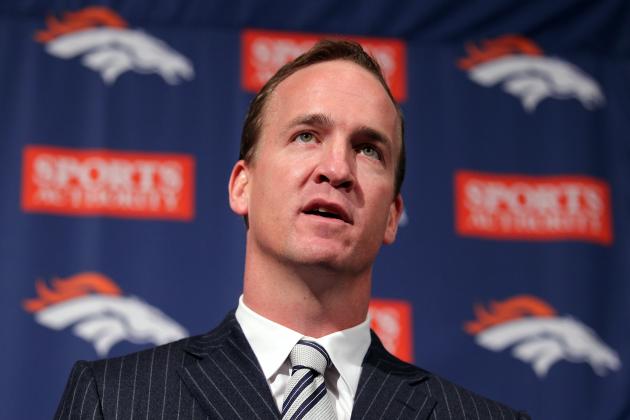 Doug Pensinger/Getty Images

Peyton Manning is starting over as the new quarterback for the Denver Broncos. Most of Manning's teammates are completely new to him, but he will have to get to know them fast if Denver is going to be a threat in the AFC.
One of the reasons why Manning was so effective in Indianapolis was due to the trust he had in his teammates. He trusted his receivers to be in the right place at the right time, and he trusted his offensive line to give him enough time to get rid of the ball.
Manning will have to trust players at those same positions if he is going to have the same impact in Denver as he had in Indianapolis for all of those years. Here are five players Manning has to trust this season.
Begin Slideshow

»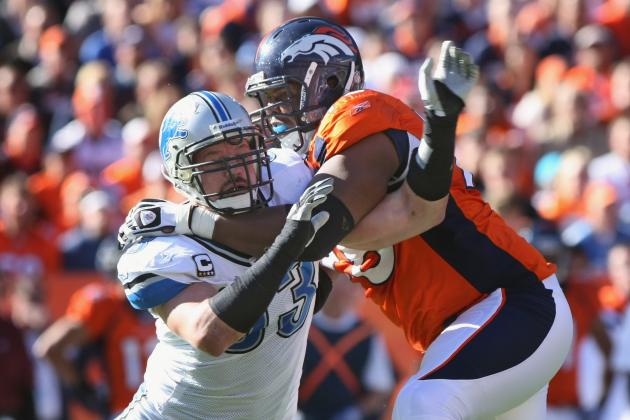 Doug Pensinger/Getty Images

Peyton Manning is coming off four neck surgeries, and the amount of punishment Manning can endure is unknown. One thing for sure is that the Broncos and Manning don't want to find out.
Luckily for Manning, the Denver Broncos have one of the best left tackles in the National Football League. Ryan Clady has been to the Pro Bowl twice in his four-year tenure in the NFL.
Besides Manning, Clady is going to be the most important player on Denver's offense because he is in charge of protecting Denver's five-year, $95 million investment's blindside. Manning is going to have to trust that Clady will have his back, literally and figuratively.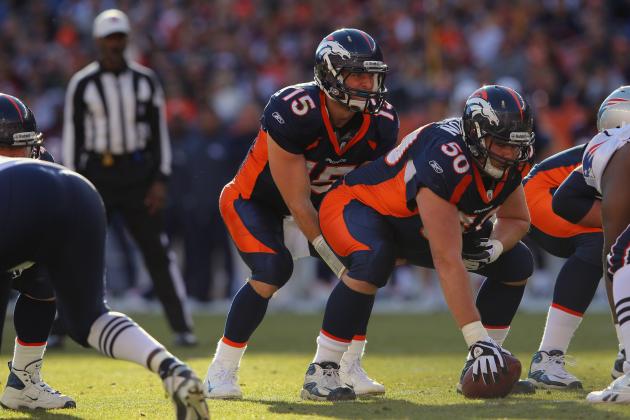 Doug Pensinger/Getty Images

Peyton Manning and his former center, Jeff Saturday, had fantastic chemistry. In an offense that does so much at the line of scrimmage, Manning is going to have to trust J.D. Walton to make the right coverage calls at the line of scrimmage.
Walton struggled in his rookie season, but in his sophomore season last year, he looked much more comfortable at the center position. Center could be the only position on Denver's offensive line that is a downgrade from the Indianapolis Colts. Unfortunately for the Broncos, it is one of the most crucial positions.
It's not to say that Manning and Walton won't be able to develop good chemistry, but without a doubt it is going to take some time and there will be some growing pains. Nevertheless, Manning is going to have to trust Walton for the offense to run smoothly.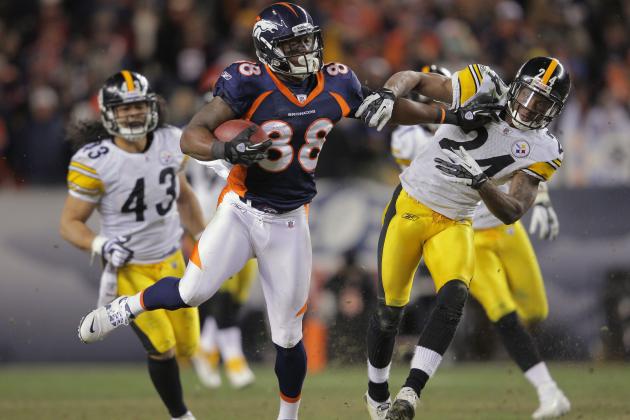 Doug Pensinger/Getty Images

Demaryius Thomas burst onto the scene in the last couple of games of the regular season and the playoffs last year. Thomas is most famous for being on the receiving end of Tim Tebow's 80-yard touchdown pass on the first play of overtime against the Pittsburgh Steelers in the Wild Card Round.
Thomas is an athletic freak and will be a terrific weapon for Manning to utilize once they get their timing down. In Indianapolis, Manning and his receivers would do endless repetitions until everything was absolutely perfect.
Thomas doesn't have too much experience considering he didn't run many different routes at Georgia Tech, or when Tebow was at quarterback. That will change with Manning in charge, and I expect Thomas to eventually develop a great relationship with his new QB. For that to happen though, Manning is going to have to trust Thomas like he trusted Marvin Harrison and Reggie Wayne.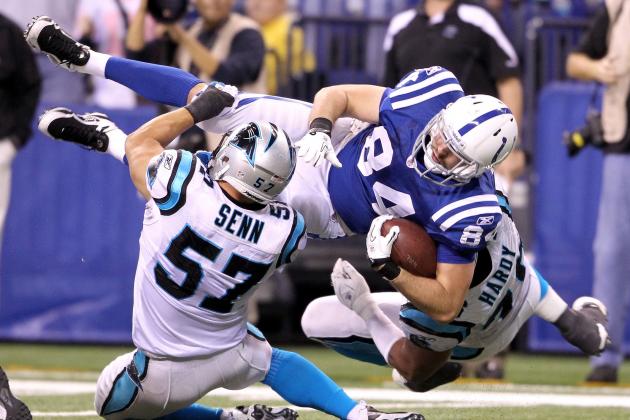 Andy Lyons/Getty Images

One of the few familiar faces on the Denver Broncos for Peyton Manning will be his former teammate, Jacob Tamme. Tamme's breakout year came in 2010 when he had 67 receptions and 631 yards receiving to go with four touchdowns. Tamme got his opportunity when Dallas Clark suffered a season-ending injury.
Tamme signed with the Broncos after it was announced that Manning was going to be their new starting quarterback. Tamme will bring instant chemistry with Manning and will also be another player to help infuse Manning's style into Denver's offense.
Manning already trusts Tamme, and he will have to continue to trust him for the Broncos to be successful.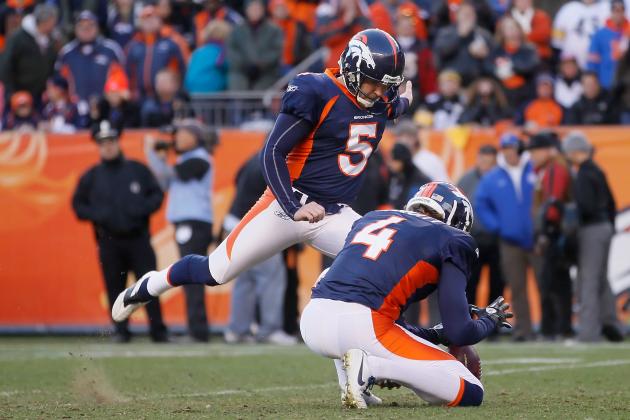 Jeff Gross/Getty Images

This might come as a bit of surprise, but Peyton Manning is going to have trust Matt Prater a lot, even though the two will never be on the field at the same time.
Prater was nothing short of phenomenal for the Broncos last year. He converted the most field goals over 50 yards and made some of the most clutch kicks in Broncos history. Most notably against the Chicago Bears, Prater drilled a 59-yard field goal to send the game into overtime and a 51-yard field goal to win the game.
Prater is one of the unsung heroes of Denver's run last year and Manning is going to have to trust that he doesn't have to force passes when there is an opportunity for a 50-yard field goal. This may not sound like a lot, but that trust can be the difference from three points and a game-changing turnover.