New York Yankees: Andy Pettitte Great in Latest Minors Start, Looking More Ready
April 16, 2012

Al Messerschmidt/Getty Images
The Yankees took care of business on Sunday night by defeating the Los Angeles Angels 11-5 in New York to win the series.
In Florida, Andy Pettitte took care of his own business by pitching well in another minor league start.
Pettitte pitched in his second minor league start for the Class A Tampa Yankees, and it looked like vintage Pettitte on the mound.
The 39-year-old left-hander threw four shutout innings against Clearwater, allowing two hits, no walks and struck out three while throwing just 47 pitches.
Of the 47 pitches, 31 of them were for strikes, a great ratio, which is shows that Pettitte is not only getting a feel for the strike zone, but he's attacking hitters.
Josh Norris of the Trentonian and the Trenton Thunder's beat writer was down in Tampa and talked to scouts at the game, who thought Pettitte looked "ready."
Scout at the game: Pettitte's at 87-89, good command and movement to both sides. SL better than CB. Change is OK. Looks ready. #Yankees

— Josh Norris (@jnorris427) April 15, 2012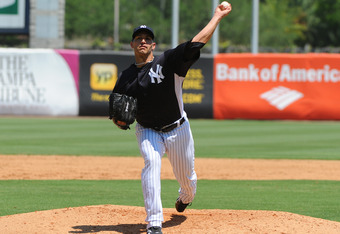 Al Messerschmidt/Getty Images
If Pettitte is, in fact, looking ready for the major leagues that is great news for the Yankees, who could use quality starts out of their lefty veteran.
Pettitte felt extremely good after his latest outing in the minors.
"Everything feels pretty good. Unless every pitch is perfect, I kind of get frustrated with that," Pettitte said. "I felt like I cut a couple pitches off, and of course you know at the big league level when you do that and balls come back over the plate, that could cost you a little more than it could down here. But these guys can hit it out just as good as anyone else can to a certain degree."
Monday's start for Freddy Garcia is an important one, because if he continues to pitch awful, it could be his spot that Pettitte ends up taking when he returns to the Yankees sometime in early May.
Pettitte is expected to make his next start in five days on Friday and throw anywhere between 50-75 pitches, but where he will be pitching is not certain yet.
Pettitte could make another start for the Class A Tampa Yankees or they could move him up and have him start for the Class AA Trenton Thunder.
Tampa Yankees manager Luis Sojo, who was also a former Yankee teammate of Pettitte, had nothing but kind words after the game.
"For a guy who hasn't pitched in a year, that's very impressive. He's throwing strikes. Every pitch has worked. He's been confident," said Tampa Yankees manager Luis Sojo, who played with Pettitte in the Bronx for parts of seven seasons from 1996-2003. "I would be surprised if that was somebody else. Andy is a very dedicated guy. He's very professional, and he wants to come back for a reason. The reason is that he's feeling good.
So far, so good for Pettitte, and he's looked really sharp in his preparation to return to the major leagues.
If all goes well, he might be three or four starts away from pitching in pinstripes for the Yankees.
Stay tuned, Yankees Universe.