Golden State Warriors: Five Steps to Build a Championship Contender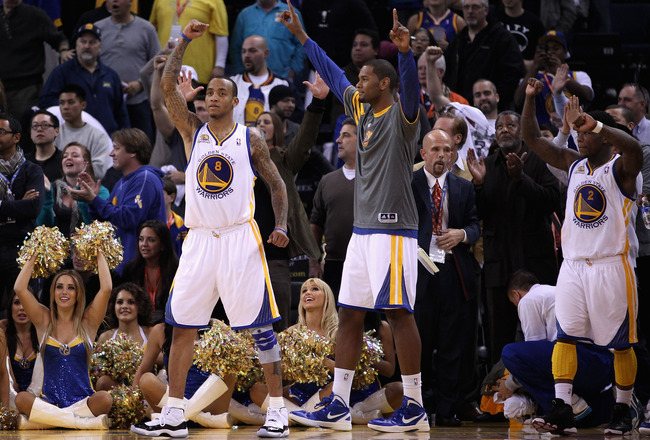 Ezra Shaw/Getty Images
You probably know what's coming.
"The Warriors need to get rid of Andris Biedrins contract. They need to re-sign Dominic McGuire and let Nate Robinson go. They need to trade Dorell Wright. Fire Mark Jackson. Keep Mark Jackson."
You also probably want to skip through the slides quickly and move on, or tell me why I'm an idiot and then move on.
Finally, you probably disagree with the premise. Warriors? Championship contender? What are they going to do, start a bounty program? Drop down to the D-League?
So I'll keep this intro brief: The Golden State Warriors are at a crossroads right now.
I know, they're almost always at a crossroads. But for the first time in years—and the second time in decades—they have an actual chance to move up the road. The foundation is there, and the timing is right.
The balance of power is slowly but surely shifting to the East, as it was inevitably going to. These things change. Some of the West's current top teams will fade due to age over the next few seasons. The Warriors have a new coach, new players and new plans. If it all lines up right, they could be fighting for Western Conference supremacy in three seasons.
If it all lines up right.
Lose Six of Seven Remaining Games This Season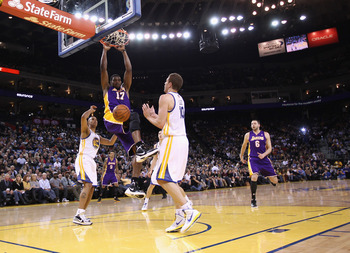 Ezra Shaw/Getty Images
As you are hopefully aware of, the Golden State Warriors are tanking away the rest of the 2011-12 season.
It all started back in 2008, when Chris Mullin brought in Marcus Williams and sent away the team's conditional 2011 first-round pick, which, after additional moves, became a 2012 pick (for a more thorough explanation of the details than I could ever dream of providing, check out Adam Lauridsen's piece from over a year ago). The 2012 pick is top-seven protected, meaning the Warriors must finish in the top-seven of the draft lottery to retain their pick.
The Warriors came into this season hoping to make the playoffs. A new coach, new philosophy and new ownership combined with an upgraded bench made Golden State look like a team on the rise. Sure enough, injuries and undersized-ness led to the team falling out of the playoff race.
Rather than play out the season pretending the team had any chance of making the playoffs, Golden State's front office (who knows whether Joe Lacob, Larry Riley or Jerry West is pulling the strings) sent Monta Ellis and Ekpe Udoh to Milwaukee in exchange for Andrew Bogut and Stephen Jackson.
In the trade, the Warriors lost two of the only guys on the roster helping the team win, while gaining two guys that would not help at all. Andrew Bogut was already out for the season with a broken ankle, and Stephen Jackson was never going to play in Golden State.
In reality, the Warriors were not trading Ellis and Udoh for Bogut and Jackson; they were trading Ellis and Udoh for Bogut and two first-round picks.
Stephen Jackson was promptly sent to San Antonio for Richard Jefferson's bad contact and a first-round pick. Without Ellis, Udoh or Bogut, the team shut down chronically-injured point guard Stephen Curry for the season in an attempt to both heal him long-term and retain their first-round pick by losing this season.
The Warriors have been losing ever since. They are 5-16 since trading Ellis, and with David Lee likely done for the season, the losing will hopefully pick up.
The Warriors are now 22-37, making them the NBA's eighth-worst team. This could land them a top-seven pick in the draft lottery, but their chances are slim unless they finish with a bottom-seven record. The New Jersey Nets are currently 22-39, meaning whichever team wins more games from here on out will have the inside track at the seventh pick.
New Jersey has a tough remaining schedule and will likely win two more games at the most. To have a good shot at retaining their pick, the Warriors can't win more than one more game.
Get Healthy This Summer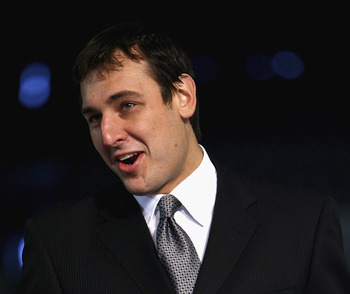 Robert Prezioso/Getty Images
The Warriors have spent much of this season doing what most teams spend their summers doing: getting healthy. The team has shut down Stephen Curry, Andrew Bogut and in all likelihood David Lee—even though all three of them could probably return if they needed them to.
The Warriors ownership should be applauded for their willingness to sacrifice attendance and temporary fan interest for the long-term benefit of their team. Not only did they trade away their most exciting player for an injured big man, but they shut down their second-most exciting player, even though he could still play.
Given that, no amount of rest guarantees that these guys will get healthy. Andrew Bogut has had a multitude of injuries throughout his career. While he is quick to point out that he isn't injury prone, the fact is that Bogut has fractured bones in his feet, arms, hands and back.
Bogut is still only 27, but the older he gets and the more bones he breaks, the harder it will become to stay on the court and maintain an elite level of play.
Stephen Curry, meanwhile, has perhaps the more troubling injury sheet. Although Curry has never missed significant time before this season, he has sprained his right ankle an alarming seven times since the summer of 2010. If Bogut isn't injury prone because all of his injuries have been different, Curry may be the definition of injury prone.
Given that, he has never rested his ankle as thoroughly as he has and will continue to this summer. There is good reason to believe that an NBA franchise will provide its franchise player with the best medical assistance possible, and that Curry can get past this problem.
Make the Playoffs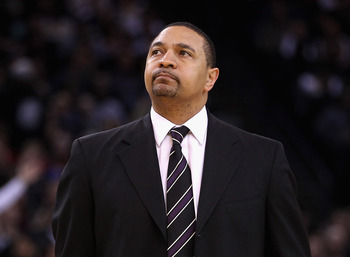 Ezra Shaw/Getty Images
Every NBA franchise is under pressure every season to make the playoffs. Most fans believe that their team is failing them when they miss the playoffs, but of course, 14 teams will inevitably miss the playoffs every year.
That also means that 16 teams will make it. So while almost half the fanbases in the league don't get to enjoy playoff basketball in each given season, there is enough space for everyone to make it every few seasons.
So when a team goes 18 seasons with no more than one playoff appearance to show for it, they are truly failing their fanbase. The league is set up in a way—with the non-playoff teams getting lottery picks, the salary cap, restricted free agency, etc.—for success to almost fall into every franchise's lap every so often.
Combine that with the fact that the Warriors have the inherent advantage of playing in a large market and in front of the league's most committed fanbase and you have a team that has absolutely no excuses.
Next year, however, will mark an all-time low for this franchise if they fail to miss the playoffs. Joe Lacob and Peter Guber bought the Warriors for an NBA record $450 million. The new ownership has promised success, and brought in a coach who has promised the same.
They didn't deliver on their promise this season, and as a result have made several important roster decisions with next year in mind. With one of the league's best centers in Bogut, an explosive power forward in Lee, a rare talent at point guard in Curry, a blossoming young star at shooting guard in Klay Thompson and, hopefully, a top-seven draft pick from one of the best classes ever at small forward, the Warriors will have their most well-rounded lineup in 20 years.
And with this lineup, all they need to do next year is make the playoffs. Even if they get swept in Round 1.
If they miss the playoffs in 2012-13 for the 18th time in 19 seasons after promising so much, trading Monta Ellis and shamelessly tanking away this season, the franchise will spiral into an even deeper pit. If that's possible.
Don't Force It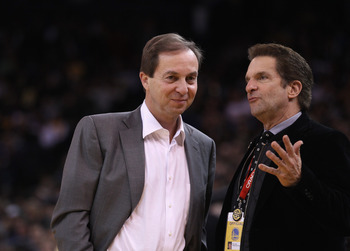 Ezra Shaw/Getty Images
Although I've made it exceedingly clear that this franchise has underachieved to an overwhelming degree, the brief success they have had is as important to examine as the abundant failure.
This team's lone playoff appearance since 1994 came in 2007, when they went 42-40, grabbed the No. 8 seed and beat the 67-15 Mavericks in Round 1. The next year, they became the best team in NBA history to miss the playoffs, going 48-34. It seems fair to call these two seasons a period of success.
So, why did the Warriors' upward momentum result in them crashing right back down almost instantly?
It's not that complicated—they lost good players and replaced them with not-so-good ones. The team's leader, Baron Davis, walked in free agency after a falling out with Head Coach Don Nelson. The team panicked and felt as though they had to replace Davis' spot by signing any expensive free agent.
So they brought in the consummate loser Corey Maggette.
Maggette's huge contract, combined with the massive extensions the team handed out to Andris Biedrins, Monta Ellis and later Stephen Jackson, handcuffed the team salary-cap wise. This meant that the team's best bench players—Matt Barnes and Mickael Pietrus—left via free agency, even though either one would have been much cheaper and more effective as a backup small forward than Corey Maggette.
The team went on to a 29-53 record, and has not approached .500 since.
People blame Monta Ellis' ankle injury, but that's ignoring what the team's real problems were: lack of a floor general, lack of defense, lack of grit off the bench and lack of size.
The current Warriors brass seems to understand this. They chose to keep Stephen Curry—a point guard—over Monta Ellis. They brought in a coach who prioritizes defense and players who can defend (Dominic McGuire, Brandon Rush, Bogut). They have their most complete frontcourt in years, as Bogut and Lee look to be a load to handle inside.
But nothing in this league is permanent, and the Warriors learned that the hard way four summers ago. Signing and keeping good players requires using cap space, and using cap space requires giving up other pieces. For the Warriors to extend Stephen Curry and Andrew Bogut (both set to be free agents the season after next), and eventually Klay Thompson and this year's first-round pick down the line (if they pan out), the Warriors must be very careful with their cap management.
With a playoff season next year, quality free agents will gain interest in Golden State. And the Warriors will likely have cap room. As attractive as bringing in new pieces would be, the Warriors need to exercise foresight and patience.
Exorcise Their Demons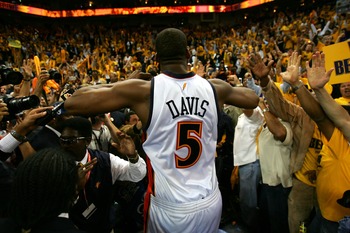 Jed Jacobsohn/Getty Images
The Warriors can hire and fire coaches. They can hire and fire GMs. They can be bought by new ownership. Promises can be made. Players can be released, traded, traded for, drafted and signed. Expectations can rise. Hope can rise.
In fact, those things can happen relatively easily. And it's easier for of those things to all happen than it is to do one other thing:
Win.
Sometimes, trying isn't good enough. The Warriors can try and build the perfect team—drafting well, managing the salary cap, adding key piece on top of key piece—but there is no "way" to build a winner. It's not as easy as following a step-by-step model that I can write an article about, because even if every team did this, only half the teams would make the playoffs each season, and only one would win a championship.
I said earlier that a playoff appearance should pretty much fall into every team's lap at least once or twice a decade. But contending for championship is completely different.
To contend for a championship, you need to do the right things as an organization, yes, but you also need the right things to happen. The Warriors need to finish in the top seven of the draft lottery. They need Stephen Curry and Andrew Bogut to get healthy. They need to make the playoffs. These things are all partially out of their control, but they still need them to happen. Ultimately, they simply need to win.
Well, they need to keep losing for seven more games. Then win.
Keep Reading

Golden State Warriors: Like this team?