Bayern Munich vs. Real Madrid: 3 Players Most Likely to Score
April 16, 2012

Martin Rose/Getty Images
Bayern Munich and Real Madrid will meet in the semi-finals of the UEFA Champions League this week, with the winner of the tie booking a place in the final of Europe's final tournament.
The German giants will be looking to bounce back strongly from a frustrating loss to Dortmund and a draw to FSV Mainz 05 that's all but surrendered their Bundesliga title chances with a solid performance against the Spanish superpower.
For Real Madrid, they will know the expectation is to win, and they will seek to continue their splendid run of form that's seen them sit atop the La Liga standings above Barcelona with a few weeks remaining. They have been dominant all year long, and will be looking to cap that off with not only domestic success, but international success also.
With the attacking talent that both sides boast, there's bound to be goals in the opening leg of this semi-final clash as both teams seek to gain the upper hand over the other.
And if it's goals you're after, here's the three players most likely to find the back of the net.
1. Mario Gomez (Bayern Munich)

Gomez has without doubt been Bayern's best attacking player all season, netting 25 goals so far in the Bundesliga as well as 11 in the Champions League. And against a Real Madrid unit that's allowed less than a goal per game this season, he will need to be at his attacking best.
Having said that, Madrid have only recorded two clean sheets from their last 11 matches and have shown vulnerability at the back this season when pressure is applied.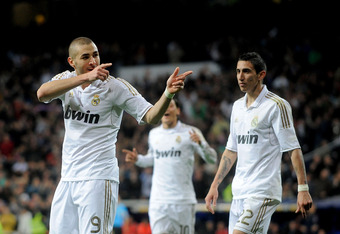 Denis Doyle/Getty Images
The fast-break nature that Bayern have developed throughout the Bundesliga will no doubt be on show here, and if that's the case, expect the main man Mario Gomez to be the one to finish it off by putting the ball in the back of the net.
2. Karim Benzema (Real Madrid)
Benzema is one of the best young strikers in the world currently; yet he's playing second or third fiddle in this Real Madrid unit as the likes of Cristiano Ronaldo take center stage, and rightly so.
Yet despite all of Ronaldo's dominance this season, Benzema sits just one goal behind him in the Champions League and has also chalked up five assists to his name. The Bayern defense will be all too familiar with the threat that Ronaldo poses and pressure him accordingly; giving players like Benzema more space and opportunity as a result.
Benzema has netted 29 goals and 11 assists from 33 appearances for Real Madrid this season and is an excellent option to grab a goal in this one.
3. Franck Ribery (Bayern Munich)
Arguably their best midfielder all year, Ribery is also a cheeky option to grab a goal, and I really like the odds of him getting his name on the score sheet in this one.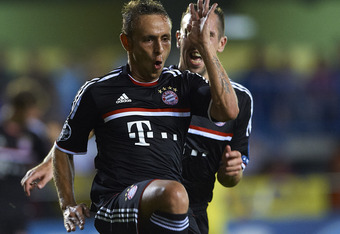 Manuel Queimadelos Alonso/Getty Images
Ribery has only netted the two Champions League goals so far, but does lead the team in assists and sits second in average match rating for the tournament, showing that he is still always in the action. His superb domestic form, which has seen him chalk up 11 goals and 11 assists also makes him a great option.
However, the real clinch for me is the fact that Ribery loves scoring in front of his home crowd. Out of the 11 Bundesliga goals he has scored, all but one of them has come at home—as have both of his Champions League goals.
A player who loves the big stage, Ribery is a great option to find the back of the net against the Madrid defense in this one.
Overall
Firstly, don't have a heart attack just because I didn't pick Cristiano Ronaldo to score. Part of me thinks that he won't, but even if he does, predicting him to score is really difficult and shows a whole lot of insight and thought. So he's not on the list.
But these are the three players who all possess great potential and ability to find the back of the net, and all three will in this semi-final clash.
Ribery and Gomez will make the home fans go crazy with two early goals, giving Bayern a 2-0 half-time lead over Real Madrid. Expect their defense to try to shut down the visitors then in the second period, with a barrage of attack to come from Madrid—Benzema to grab what could turn out to be a crucial away goal.
So, 2-1 Bayern Munich, and all eyes fixed firmly on the return leg to see who will progress through to the final of the UEFA Champions League. This truly is a fascinating matchup as two footballing giants do battle for European glory.
I can't wait.
Read more articles by Dan here — or  Follow @dantalintyre