Notre Dame Football: 5 Offensive Replacements for Michael Floyd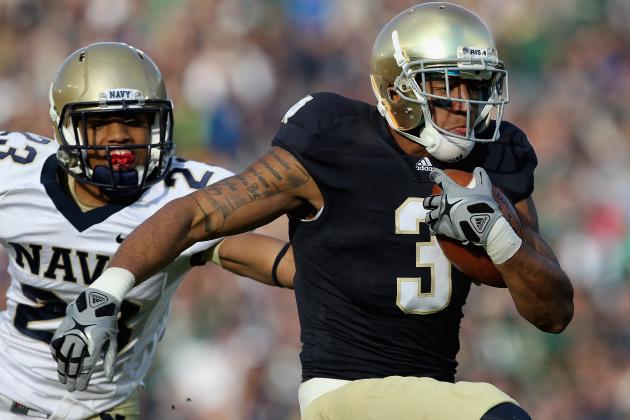 Jonathan Daniel/Getty Images

Replacing wide receiver Michael Floyd is the most important concern for the Notre Dame Fighting Irish—after ending the QB battle.
Last season, Floyd caught an even 100 passes while totaling 1,147 yards and nine touchdowns.
Unfortunately, Brian Kelly does not have the ability to approach the situation of replacing Floyd by simply plugging in another wide receiver into his slot. Notre Dame will most likely need a group effort from a number of offensive targets.
These five players will need to progress in their production if Notre Dame wishes to lessen the hurt of losing their great receiver.
Begin Slideshow

»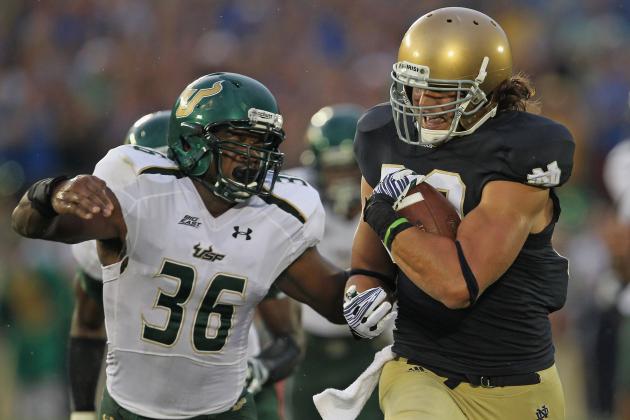 Jonathan Daniel/Getty Images

Tight end Tyler Eifert is the closest player Notre Dame has capable of producing at as high rate as Michael Floyd did.
After losing a star tight end in Kyle Rudolph, Eifert played above all expectations during his first full season in 2011.
Catching 63 passes and accumulating 803 yards, both good enough for Notre Dame records as a tight end, Eifert became the focal point of Brian Kelly's new spread offense.
As been seen lately in the NFL, tight ends with certain skill sets are a nightmare to cover. Tyler Eifert has this skill set.
Very few linebackers are fast enough to cover Tyler off of the line, and very few safeties are strong enough to match up with him in the end zone. His size and speed will cause chaos for defending coaches.
Eifert will have all the tools and capabilities in place to match his 2011 season, and most likely surpass it, becoming one of the most celebrated tight ends in Notre Dame history.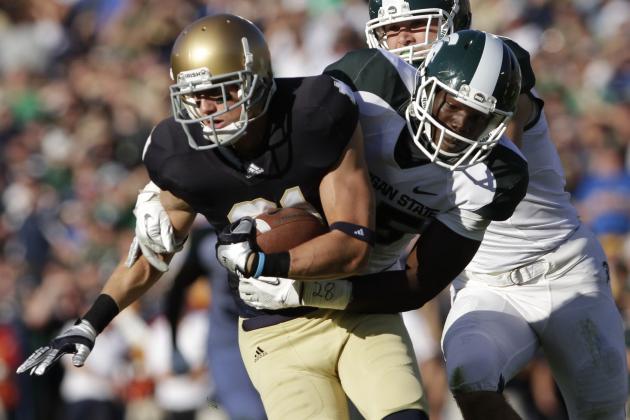 John Gress/Getty Images

John Goodman brings mostly experience to a young and talented position of wide receiver.
Entering his fifth year of eligibility, Goodman will need to be as reliable as they come in terms of production in order to be statistically important. Although he will not put up gaudy numbers, he will be expected to be one of the go-to options for whichever quarterback takes the reins.
Brian Kelly has been singing the praise of Goodman during camp, but Notre Dame fans have learned to take praise lightly considering Deion Walker was often praised early and failed to catch a single pass during the 2011 season.
Experienced players are often overshadowed by the younger, more electrifying players—but they serve just as valuable of a purpose.
With so many young receivers entering practice, Goodman will be the glue in holding them all together. He will teach more than he will perform, and the importance of having a leader in the locker room and on the field is often highly understated entering camp.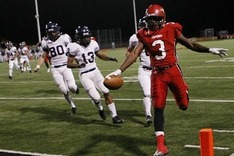 Image courtesy of bloguin.com
There was quite a bit of drama attached with the signing of Davonte Neal, but all scouting reports and tapes prove the drama to be well worth it.
This incoming recruit possesses the talent to become another Golden Tate, if not better.
Much like Golden, Davonte lacks in size and bulk but makes up for it with explosiveness and speed. His ability to change pace and direction often leaves defenders flat-footed and prove him to be extremely dangerous in open space.
Either lining up on the outside, inside or in a screen position, Neal will be a valuable target with playmaking skills Notre Dame has been lacking.
On top of being an electric receiver, Neal should also immediately produce on special teams. For the Irish, this is ideal considering the horrific return play of last year.
Beyond being an offensive weapon, Neal has been touted as being a very good cornerback as well. Considering his size, this is where he will likely play at the next level. He has good coverage awareness, quickness and hip movement.
Whether it's returning kicks or catching passes on the bubble screen, Notre Dame's Davonte Neal will be an exciting player to watch progress into a great receiver.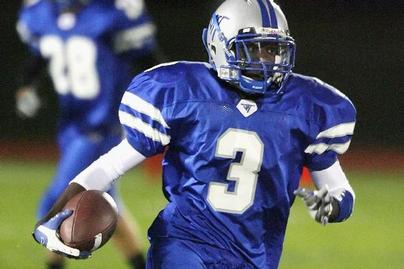 Image Courtesy of TBD.com
After red-shirting his freshman year to learn the offense, true sophomore DaVaris Daniels is about as close to Michael Floyd's physical imposition as you will see.
His size and athleticism will cause serious matchup problems for defenses, much like Floyd did.
Notre Dame, a team desperately looking for a big-time offensive playmaker down the field, may find themselves very pleased with Daniels. He is a very strong receiver with raw talent and the ability to be a force in the red zone.
Brian Kelly and Chuck Martin will look to deploy Daniels as their main outside threat and one of the top end-zone targets to begin the year. With his raw ability and imposing strength, DaVaris has everything it will take to become a big-play type of receiver.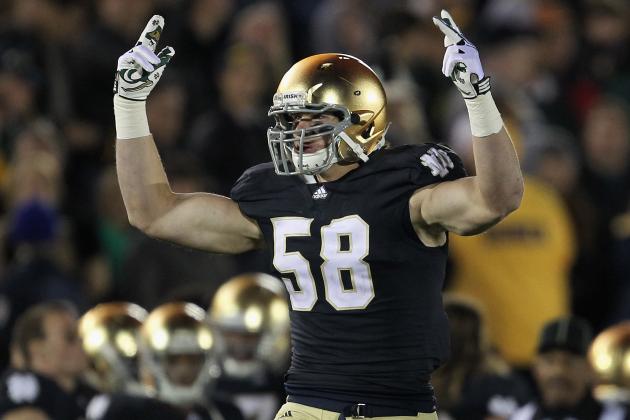 Jonathan Daniel/Getty Images

Last year, Troy Niklas saw his name rise up the depth charts at outside linebacker. This year, however, Niklas will be utilized behind Tyler Eifert at tight end.
Since Eifert will be used all over the field in the passing game as one of Notre Dame's top targets, Troy will be relied upon to block.
Michael Floyd was arguably the best blocking receiver in college football, often creating open-field space with his large body downfield. Troy will serve the same purpose as he moves to the tight end position.
Although it is not as flashy or noticeable to the average fan, a blocking tight end or receiver is a vital part to any offense. In order for the Fighting Irish's young receivers to wreak havoc, there must be a presence of blocking further down the field than the line of scrimmage.
Outside of blocking, Niklas is said to have a very good set of hands. If Troy is able to refine his catching abilities and route running, forcing defenses to respect him, he will become a valuable asset to this offense, much like Floyd was with blocking off the line during screen plays.