Brandon Lloyd: Why the New England Patriots WR Will Fail in 2012
April 16, 2012

Dilip Vishwanat/Getty Images
There are a lot of things the New England Patriots do well. They never turn the ball over, they coach-up poor defenses, make it to Super Bowls, control the media and videotape signals as well as anyone. 
However, the residents of Gillette Stadium seem to be allergic to signing and developing successful wide receivers. The list of failed free-agent pickups and trades at the position reads like a veritable who's who of has-beens, never-weres and failed experiments. Why should we believe that Brandon Lloyd will be any different?
Only one success story comes to mind when you read the headline: "Patriots sign veteran receiver." Wes Welker is a rarity in New England, and he wasn't even a big-name player. Guys like Joey Galloway, Torry Holt, Donte Stallworth and Chad Ochocinco all made their way through Patriot Place and failed. Hell, even Randy Moss didn't end well.
It strikes as a bit of a mystery though. If Tom Brady is such a transcendent quarterback, why can't the Patriots develop any receivers?
They have spent high draft picks on the likes of Chad Jackson, Bethel Johnson, Taylor Price and Brandon Tate at the position and haven't had any success. Really the only two wideouts that New England has developed during the Brady era are Deion Branch and David Givens. 
This is as prolific an offense as there is in football right now. How does it work? Two dominant tight ends and a dynamic slot receiver is what the Patriots have been the since Moss was sent packing. 
Brady excels at his own style. What we still don't know is: Does his style mesh well with premier pass-catchers? The Patriots quarterback may be better off passing to Reche Caldwell than Calvin Johnson, a statement that is utterly absurd.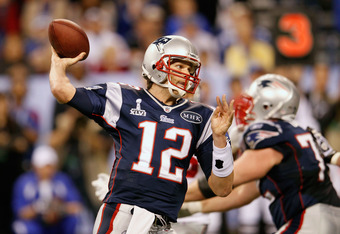 Rob Carr/Getty Images
Moving away from the fact that Massachusetts seems to be where name receivers go to die, let's look at Lloyd as a player. At 30 years of age, he is no spring chicken in the NFL, especially at a skill position. In Lloyd's nine-year career, he has played 16 games in a season just three times. On top of that, Robert Kraft will be his sixth different employer since being drafted in 2003. 
If that doesn't scream both injury risk and attitude issues, I don't know what does. Lloyd has gotten a lot of publicity and notoriety in football circles for what may amount to one outlier season. In 2010 when with the Denver Broncos, Lloyd led the NFL in receiving, catching 77 balls for 1,448 yards.
Prior to that, Lloyd had never broken 50 catches or 750 yards. Last season in time split between Denver and Saint Louis, Lloyd did grab 70 balls for more than 900 yards, but that was playing for down-and-out franchises with limited offensive weaponry. 
Aging wide recievers in the NFL have to be two things; durable and consistent. Neither adjective screams Brandon Lloyd, and the Patriots think so, too. Bringing in a rash of WR talent this offseason doesn't reek of confidence in Lloyd's skills.
Neither does the fact that they were able to get him so cheap, (three years, $12 million) in a burgeoning receiver market. Lloyd covered his back early by saying he'd take less money to come to New England. In reality, he was never going to get Vincent Jackson money.
Brady has his top three options pretty much set in stone with Welker, Rob Gronkowski and Aaron Hernandez. Lloyd's role will be a limited one. He will also be competing for snaps with Ochocinco, Stallworth, Branch, Anthony Gonzalez and whatever else the Pats find on the scrap heap.
Lloyd has been a top dog since 2008 in Chicago, consistently a first or second option for mediocre quarterbacks. In New England, he will have to accept a role and keep his mouth closed if he wants to succeed.
Even in success, though, this won't be the major move fans once thought. Lloyd is a minor cog in a scarily efficient offensive unit. Maybe he will come in and be the consummate teammate and pro that Ochocinco was able to be. But Ochocinco was not a success, his signing was a failure, and Lloyd's resume doesn't have seven 1,000-yard seasons on it.
It is as reliable as the Madden curse, so mark it down—Foxboro, MA, where the careers of big-name receivers go to die.