2012 NFL Mock Draft: Defensive Studs Sure to Be Gone in Round 1
April 16, 2012

Butch Dill/Getty Images
This year's defensive draft class doesn't have a surefire Hall of Famer that jumps off the page, but that doesn't mean the first-round isn't going to be littered with talented players that have the potential to do some real damage in the league.
As we go through the latest mock draft, the focus lies on defensive players that are on the fast track to a long and prosperous NFL career.
(Studs in italics.)
1. Indianapolis Colts: Andrew Luck, QB, Stanford
Give Indy credit; it knows when to stink.
The Colts landed the top pick when both John Elway and Peyton Manning were entering the league and now they get Luck.
Can he handle the lofty expectations?
2. Washington Redskins (via St. Louis Rams): Robert Griffin III, QB, Baylor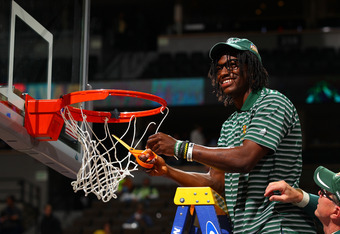 Doug Pensinger/Getty Images
Is there a more likable guy in the draft then RGIII?
His outgoing personality is just one of the many reasons some scouts have him ranked higher than Luck on their big board.
3. Minnesota Vikings: Matt Kalil, OT, USC
With free agent Charlie Johnson a massive disappointment in 2011, the Vikings have to use their top pick on a replacement.
Kalil is the most polished lineman in the draft and possessed all of the tools to become an elite blocker in both the run and pass game.
4. Cleveland Browns: Justin Blackmon, WR, Oklahoma State
Blackmon is the sort of deep-threat playmaker that has been lacking in Cleveland seemingly forever. The No. 1 rated receiver in the class is going to be the face of the franchise in no time.
I'm not quite sure who will be throwing the passes to him, however.
5. Tampa Bay Buccaneers: Morris Claiborne, CB, LSU
Claiborne is the best defensive prospect in the draft because of a combination of success and potential.
While overshadowed in college, there was no question Claiborne has the potential to become the next great shutdown corner.
He is incredibly athletic with great speed and size that allows him to be an outstanding pure cover man. Claiborne has terrific instincts and doesn't need a Wonderlic test score to show scouts he's a smart football player.
This guy can be a top-tier talent for the next decade.
6. St. Louis Rams (Washington Redskins): Trent Richardson, RB, Alabama
Richardson is hands down the best running back prospect in the draft and has a long and productive career ahead of him as long as his knee holds up.
Yes, I know the Rams already have Steven Jackson, but I think the team ultimately trades this pick to a running back needy team with multiple picks later in the draft. The Rams are looking for quantity, not quality in the '12 draft.
7. Jacksonville Jaguars: Fletcher Cox, DT, Mississippi State
Cox is full of energy, never taking a play off. The proof is five blocked kicks in his collegiate career. You have to love that from a position that is littered with players that don't always give a 100 percent effort.
He has remarkable height (6'4'') and length (34.4'' arms) while possessing outstanding quickness for the position. His burst off the snap is something special.
With durability to boot, there is a lot to be excited about when talking about Cox.
8. Miami Dolphins: Riley Reiff, OT, Iowa
The 'Fins are not going to overpay for Ryan Tannehill, so they settle for the best remaining prospect on the board with Reiff.
It's a conservative pick.  
9. Carolina Panthers: Dontari Poe, DT, Memphis
Ever since the combine, scouts have been gushing over Poe. His physical tools combined with a 6'3'' and 350-pound frame make him one of the most sought-after prospects of the entire draft.
I'm not convinced. He never really stood out at Memphis and we still don't know how he plays against top-notch competition.
10. Buffalo Bills: Nick Perry, DE, Stanford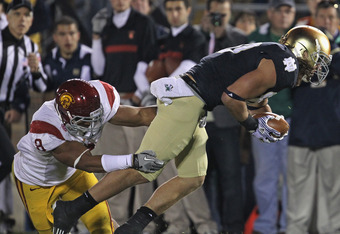 Jonathan Daniel/Getty Images
Scouts love Perry's pass-rush ability and he has the stats to back it up. In only three years, Perry registered 21.5 sacks and 29.5 tackles for losses.
The 21-year-old junior isn't nearly as polished as some of the other players on the board, but few have his potential. If the Bills can stay patient with him and allow Perry to learn from his mistakes early, we are looking at a potential All-Pro.
11. Kansas City Chiefs: David DeCastro, OG, Stanford
The Chiefs addressed the tackle position by landing Eric Winston and now it's time to shore up guard.
KC won't have to worry about the position for 10 years if it ends up with DeCastro.
12. Seattle Seahawks: Courtney Upshaw, OLB, Alabama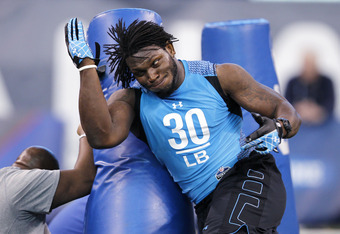 Joe Robbins/Getty Images
His aggressiveness and leadership on the field make him a special player. He has a ton of big-game experience and the athleticism to match it.
He can start for Seattle from Day 1.
13. Arizona Cardinals: Quinton Coples, DE, North Carolina
Coples is overvalued because he has strong measurements, but I can't trust a guy that only notched 7.5 sacks in college, with two of them coming against James Madison.
He is a big gamble and one I wouldn't want to take with such a high pick.
14. Dallas Cowboys: Stephon Gilmore, CB, South Carolina
At 6'0'' and 190 pounds, Gilmore is a ball hawk that possess all of the physical tools to be a strong player for the Cowboys.
As Janoris Jenkins continues to plummet down the rankings, Gilmore is the one who benefits the most.
15. Philadelphia Eagles: Melvin Ingram, OLB, South Carolina
The Eagles need a guy that can jump in and play right away, and Ingram fits the mold.
Ingram is incredibly versatile as a natural athlete that has a knack for making the big play. This could be the missing piece that was lacking a season ago.   
16. New York Jets: Michael Floyd, WR, Notre Dame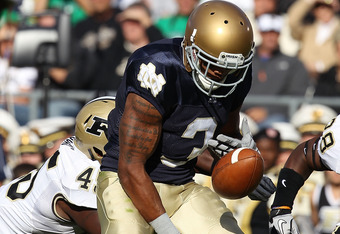 Jonathan Daniel/Getty Images
Floyd is considered to be a better pro prospect then Blackmon in some NFL circles. The 22-year-old is experienced, sure-handed and able to run any route you ask him to.
There is no doubt he is going to be a legit pro for the foreseeable future.  
17. Cincinnati Bengals: Luke Kuechly, LB, Boston College
The Butkus Award winner plays with a ton of passion and energy, which was the main reason he was so successful in college. I think he's going to be in for a rude awakening when he realizes he is one of the least athletic players on the field.
His lack of speed combined with a tendency to overrun plays makes me weary of Kuechly.
18. San Diego Chargers: Kendall Wright, WR, Baylor
The Chargers are in desperate need of a No. 1 receiver now that Vincent Jackson is gone, and Wright has the speed to be a decent replacement.
While I am skeptical of his ability to handle the physicality of the NFL, the old mantra "speed kills" rings true with this pick.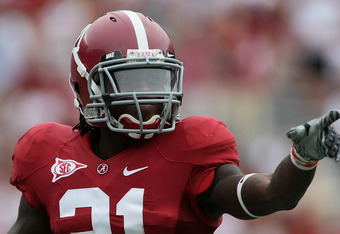 Greg McWilliams/Getty Images
19. Chicago Bears: Dre Kirkpatrick, CB, Alabama
Kirkpatrick is strong, quick and has great recovery speed.
He's from a program where plenty of defensive talents have come and was a major factor at Alabama for two championships.
Kirkpatrick has outstanding technique and was rarely ever beaten in college. The Bears defense would instantly be upgraded with Kirkpatrick around.
20. Tennessee Titans: Cordy Glenn, OG, Georgia
At 6'6'' and 345 pounds, Glenn is a beast that's incredibly difficult to move in the trenches. The Titans need to beef up the blocking for Chris Johnson, and that starts with drafting Glenn.
21. Cincinnati Bengals: Lamar Miller, RB, Miami
The Bengals would love to nab Glenn, but Miller is certainly not a bad consolation prize.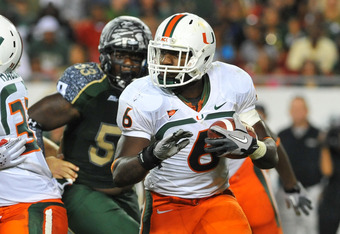 Al Messerschmidt/Getty Images
The speedy back has fresh legs, lots of agility and impeccable vision. He is the perfect addition alongside BenJarvus Green-Ellis to turn a position of weakness into one of strength.
22. Cleveland Browns: Ryan Tannehill, QB, Texas A&M
If the Dolphins don't draft him at No. 8, Tannehill is going to plummet down the board.
The Browns (like Miami) have no clue what they are doing with the QB position in 2012, and using their second first-round pick to give Colt McCoy some serious competition for the starting gig is the way to go.
23. Detroit Lions: Mark Barron, SS, Alabama
SEC bred with strong instincts and a nose for the ball, Barron is the best safety in the draft. He can become a starter for the Lions right off the bat.
24. Pittsburgh Steelers: Devon Still, DT, Penn State
Still was a force in college as he was able to use his sheer force to barrel over opponents. Can he still be effective against bigger players that are also faster and much more experienced?
25. Denver Broncos: Jonathan Martin, OT, Stanford
Gotta provide protection for the $95 million investment. Martin would be a steal for Peyton Manning's Broncos at No. 25.
26. Houston Texans: Alshon Jeffery, WR, South Carolina
I tend to land on the side of ignoring the red flags of Jeffery. He is an elite talent that is ready to contribute right off the bat, something the Texans need right now.
With championship aspirations, Jeffery could be the missing piece to a Super Bowl puzzle.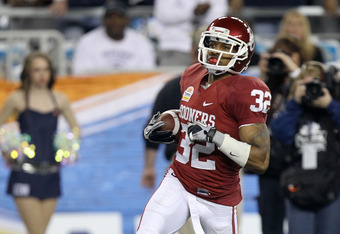 Ronald Martinez/Getty Images
27. New England Patriots: Jamell Fleming, CB, Oklahoma
Shoring up the horrid pass defense has to be priority No. 1 for the Pats.
28. Green Bay Packers: Michael Brockers, DT, LSU
Brockers is a high-risk, high-reward pick the Packers can afford to gamble on. Green Bay was gashed up the middle last year and landing a defensive tackle in Round 1 should be a priority.
29. Baltimore Ravens: Peter Konz, C, Wisconsin
Konz is the No. 1-ranked center and the Ravens have a need for one. Sounds like a perfect match.
30. San Francisco 49ers: Rueben Randle, WR, LSU
Do you trust Randy Moss?
Yeah, neither do I.
31. New England Patriots: Shea McClellin, OLB, Boise State
He is really rising fast up the big board after a standout combine. McClellin is intelligent, a very important trait when playing for Bill Belichick.
32. New York Giants: Mike Adams, OT, Ohio State
A versatile athlete that has played very well in All-Star games, Adams has shown the ability to compete at the NFL level.