UFC 145: Odds and Predictions for the Main Card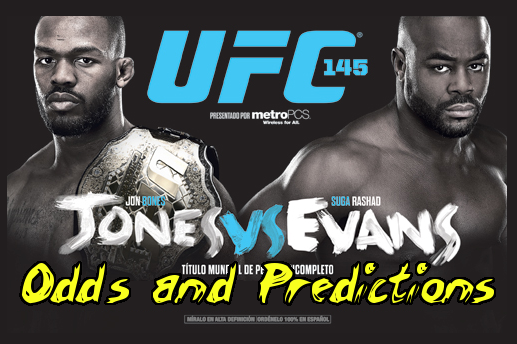 Can you believe that it has been nearly two months since UFC 144 in Japan? After pounding us with fight cards on consecutive weekends for most of January and February, the last six weeks have felt cold. But the wait is finally over.
UFC 145 takes place on Saturday April 21st in Atlanta, Ga. The PPV portion airs at 10 p.m., and the undercard will air on FX and Facebook.
Over the next week, Bleacher Report will give you previews, live event coverage and recap of UFC 145. We begin with a look at the betting odds and predictions of every fight on the main card.
Begin Slideshow

»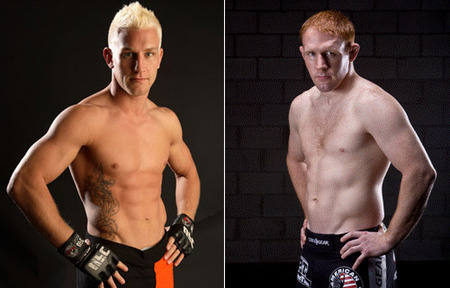 Originally scheduled as Mark Bocek vs Matt Wiman, this bout was changed when Wiman blew out his knee during his training camp. Now, Bocek meets fellow lightweight John Alessio in the pay-per-view's opening contest.
Alessio currently enjoys a three fight win streak, and his only loss in the past 11 bouts came at the hands of Siyar Bahadurzada, who made his UFC debut in extremely impressive fashion at this past weekend's UFC on FUEL TV event.
Bocek has excellent grappling, which has led him to success in five of his last seven UFC appearances. It is notable that Bocek had a razor-thin loss to Jim Miller at UFC 111, which illustrates his level of skill.
While Alessio has not lost a bout via submission since 2009, seven of his 14 career losses have come via tapout. Bocek's heavy hips, ability to control position and arsenal of chokes should be enough to win this fight.
Odds: No major sports betting sites have offered a line on this bout as of Sunday, April 15.
Prediction: Mark Bocek wins via rear naked choke in the third round
Mark Hominick is a Canadian stud who went 25 minutes with Jose Aldo back at UFC 129, but lasted only seven seconds against The Korean Zombie back in December. On Saturday, we will see if he can get out of his current skid when he takes on Hawaiian Eddie Yagin.
In his debut fight with the organization, Yagin and Junior Assuncao put on a bout that fans hope to forget. Yagin did not win a single round of the bout and the fight was both dull and mundane. Joe Silva must see something in the former Taichi Palace Featherweight champion, because many were surprised that he was not let go after UFC 135.
The bout allowed fans to watch Yagin unsuccessfully attempt to get back to his feet for a large portion of the contest. Hominick was able to keep Jose Aldo down in the later rounds of their contest, so it's unlikely that Yagin will fare any better.
Yagin does have a submission win over former Bellator champion Joe Soto, but he caught Soto with a guillotine choke while Soto was hunting sloppily for a takedown up against the cage. I'd like to believe that Hominick would not be susceptible to such a mistake, but stranger things have been known to happen.
Odds: Mark Hominick is a heavy favorite (-750) at BetUS. It's not good enough odds to be worth the risk, but it's definitely one for the parlay. If you enjoy wasting your hard earned dollars, you can bet on Yagin (+475) but you may have more fun by throwing it in a blender and making cash confetti.
Prediction: Mark Hominick wins via unanimous decision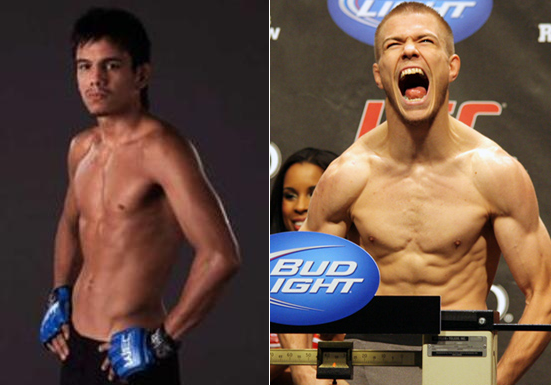 This fight is undoubtedly the hardest one to predict on the entire card. In one corner, we see a very experienced veteran who was a longtime WEC champion. In the other, we find an up-and-comer who is 14-1 in his professional career and has already avenged his only loss.
Miguel Torres is a 12-year veteran with 40 professional wins and 23 of them by way of submission. McDonald is a brown belt in jiu-jitsu, but he has never competed against someone with the grappling credentials of the former WEC champ.
McDonald is young and hungry. The bout with Torres represents a major step up in competition. It's sink or swim for the prospect, and a bout with Torres is trial by fire.
While I have faith that McDonald has a young and promising career ahead of him, I am not so sold on him that I'm willing to predict victory over one of the most successful and well-rounded bantamweights alive.
Odds: Pinnacle has the best odds on Torres at -111, while McDonald can be found at even money on several sites. This is not a fight to put in your parlay. It's so even of a bout that I do not recommend action at all.
Prediction: Miguel Torres wins via unanimous decision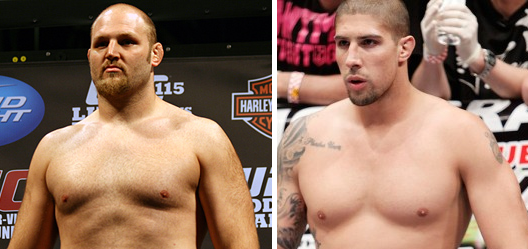 Ben Rothwell has not looked great during his time in the UFC, though he has run into some stiff competition. His first contest came against future champion Cain Velasquez in a bout where he was stopped in the second round. He followed it up by alternating decision wins and losses against Gilbert Yvel and Mark Hunt.
Brendan Schaub has wins over world title contenders Gabriel Gonzaga and Mirko Cro Cop, but the signature win he was looking for slipped just out of his grasp at UFC 134 when he was knocked out by Big Nog in the first round.
Rothwell has a background in wrestling and a hefty experience advantage over Schaub. Make no mistake about the fact that Rothwell will try to bring this contest to the mat. If he is successful, he has a very real chance of winning a decision.
That being said, Schaub has solid takedown defense and should be able to keep this fight on the feet. The dynamite in Schaub's hands, along with his tendency to throw uppercuts from the clinch could give Rothwell fits when he tries to close the distance.
Odds: Pinnacle has the best odds for Brendan Schaub at -247. Rothwell's best odds of +235 can be found on multiple sites
Prediction: Brendan Schaub wins via KO in the second round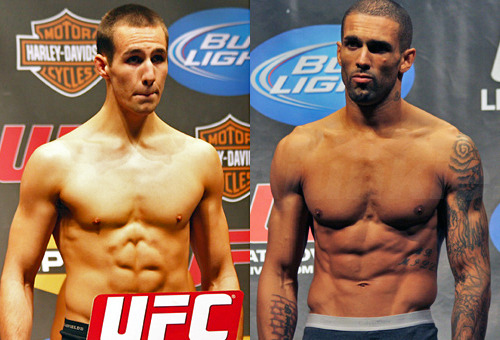 Rory MacDonald is a fast-rising star who has dominant victories over Nate Diaz, Mike Pyle and was only seconds away from defeating Carlos Condit back in 2010. Bleacher Report has MacDonald ranked as the No. 8 welterweight in the world. That is why fans are wondering why he has been paired with the unranked and unheralded Che Mills.
Mills is best known for his knockout of the night performance over Chris Cope at UFC 138. What many fans don't remember is seeing Mills submitted in the elimination round of The Ultimate Fighter 9 by eventual winner James Wilks.
MacDonald has a speed advantage along with a major advantage when it comes to wrestling. Mills is primarily a striker, but MacDonald has had little trouble with the strikers he has faced in the past.
Anything can happen in MMA, but this seems to be little more than a bout to keep MacDonald occupied while he continues to grow as a fighter. He has huge potential and more big-fight experience than other 22 year olds in the sport. He should dominate this fight from start to finish.
Odds: -400 is a pretty good number for MacDonald here, and you can find that price at William Hill. This is a fight for the Parlay for sure.
Prediction: MacDonald wins via TKO due to ground and pound in the first round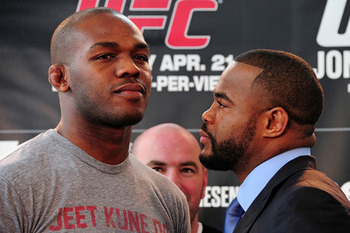 This is the one that we have all been waiting for. The trash talking began nearly one year ago and the rivalry hasn't died down in the least.
Jones is coming off of the best year in MMA history when he spent 2011 earning stoppage victories over Ryan Bader, Shogun Rua, Rampage Jackson and Lyoto Machida. His tremendous reach, unorthodox striking, undeniable takedowns and superhuman strength have made him a puzzle that no man has yet to solve.
Rashad is a standout wrestler in his own right, and is too good for us to believe that he will not be capable of scoring a takedown. His hands have scored him knockouts and his ground and pound won him the light-heavyweight championship once before. In the standup department, Rashad should hold an advantage over Jones when it comes to speed, footwork and head movement.
The biggest wild card in this contest is the large amount of mat time that these two elite fighters share. As former training partners at Jackson's MMA, Rashad will know what to expect from Jonny Bones better than any of his previous opponents.
Odds: Sports International has Jones as high as a -769 favorite, though you can find him at -476 with Pinnacle. Evans can be found with a tempting +472 at SportBet. There is major risk associated with betting against Rashad, especially at these odds. Bet Jones for the Parlay, but don't do anything big with a solo bet.
Prediction: Jones defeats Evans via TKO in the fourth round