Orlando Magic: Are They Still a Playoff-Caliber Team Without Dwight Howard?
April 16, 2012

Sam Greenwood/Getty Images
Over the past five seasons, the Orlando Magic have found major and consistent success during the regular season and playoffs.
Not only did they advance to the NBA Finals in 2009, they are a force to be reckoned with in every single matchup. In fact, only the Boston Celtics and Los Angeles Lakers have more combined wins during this stretch. 
But, how much of this success should be credited to Dwight Howard?
In the wake of the recent news that Howard, due to a back injury, will miss the remainder of the regular season, I believe it is a fitting time to ask an appropriate question: Are the Orlando Magic a playoff-caliber team without Dwight Howard?
After all, the behemoth under the basket is an All-NBA talent, averaging over 20 points and 14 boards per game. Sure, "Superman" has been difficult to maintain over the last few months due to his displeasure with the current roster, as he has reportedly asked for an immediate firing of coach Stan Van Gundy and has not fully committed to the squad.
Nonetheless, Howard is undoubtedly an upper echelon player in the association and his MVP consideration is a perfect testament to the aforementioned statement.
While a playoff return is not completely out of the question for Howard, Van Gundy is not expecting the 6'11" defensive force to make an appearance due to a herniated disk.
"We're approaching it that the 13 (healthy) guys we have now are who we're going to have the rest of the season and in the playoffs," Van Gundy said.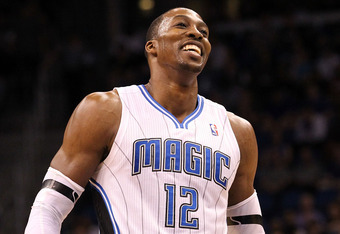 Sam Greenwood/Getty Images
If Howard is unable to suit up for Orlando come April 28th, the start of the postseason, will Orlando be competitive in their first-round matchup?
The answer to that question is absolutely not.
This season, the Magic possess a record of 1-4 without Howard in the lineup. In addition, Howard has only missed two games in his entire professional career before this year, so the Magic are not experienced playing without the top-tier big man in the middle.
Plus, the Magic do not have a backup center capable of putting up decent stats with starter-quality minutes. Second-year player Daniel Orton is way too inexperienced for the part and Glen Davis is a traditional power forward at 6'8".
Currently, Van Gundy is starting Davis with Ryan Anderson (6'10") and guards J.J. Redick (6'4"), Jason Richardson (6'5") and Jameer Nelson (6'0") manning the other positions in the starting unit. This makes Orlando arguably the smallest team in the NBA.
With massive frontcourt teams like the Indiana Pacers, Boston Celtics and New York Knicks likely in the Eastern Conference playoffs, it is hard to picture a scenario where a Dwight Howard-less Magic advance all the way to the NBA Finals.