Toronto Maple Leafs: 5 Potential Non-Playoff Trading Partners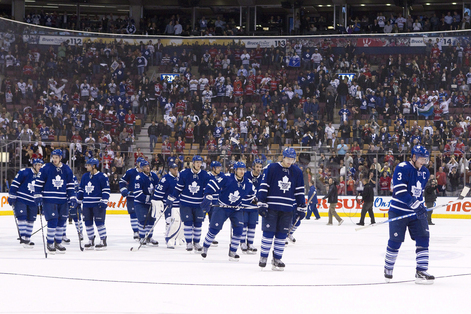 Heading into this offseason, the Leafs have a lot of retooling that needs to be done in order to right the ship that Brian Burke has been building the past four years.
Going down the stretch when the Leafs couldn't buy a game, some holes in the roster became apparent.
They lacked the presence of a legit number one center on the top line despite Phil Kessel and Joffrey Lupul holding their own for the majority of the season, that presence in the middle became was an evident void down the stretch.
They also lacked the consistency of a true number one goalie that could steal them games even when the rest of the team wasn't playing up to par.
Lastly, they lacked some much needed veteran leadership that could have helped the young team regain their composure to continue competing for a playoff spot.
Sure, there are some options through free agency that could be the right fit but there is always competition and the likelihood that Toronto does not sign who they want. Toronto does have pieces that some teams could find attractive though, so here is a list of focus on the Leafs looking to deal with these five non-playoff teams who will be looking to retool.
Begin Slideshow

»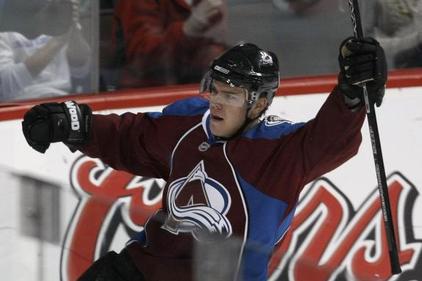 I know this has been speculated over and over again for the past few years but once again it seems like a good idea for both sides.
Last season, Matt Duchene excelled and showed that he could be the number one center that Colorado needs. Even though he had an off-year by only scoring 14 goals and 28 points, he is still expected to be the cornerstone of that franchise along with Gabriel Landeskog.
This past season, Ryan O'Reilly had a spectacular season and showed that he can be an effective second line center for Colorado as well. With Duchene and O'Reilly expected to be the teams top two centers, they can look into options to trade Paul Stastny for other pieces that can improve their team.
Right now, the Avalanche have only five players signed through next season and still have to re-sign some key free agents in Matt Duchene, Ryan O'Reilly, Milan Hejduk, David Jones, Peter Mueller, Steve Downie, Jamie McGinn, Erik Johnson and Ryan Wilson.
Now might be a good time for them to look into dealing a large contract like that of a Stastny.
If the Leafs could offer something like Nikolai Kulemin, Colby Armstrong, Korbinian Holzer, and Greg Mckegg for Paul Stastny or something to that extent, it would be a great pickup for the Leafs.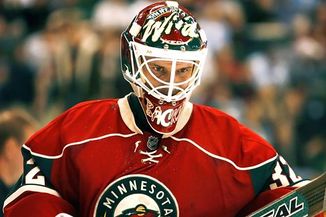 Next up we have the Minnesota Wild and more importantly Nicklas Backstrom.
Backstrom has been the number one goalie in Minnesota for the past six seasons since making the jump to the NHL from the Finnish Elite League.
This past season saw Backstrom in a battle for the number one spot with budding Minnesota Wild goaltender Josh Harding.
Backstrom eventually won out over Harding when when he went down with a mid-season injury. Harding has been the Minnesota Wild backup for the past four years and has developed tremendously playing behind Backstrom.
This past season Backstrom went 19-18-7 with a 2.43 GAA and a .919 save percentage in 46 games while Harding put up very similar numbers going 13-12-4 with a 2.62 GAA and .917 save percentage but in only 34 games. Harding's progression may just convince Wild management to trust him with the number one reigns next season.
There is also the fact that Minnesota has a lot of big contracts on their team with some crucial signings taking place either this off-season or in the near future. Getting rid of a big contract like Backstrom for some good pieces in return may not be a bad option for the Wild to take.
I'm not really sure what kind of package the Leafs could offer, but maybe something like Scrivens, Franson and a 2nd/3rd round pick for the veteran netminder? I wouldn't want the Leafs to overpay but it might have to be something more.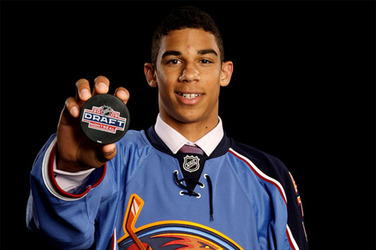 This proposal is just my pure speculation right here but why not just go ask Winnipeg if they would ever consider a package for Evander Kane.
This season marked Evander Kane's best in the NHL, leading the Jets in goals (30) and coming second in points (57). He was also boasted the Jets best +/- with plus-11 on terrible defensive team. Only the Leafs, Islanders, and Blue Jackets let in more goals last season than Winnipeg.
Going into this option, Evander Kane will be a restricted free agent and judging by his spectacular season, he will be expecting a raise, especially considering his increased output over the last three seasons.
The Jets will also need to re-sign goaltenders Chris Mason and Ondrej Pavelic, in addition to a number of others on the roster.
I am unsure as to what True North's plan is heading into their first NHL option.
Being a new management block, they may be a little conservative with their spending and will look at other options instead of just re-signing assets.
Maybe the Leafs could put a package together consisting of Nazem Kadri, Colby Armstrong and a 2nd/3rd round pick for the youngster.
Doug Pensinger/Getty Images

Next up we have the Calgary Flames, a team that is in desperate need of retooling and trading some of the teams better veteran players like Jerome Iginla and Miikka Kiprusoff may be the best way for the Flames to go.
While the Flames may not have a proper backup plan in store in case, they move Kiprusoff, maybe the Leafs could put together a package that would entice Calgary into parting with their current number one goaltender.
This past season at the age of 35, Kiprusoff went 35-22-11 with a 2.35 GAA and a .920 save percentage. He still has two years left on his contract that will expire right before he turns 38 years old. This would still give the Leafs enough time to get a succession plan in place in case they decide to replace the aging veteran.
A potential package that the Leafs could put together could be James Reimer/Ben Scrivens, Cody Franson, Nikolai Kulemin and a second round pick. Including either one of Reimer, Scrivens would be a must but as for the rest I am not too sure.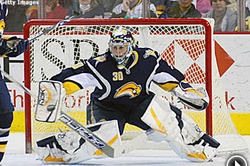 If the rumors circulating out there about Ryan Miller not being happy in Buffalo are true, then the Leafs should be the first ones knocking with offers for the Sabres number one net minder.
With the Buffalo Sabres having a great young backup in Jhonas Enroth and being in dire need to clear some cap space, maybe trading Ryan Miller wouldn't be such a bad idea. It would take a significant offer for the Leafs to pry Miller from Buffalo but drastic times call for drastic measures.
This past season Miller went 31-21-7 with a 2.54 GAA and .916 save percentage. He was a crucial part of the Sabres playoff push which ultimately came up short. With a lot of large contracts and some crucial choices coming up in the next few years, moving Miller now could benefit the Sabres in the future as well.
I have no idea what kind of deal would be needed to acquire Miller but I would imagine some combination of Reimer, 2012 fifth overall pick and prospects would need to be included.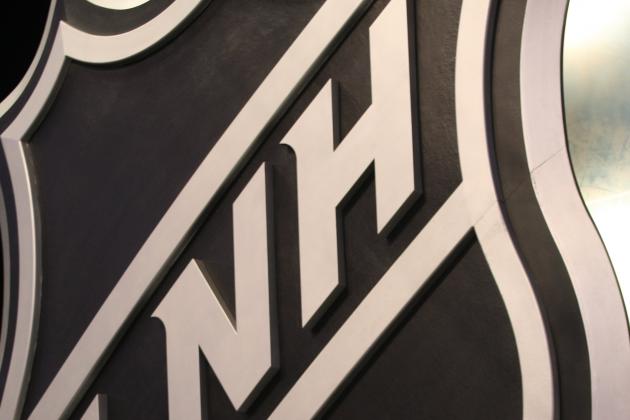 Bruce Bennett/Getty Images

When thinking ahead to what the Leafs need to do this off-season what I usually think of is get a number one goalie, get a top line center, clear some cap space, and draft a top prospect with the fifth overall pick.
First up, the Leafs have to get a number one goalie. The easiest way to change that would be to acquire of veteran number one goaltender who could take the teams reigns while mentoring either Reimer/Gustavsson/Scrivens for the next few seasons.
It is apparent that all three goaltenders have potential but none are ready to be considered a true number one just yet.
I would like to see the Leafs trade for Nicklas Backstrom seeing as his price would not be as high as Kiprusoff's or Miller's. The Leafs could trade Scrivens, Franson and next years 2nd round pick for the veteran net minder.
Up next I would like the Leafs to finally try and trade for Paul Stastny as has been speculated for the last few years.
I think a package consisting of Nikolai Kulemin/Clarke MacArthur, Colby Armstrong, Nazem Kadri and potentially a late round pick should be a good package for the Avalanche's center.
In order to clear some cap space the Leafs will need to trade away some contracts like Armstrong, Connolly, Komisarek and Lombardi.
It doesn't matter how they do it as long as the Leafs find a way to trade at least one or two of these players away for picks/prospects. Ideally the Leafs should be able to trade Armstrong and Lombardi this off-season.
Lastly the Leafs will need to draft some top prospects in the upcoming draft.
The fifth overall pick puts the Leafs in a position to draft one of Grigorenko, Galchenyuk, Forsberg or Faksa, all of whom are considered top talents in this years draft. Preferably I would like to see the Leafs draft Filip Forsberg, a big and fast power forward who can play both center and on the wing.
I would also like to see the Leafs trade up from the 35th overall pick to a position where they can draft Martin Frk, a talented scorer, who plays a very gritty style that the Leafs wanted when they signed Colby Amstrong, and what they have in current prospect Brad Ross. However, Martin Frk has the potential to be a bigger offensive threat than Ross.
If the Leafs are able to do what I hope they can, their roster will look something like the following:
Lupul - Stastny - Kessel
Mac/Kuly - Grabovski - Frattin
Crabb - Bozak - Connolly
UFA - Steckel - Brown
Phaneuf - Komisarek
Schenn - Gardiner
Liles - Holzer
Backstrom
Reimer
Along with that the Leafs will also have prospects like Filip Forsberg, Martin Frk, Joe Colborne, Greg Mckegg, Brad Ross, Jesse Blacker, Jerry D'Amigo, Spencer Abbott, Jerry D'Amigo, Tyler Biggs, Stuart Percy and Carter Ashton waiting in the wings in case of injuries.
I think these changes will make the Leafs a real playoff contender for years to come.