WWE and TNA: 8 Trades Which Would Benefit Both Rosters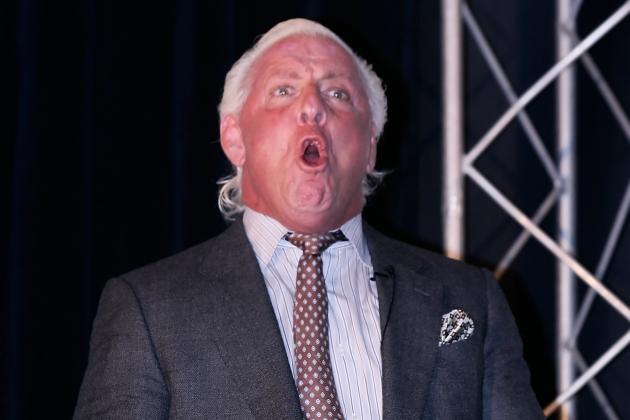 Jason Smith/Getty Images

BREAKING NEWS: WWE trades the Great Khali and JTG to TNA for AJ Styles, Bobby Roode, James Storm and the Motor City Machine Guns!
Dixie Carter weighed in on this trade.
"The Great Khali will carry the brand of Ring Ka King for many years to come. JTG is going to headline every single pay-per-view we have!
"Those five jobbers I got rid of were absolutely useless to my product. Garrett Bischoff is the future of professional wrestling, not these clowns."

Welcome to the world of WWE and TNA trades. Unfortunately, Dixie Carter or Vince McMahon are not going to pull the trigger on these trades. Most of these trades are unrealistic, as WWE pays way more than TNA. But it's still fun to play the trading game.
Notice each trade is independent of the rest of the trades. In other words, I might use the same person in a different trade.
Ric Flair is fired up to get traded to the WWE!
Begin Slideshow

»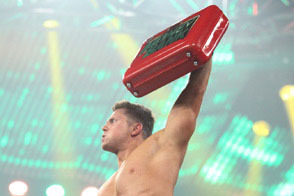 Shout out to my Twitter buddy Nick for thinking about this trade. I will admit I threw in Mr. Anderson to Nick's original trade proposal.
Why it Benefits TNA
Ric Flair clearly wants to be in WWE. Mr. Anderson is in the dangerous zone of a top guy with nothing to do.
Both men need to go to WWE to be utilized (and paid) better.
Acquiring Miz can give TNA that exposure they so desperately need. Miz can be the mouthpiece of TNA. He can become the John Cena of TNA with all the media appearances he does.
Great Khali is more than just a throw-in. His presence would strongly benefit TNA's Indian wrestling promotion, Ring Ka Ka. Khali can generate more revenue for them.
Why it Benefits WWE
Getting rid of the Great Khali does not cost them much. Trading the Miz for Mr. Anderson is an upgrade in the short run. Anderson has a ready-made feud with Randy Orton in place for Summerslam.
Ric Flair can manage an assortment of talented stars (Dolph Ziggler, Cody Rhodes, Wade Barrett, etc). Flair can even become the GM for both shows. He still can talk very well given his age.
Why it Benefits TNA
Randy Orton has accomplished everything there is to accomplish in WWE. A move to TNA will refresh his character. Perhaps a return to the Legend Killer or even a better version of Gunner's gimmick would suit Orton in a TV-14 setting.
Orton can easily surpass Bobby Roode as the top heel in TNA or become the next face of the company.
Randy Orton can have all sorts of matches with TNA mainstays such as AJ Styles, Bobby Roode, James Storm and even Sting. These matches will blow the minds of wrestling fans everywhere.
Why it Benefits WWE
Matt Morgan is the total package at seven feet tall. Morgan was horribly misused in his first stint in WWE. Morgan has an incredibly bright future in WWE in this trade. Vince McMahon is kicking himself for not properly using the Blueprint.
Gunner has a lot of potential as a psychotic heel in WWE. He can terrorize the little Jimmies on his path to be a solid mid-card heel.
Samoa Joe is a man who needs to move on from TNA. His lengthy tenure was fantastic in TNA. But a move to WWE can pay dividends. Joe will have to go down to FCW to get in shape. But expect him to be a premier monster heel in the WWE.
Why it Benefits TNA
Zack Ryder was made famous by his Long Island Iced Z show. It got him all sorts of things in the WWE realm. He got more TV time and got a run with the United States Championship.
But, the Woo Woo kid has just run out of steam in WWE. Merchandise sales will ultimately determine his fate in the company.
Ryder heading to TNA will give the promotion much-needed star power. He'll have a ready-made feud with Robbie E. This feud will cause Jersey Shore fans to flock to Spike TV on Thursday nights.
Why it Benefits WWE
Zema Ion can supply the rest of the locker room with some of that orange spray tan. His hairspray would be the envy of the locker room.
Magnus has a lot of talent. He has a good look, can wrestle, talk and just looks like he knows what he is doing out there. He even received a ringing endorsement from Scott Steiner!
Speaking of jacked muscle heads, "The Freak" Rob Terry is doing nothing in TNA. Newly-acquired Mason Ryan feuding with fellow Welshman Rob Terry would be either a glorious clash of titans or a disastrous bout of statues.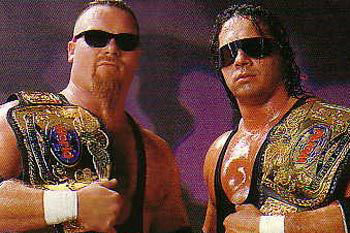 Why it Benefits TNA
Natalya Neidhart is a Diva in desperate need of a character makeover. A feud with Kharma is not out of the question. But a trade to TNA can reap an immediate feud with either Velvet Sky or Gail Kim.
The Knockouts division is much better than the Divas division. Natalya can immediately be inserted into the Knockouts Championship picture.
Her long-time boyfriend, Tyson Kidd, can contribute to the X-Division or even the TV title picture.
Why it Benefits WWE
Let's face it. WWE's acquisition of Madison Rayne is a long time coming. Vickie Guerrero needs an eventual successor as an annoying lady manager for an aspiring top heel.
In the mean time, Rayne can become the No. 2 heel in the Divas division behind Beth Phoenix. She does an excellent job of drawing heel heat.
Mark Haskins can be the minimum-wage replacement for John Morrison.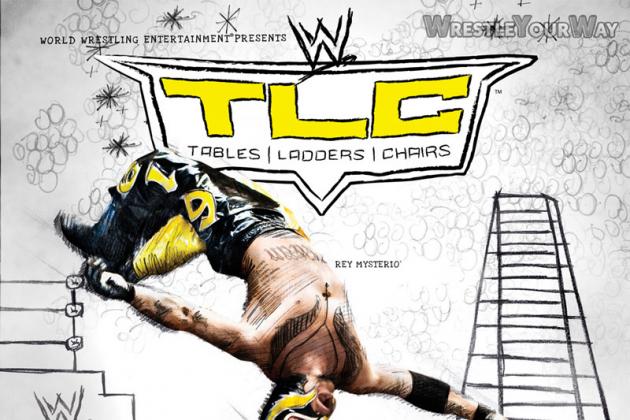 Why it Benefits TNA
The X-Division is a tad boring with Austin Aries dominating the division. Wait, did I just say "boring" and "Austin Aries" in the same sentence? I apologize to the greatest man who ever lived.
Rey Mysterio and Sin Cara can sell merchandise and draw ratings. They can be the two mainstays of the X-Division. AAA will strongly benefit, as TNA can loan Mysterio and Sin Cara to the Lucha Libre promotion for a lot of money.
The Colons will also add a true tag team in the depleted TNA tag division. They provide some value to the X-Division as well.
Why it Benefits WWE
Four words: Motor City Machine Guns. Kazarian and Christopher Daniels are not bad wrestlers either.
This is the trade of talentless bums who spend way too much time on our TV screens. Just watch this promo instead.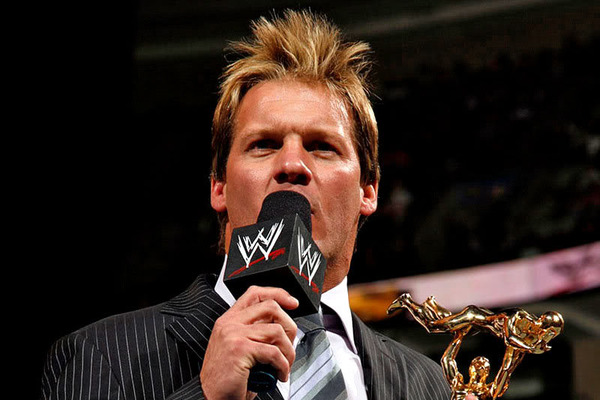 Why it Benefits TNA
Eric Bischoff is a man who is desperately searching for something.
No. Not talent in his son.
Bischoff wants Chris Jericho's jacket. Therefore, he goads Dixie Carter into trading Bobby Roode, James Storm and Kurt Angle for that jacket along with the man wearing it.
Ratings will pick up exponentially on Impact with Jericho wearing his jacket. Never mind the fact he will job to Garrett Bischoff each week.
Why it Benefits WWE
When that trumpet finally blows once again, a part of me will be resurrected. Kurt Angle can come back to teach Jack Swagger how to properly apply an ankle lock. Angle can also have some tremendous matches with the likes of CM Punk, Dolph Ziggler and even Randy Orton.
James Storm vs. CM Punk is a perfect feud in any juncture of the calendar. Bobby Roode will certainly be welcomed on the bright lights of SyFy as a top guy on the Blue Brand.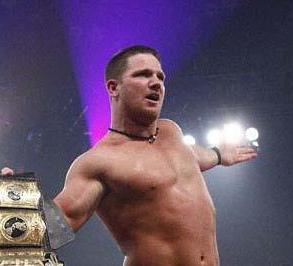 Why it Benefits TNA
Two words: merchandise sales.
A massive addition like Cena would rejuvenate morale in the TNA locker room. Cena would undoubtedly be their face of the company circa Hulk Hogan during WCW.
Then again, he will probably join Immortal and feud with Garrett Bischoff.
Why it Benefits WWE
John Cena is the most hated wrestler on their roster today. He never fails to cause a strong reaction from the fans.
However, it is time for WWE to eventually look at changing Cena's status as the top dog. He has faced virtually everybody on the roster.
If he still didn't sell insane amounts of merchandise, WWE would have turned him heel a long time ago.
AJ Styles and Austin Aries are two of the best wrestlers in the world. Imagine the disgusting combinations imaginable between CM Punk, AJ Styles, Austin Aries, Daniel Bryan and Chris Jericho.
Just stop it.
I hoped you enjoyed my hypothetical trades that will never happen. Vince McMahon doesn't see any talent in X-Division wrestlers. WWE stars like Randy Orton and John Cena would rather job to Trent Baretta than go to TNA for a massive pay cut.
AJ Styles going to the WWE to have five-star matches just like the video shown simply makes me cry. The man deserves so much better than facing Christopher Daniels for the 24,832,548th time.
Please come up with your own trades in the comments section if you simply want to have a creative outlet to express roster trades.
Follow me on Twitter and become a fan.
Thanks for reading!