Wade Barrett Is the One True Opponent for CM Punk After His Feud with Jericho
April 15, 2012

Wade Barrett and CM Punk need to feud with one another as soon as Chris Jericho exits the picture. 
Barrett is still recovering from an elbow injury he suffered during a match on the February 20 during an episode of Monday Night Raw. According to ProWrestling.net, Barrett told Brian Fitz of Between the Ropes that he will be back in the summer. 
"I'm injured at the moment, unfortunately," Barrett said. I was going to be on this year's WrestleMania show, but I got a nasty elbow injury a few weeks ago and I had surgery on that. Probably in about four months' time I'll be back in action." 

Barrett also commented on the bad timing of the injury. "I thought the bones were broken," Barrett said. "Fortunately they hadn't, but I had some ligament damage. In terms of timing, there's never a good time to get injured... The WrestleMania thing is bad, but just being injured in general." 
It seemed like Barrett was going to be given a bit of a push when he was on his "Barrett barrage" prior to his injury. When he comes back from rehabbing his elbow, don't be surprised if that push continues. That push should lead Barrett to a WWE or World Heavyweight title match. 
A battle between Barrett and Sheamus or Daniel Bryan would be great, but a feud between him and Punk would be spectacular. It is not known whether or not Barrett will be available during SummerSlam, but if he is, a match with him and Punk would blow the roof off the Staples Center. 
The feud does not have to be around SummerSlam, but it should be in early September at least. If the rumors and speculation are true, Punk might start focusing on his match with Stone Cold Steve Austin.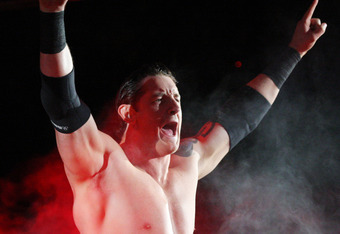 Gallo Images/Getty Images
The whole world was expecting a feud between the two former leaders of the Nexus once Punk took over the group. Barrett was shipped over to SmackDown during last year's draft, and Punk stuck around on Raw. Punk continued to lead the "New Nexus," while Barrett created his own group called "The Corre."
Since then, Barrett has held a few belts and Punk has become the best WWE champion the company has seen since the departure of Edge. It's safe to say that Punk got the better end of the Nexus feud. However, the best way for Barrett to come back at Punk is to defeat him. 
There are two ways to spin this.
The first way would be to draft Barrett back to Raw and have him work his way to a title match against Punk by continuing his "barrage."
Barrett could bring up the past about Nexus and claim he was the better leader and that he is the true "voice of the voiceless." He would then continue by saying the "bigger purpose" Nexus was all about was exactly what Punk did.
Punk would then deny it, and Barrett would claim that Punk took his idea and his motives for his own personal benefit. Barrett would likely stay the heel in all of this, but don't expect to hear many boos when he comes out against Punk. 
The second way, and the most ideal way, to go about this is to bring Barrett back to Raw with a newer version of the Nexus. 
Justin Gabriel, Heath Slater and Michael McGillicutty have been completely lost in the shuffle, and they could be perfect for the Nexus. It worked before, and there is no reason to believe that it won't work again. Skip Sheffield, who is now known as Ryback, has been working his way back to the WWE after he had a serious injury during the early Nexus days. 
These four lower-card wrestlers could form a stable while Barrett is working his way back. They would answer to no one, like before, and just destroy whoever was in their way. As Barrett gets closer to returning, this new stable should attack Punk. Once Barrett is medically cleared to return, this new stable will announce their name and their leader on national television. 
Barrett will return and demand that Punk give him a shot at his title. The match will finally go down between the two, and Barrett should eventually win. 
Regardless of which scenario occurs, Barrett and Punk should face off prior to the WrestleMania 29 festivities.
Barrett is a very talented wrestler who has the voice, the look and the charisma of being the next big thing in the company. The best way to keep the youth movement alive—or to even get it starting—is to put the company's top belt on the company's brightest young star. 
Sammy Sucu is a Featured Columnist for the WWE. Sammy also writes for the NFL, the Minnesota Vikings and the Los Angeles Lakers. You can also follow him on Twitter.