WWE: 7 Opponents Who Could Help Legitimize Brodus Clay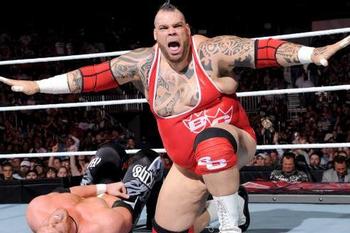 Photo Credit: WWE.com
Brodus Clay has finally entered into a storyline that will take him somewhere, but he still has to beat a few notables one-on-one to push him over the hump.
Fans are enjoying this character. He's a strong, powerful wrestler with an entertaining gimmick.
But gimmicks aren't enough.
Since his debut as the "Funkasaurus," he's thrown his weight around in a few squash matches and recently teamed with United States champion Santino Marella. The team and angle are solid.
Now Clay just needs a real challenge in the ring—his own feud to shine in that will validate him as a lasting figure in the WWE.
Here's seven guys who could help.
Damien Sandow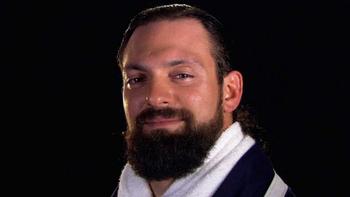 Photo Credit: WWE.com
The WWE has been building up for Damien Sandow's debut in recent weeks.
He'll need someone to feud with.
Of course, there would have to be a quick turnaround with the current Brodus Clay feud with Jack Swagger and Dolph Ziggler.
If it did happen, it could work well in both men's favor.
Each gets an opponent. Each builds off the other.
The proposed storyline could go like this: Sandow—nose up at the world—disapproves of the Clay's antics, music, dancing and women.
It's an easy upstart.
Lord Tensai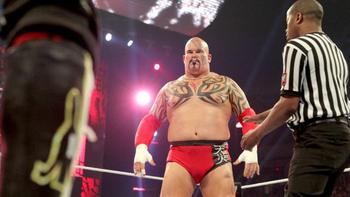 Photo Credit: WWE.com
For similar reasons as the last slide, Lord Tensai could be a fitting opponent for Brodus Clay.
Tensai needs a feud.
Both men would build each other up—win or lose—if they produce quality in-ring work and decent mic skills.
Tensai is a beast—bigger than Damien Sandow.
There is no possibility of a squash in a Tensai-Clay feud.
It'd be hard to pit these two against one another, though, especially after Tensai's recent match with John Cena.
Dolph Ziggler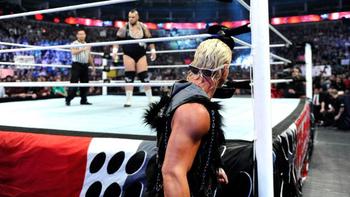 Photo Credit: WWE.com
Since teaming up with Santino Marella, Brodus Clay has entered into a feud with Dolph Ziggler and Jack Swagger.
The tag team is certainly entertaining, but Clay needs to tangle up with either Ziggler or Swagger solo.
I'm not counting yesterday's 12-second match either.
Ziggler would sell Clay insanely well. It's what he does best.
A Clay-Ziggler feud has the potential to look as good as the recent Mark Henry and CM Punk matches.
It wouldn't be too damaging to Ziggler either.
He helps push a fellow WWE star over and looks fantastic in the process.
It's a win-win for both guys (Ziggler would just need to be rewarded for the deed later).
Kane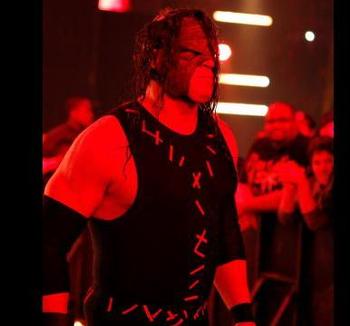 Photo Credit: WWE.com
Let's assume the Kane and Randy Orton feud runs its course.
In the meantime, Brodus Clay and Santino Marella versus Jack Swagger and Dolph Ziggler do the same.
Afterward, Clay meets Kane.
Kane is a vicious soul, the "devil's favorite demon." Clay is the "Funkasaurus."
You could see why these two would clash.
Kane seems to enjoy taking these types of gimmicks to task. Look at what he did to Pete Rose, the Three Stooges and Zack Ryder.
The Miz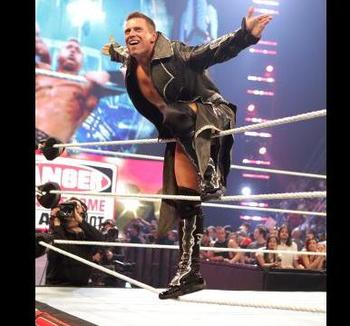 Photo Credit: WWE.com
Here's the setup: General Manager John Lauriniatis—unhappy that Jack Swagger and Dolph Ziggler couldn't get the job done on Santino Marella and Brodus Clay—employs The Miz to do the dirty deed.
Swagger and Ziggler can continue to attack Marella while The Miz focuses on Clay.
Miz desperately needs someone to battle. Even if it means he starts over at Clay.
He could win, too.
It'd be an upstart for him and it'd still make Clay look good (as long as he physically brings it).
Mark Henry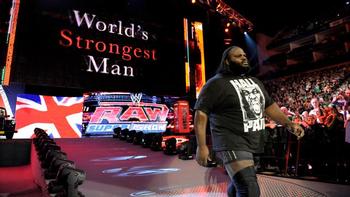 Photo Credit: WWE.com
I will admit, this one is a bit of a stretch. It would certainly take a lot of backstory and setup to pull it off.
But wouldn't it be awesome to see Mark Henry and Brodus Clay get into it?
Like a feud with The Miz, Clay could lose and still look good.
Two big men—same size and strength—locking up in the ring would be undeniable.
Jack Swagger
Photo Credit: WWE.com
The WWE has it right.
Jack Swagger and Dolph Ziggler are the perfect opponents to build up Brodus Clay.
The tag team is great, but again, Clay needs a one-on-one opponent.
Ziggler would sell just fine, but Swagger is a better adversary.
Clay and Swagger are in a similar place right now.
They both need buildup and they both need to ditch the tag team.
Both are big and strong, too.
Swagger would provide a little more legitimacy to Clay's career at this current moment.
Keep Reading