WWE Raw: Complete Preview, Rumors, News and More for April 16
April 16, 2012

Jim Rogash/Getty Images
With the WWE building for the Extreme Rules pay-per-view while on a tour of Europe and Asia, this week's Raw comes to us from London, England.
A cluster of returns and plenty of wild action has fans of the sport ready for the next installment of what should be an amazing Raw. While the ratings aren't showing an improvement, the product is much better now than it was just one year ago.
Where: London O2 Arena, London, England
When: Monday, April 16, 9 p.m. ET
Watch: USA Network
Brock Lesnar vs. John Cena
With the WWE throwing caution to the wind in terms of pushing Brock Lesnar as hard as they can, the WWE Universe has to be excited about one of the best on their TV in many weeks.
Question on Everybody's Mind: Are you loving Brock's return?
With all the talk of returning veterans, there is no bigger name than Brock Lesnar. His return is something everyone can get behind.
Hype Meter: 5 out of 5 F-5s
The WWE has thrown their biggest star, John Cena, into a feud with one of the biggest stars in WWE history. The WWE must keep the momentum going by letting the men interact this week as well.
Rumor Mill: WWE Rumors: Triple H, John Cena, Steve Austin and Friday's Top WWE News
CM Punk vs. Mark Henry
With the last two week's featuring CM Punk losing to Mark Henry and being humiliated by Chris Jericho, it will be interesting which direction the WWE heads with this storyline now.
Question on Everybody's Mind: Is this a trilogy?
While it's WWE's custom to not let stars go over in their hometowns, this may be one of the few cases that it could happen. I still think Punk loses the belt to Jericho at Extreme Rules in Chicago so he will retain the belt Monday night at the very least.
Hype Meter: 4 out of 5 Anaconda Vice's
While Jericho's return should have been so much better, it's clear that he still has the chops for this kind of long-term feud. As long as he and Punk are working a program, fans should rejoice.
Rumor Mill: WWE Rumors: Brock Lesnar, John Cena, Scott Hall and Wednesday's Top WWE News
Lord Tensai and the Rest
With the return of stars like Lord Tensai, Ryback and Damien Sandow, the Raw crowd should expect to see at least two of these stars on television this week. Most likely Lord Tensai.
Question on Everybody's Mind: Will the crowd like Lord Tensai in England?
The crowds in America have been really no-selling what have been quality squash matches (if there really was such a thing). The hope is that the English crowd sees it as the way WWE is familiarizing them with the star before pushing him, and gets behind his character.
Hype Meter: 3 out of 5 grunts
There has been serious doubt about whether the crowd will like Lord Tensai, but all it will take is one attack from behind on CM Punk for the crowd to give him real heat. Once the crowd cares, Punk and Tensai will put on amazing matches.
Rumor Mill: WWE Rumors: Undertaker, Brock Lesnar and Thursday's Top WWE News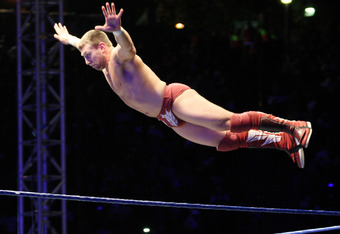 Gallo Images/Getty Images
Ring Rust Radio's Tuesday, April 17 Edition
If Monday Night Raw just isn't enough for you, check out Ring Rust Radio's next episode with Ring of Honor star Adam Cole talking about his ROH World Title shot and plenty of WWE, TNA and Indy wrestling banter as well. If you missed last week's episode with WWE insider Justin LaBar and ECW and WCW veteran Scotty Riggs, here is your chance to catch it now!
Check back for more on the World Wrestling Entertainment as it comes, and visit Bleacher Report's Wrestling Page to get your fill of WWE/TNA. For more Wrestling talk, listen to Ring Rust Radio for all of the hot topics you just can't miss (some language NSFW).