2012 NFL Draft: 5 Players San Francisco 49ers Would Be Idiotic to Pass Up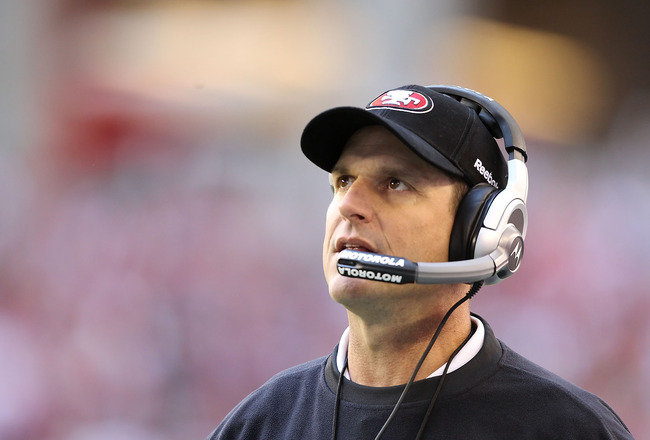 Christian Petersen/Getty Images
A shockingly amazing 2011 season showcased the talents already on the San Francisco 49ers roster, but there are still some players the team would be sorely mistaken to pass on in the 2012 NFL Draft.
At first glance, the area of need for coach Jim Harbaugh's team is the offensive line.
There are only two players on the line who have been in the league longer than two years: Jonathan Goodwin and Joe Staley.
While Mike Lupati and Anthony Davis played well last season, there's still a depth problem, especially considering that starting guard Adam Snyder left for the Cardinals this offseason.
The 49ers didn't sign any O-linemen this offseason, so the best way to add depth is to sustain the already-young linemen with more youthful bodies.
However, there isn't a glaring-enough hole that the 49ers will be forced to draft out of necessity.
The following are players San Francisco would be remiss to skip in the draft.
LSU Receiver Rueben Randle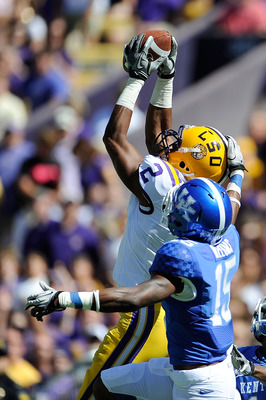 Stacy Revere/Getty Images
To bolster an already-improved receiving corps, the San Francisco 49ers should select Rueben Randle in the first round if he falls to No. 30.
The Niners brought in veterans Randy Moss and Mario Manningham to assist with the catching duties next season. The best thing the team can do now is add some promising youth.
Randle is a physical guy who can learn under the tutelage of Moss (for catching jump balls) and Manningham (attitude and route-running).
Randle's four 100-plus yard games last year at LSU were enough to prove his abilities on the field. His 6'4" frame only adds to the intrigue, along with his 4.42 combine 40 time. He fits the Jim Harbaugh mold of a winner (played for 13-1 LSU and quarterbacked an 11-2 team in high school).
Randle spent time with the 49ers at the NFL Scouting Combine and visited San Francisco, and the Red & Gold would be insane to pass on him.
Cal Linebacker Mychal Kendricks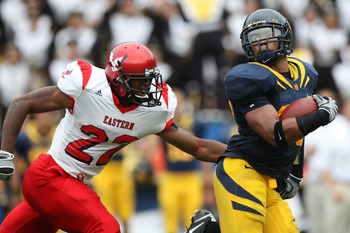 Jed Jacobsohn/Getty Images
The San Francisco 49ers won't be able to snag last year's Pac-12 Offensive Player of the Year (Stanford's Andrew Luck), but they could get the Defensive Player of the Year in Cal's Mychal Kendricks.
The middle linebacker became a leader for the Golden Bears, a top defensive team in the conference, after switching from the outside.
As a senior, Kendricks tallied 96 tackles, including 13 for a loss, as well as two interceptions, two fumble recoveries and four sacks.
Though Kendricks is on the short side (nearly 6'0"), he makes up for his height with power (24 reps at 225 lbs).
He's also fast, clocking a 4.47 time in the 40-yard dash. And he can jump (39.5 inches). So, the physical skills are there and are complimented, as he's shown, by on-the-field prowess.
San Jose State Safety Duke Ihenacho
Duke Ihenacho already has a brother in the NFL and the San Francisco 49ers should take a serious look at bringing Duke into the league.
Brother Carl has spent time with the San Diego Chargers and Oakland Raiders, and Duke's time at San Jose State was marked by following in those footsteps.
Though Ihenacho's senior year was disappointing after being touted as the leader of the Spartans, he gained All-Western Athletic Conference honors three times while at SJSU.
The big, burly safety can be a force to reckon with when he attacks the ball-carrier, and can pick off interceptions with above-average hands.
Also, he knows how to change the game, as he did against Hawai'i, when Duke picked up a fumble and returned it the length of the field to spur a comeback.
Ihenacho would learn tremendously from the up-and-coming 49ers secondary and could become an heir to that unit.
Boise State Defensive End Chase Baker
Otto Kitsinger III/Getty Images
An under-the-radar selection on the defensive line for the San Francisco 49ers would be Chase Baker.
The senior defensive tackle performed well on his pro day at Boise State, but his edge comes on the mental side.
Baker visited several teams, such as the Dallas Cowboys and Minnesota Vikings. He has both the physical ability as well as the mental maturity to play in the NFL.
At the end of a stellar high-school career at Rocklin High just north of Sacramento, Baker sustained an injury that kept him out his first few years at Boise State.
But, the way he paced himself through a year as an assistant coach at Rocklin (another asset) and more time on the sideline at Boise State shows his maturity and grit.
Baker displayed his worth on the field as part of Boise State's 11th-best defense, and his versatility with an interception against Toledo.
Western Oregon Center Jason Slowey
Speed isn't exactly necessary at offensive line, but the San Francisco 49ers shouldn't be fooled by Jason Slowey's name—nor his collegiate division.
Name puns aside, the Western Oregon center impressed scouts at his pro day with at least seven teams on hand.
He also has impressed his Division II Great Northwest Athletic Conference opponents.
Slowey earned All-Conference honors the last three years, and was even named the GNAC Lineman of the Year last season.
While he doesn't come from a highly touted Division I team, he stabilized Western Oregon's offense for four seasons.
Plus he appreciates San Francisco's history, as he showed with his photo of Jerry Rice's jersey while visiting the 49ers facilities.
The Flip Side: Stanford Tight End Coby Fleener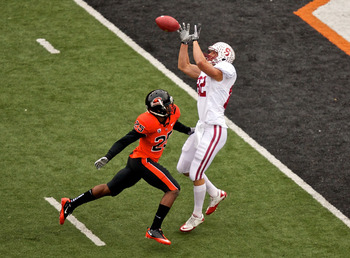 Craig Mitchelldyer/Getty Images
The popular idea of San Francisco 49ers fans is to select Stanford tight end Coby Fleener in the 2012 NFL Draft, but they shouldn't do that.
The 49ers already have plenty of talent at the position.
Vernon Davis is a beast, one of the best tight ends in the league.
Delanie Walker has been solid for five years and is a team leader.
Plus, coach Jim Harbaugh already selected a Stanford tight end in last year's draft: Konrad Reuland.
What San Francisco needs is more bodies on the offensive line, not another guy to compete for a third-string chance of lining up next to the O-line.
Talented or not, Coby Fleener isn't a smart decision for Harbaugh & Co.
Keep Reading

San Francisco 49ers: Like this team?