Chelsea's 'Ghost Goal' Another Case for Goal-Line Technology: So Why the Wait?
April 16, 2012

Mike Hewitt/Getty Images
The goal-line technology debate was back in session Sunday after Chelsea benefited from a hugely controversial "ghost goal" en route to an FA Cup semifinal victory against Tottenham at Wembley.
Juan Mata's shot was clearly blocked before it reached the goal line, but somehow referee Martin Atkinson saw fit to award the Blues a goal.
Replays proved conclusively he was wrong. But replays, as we well know, are not yet available for the officials to review.
And while Chelsea ultimately came out comfortable 5-1 winners, Atkinson's horror call (irony upon irony being he will go to Euro 2012 as a goal-line official) came at such a pivotal time it transformed the nature of the contest that followed between the London rivals.
Spurs were trailing 1-0 and very much in contention before they fell victim to the injustice. To go  behind 2-0 so early in the second half left Harry Redknapp's team chasing the game.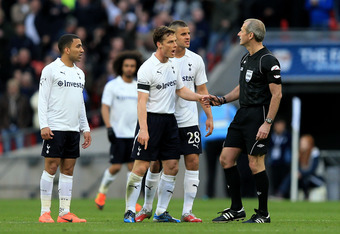 Clive Rose/Getty Images
It also meant Gareth Bale's 56th-minute goal found the Spurs trailing 2-1 rather than level at 1-1. With Tottenham stretched and playing catch-up, Chelsea were able to pick them off in the final 15 minutes and score three unanswered goals. .
The only downside for the Blues after their emphatic victory—which set up an FA Cup Final meeting with Liverpool—was that it will be remembered most for the one goal of their five that really wasn't.
"I don't think it did [cross the line]," Chelsea captain John Terry told ITV Sport after the game. "I was right there and I thought it hit me and went straight out.
"We've been calling for goal-line technology for a very long time. Let's hope that the people that be make the right decision."
The "people that be" Terry spoke of are the International Football Association Board (IFAB)—a committee made up of representatives from FIFA and the four UK football associations who oversee the laws of the game and who, in March 2010, voted against pursuing the introduction of goal-line technology.
Here's why, according to FIFA general secretary Jerome Valcke, as quoted by the Guardian in March 2010:
Technology should not enter into the game. It was a clear, clear statement made by the majority of the IFAB.

They are saying why should we have technology in a game where the main part should be humans—players and referees.

Whatever are the mistakes—and yes there are mistakes—and people will review the match and discuss what happened but there was a clear statement that technology should not enter in the game.

If we start with goal-line technology then any part of the game and pitch will be a potential space where you could put in place technology to see if the ball was in or out, whether it was a penalty and then you end up with video replays. Let's keep the game of football as it is.
Then came Frank Lampard's "goal that wasn't" for England against Germany at the 2010 World Cup. Replays showed Lampard's shot crossed the line, though the goal was never whistled. This gaffe on football's biggest stage represented a major embarrassment for both the match officials involved and the game's governing body FIFA.
Perhaps it was the high-profile mistake goal-line technology needed. (Some would argue it had already arrived in the 1966 World Cup Final, with West Germany on the receiving end of England's fortune.)
FIFA president Sepp Blatter, in a rare moment of clarity, subsequently apologized to the English FA and called on the IFAB to revisit the subject of goal-line technology at their next meeting in July 2010.
With an abrupt about-face, they heeded his advice—with the specific caveat that video technology be limited purely to deciding whether or not a ball had crossed the line, following the same standard (and speed) of those systems already employed in sports like tennis and cricket.
Here's an extract from their October 2010 statement, as quoted by ESPN Soccernet:
The system must be accurate; the indication of whether a goal has been scored must be immediate and automatically confirmed within one second; the indication of whether a goal has been scored will only be communicated to the match officials.
There began the initial bidding phase for companies looking to score a whole lot of football business as potentially the game's premier goal-line technology (GLT) provider.
The IFAB called for all proposals to be in by the end of November 2010 and conducted tests on a number of systems at FIFA headquarters the following February. What was determined in that period is not clear, but in March 2011 the IFAB appointed FIFA to take things forward.
This is where things start to feel a little drawn out.
FIFA then invited a second round of GLT proposals with a deadline of June 2011. Bidding companies were then invited to take part in a "stringent" testing process which took place between November and December. Here's the criteria, as per FIFA's website, in which companies were given a pass or fail by the appointed examiners.
A goal indication to referee's watch (automatically displayed by vibration and visual signal)
Signal range (full coverage of the pitch and technical areas)
Free shots on goal (100 percent recognition)
Static accuracy test (minimum 90 percent correct recognition in this first phase) 
Dynamic accuracy test (minimum 90 percent correct recognition in this first phase)
Fast forward to March 2012, and finally, we appear to be getting close to actually having GLT employed in a real football match. Eight proposals have been whittled down to two and those two are currently undergoing a second round of exhaustive tests.
The two companies in the running are Hawk-Eye, who proposed to use camera recognition technology, and GoalRef, whose idea is to employ a magnetic field and use specialized footballs.
Hawk-Eye will be all too familiar to fans of tennis and cricket. It's their systems that we see on the ATP, WTF and ITP tennis tours and used during test matches and one-day internationals in cricket.
Phase two testing will see both systems employed in match situations, and the IFAB have announced they will make a final decision at the board's special meeting on July 2nd in Ukraine, shortly after the conclusion to Euro 2012.
Said the English FA's chairman Alex Horne: "We absolutely expect that, provided the companies fulfill the criteria, we will be passing the use of the systems into the laws on 2 July in Kiev."
For Spurs manager Redknapp, the announcement cannot come soon enough.
"We need goal-line technology. It has to happen," said Redknapp on Sunday. "You can't keep having situations like that where important decisions are not correct. I could tell by the players' reaction that it wasn't right and then I saw the TV and it's clearly not in."
The thing to remember here, is that goal-line technology is coming. The issue is not "if," it's "when."
And while FIFA and the IFAB are perhaps guilty of dragging their feet a little in the testing process, can you blame them when one wrong decision can prompt such widespread furor?
The bigger issue here is whether goal-line technology is enough, or whether we ought to be utilizing video replays to rule out human error in any number of other areas.
Was it a penalty? Did he raise his hands to his face? Was he really denied a goal-scoring opportunity?
That's the debate you can expect to follow the widespread introduction of goal-line technology, probably for the start of the 2012-13 season.
If you're asking me, I'm with the IFAB and FIFA—and against video replays being used for anything other that deciding whether a ball has passed the goal line.
So many of the other decisions are subjective by their very nature, so reviewing them would achieve nothing other than breaking the flow of the game. And the way I see it, the flow of the game should be protected beyond anything else.
I'll give you goal-line technology, but anything else is a slippery slope to a game that would begin to be unrecognizable from the one we played as kids in the playground.
More importantly, where do you stand on it?