Marquez vs. Gesta July 14th in Cowboys Stadium: Is Manny Pacquaio Next?
April 16, 2012

Harry How/Getty Images
On Saturday night, Juan Manuel Marquez (54-6, 39 KO) made a return home to Mexico City in a convincing victory over Serhiy Fedchenko (30-2, 13 KO). It was the first time in almost 20 years that Marquez fought in Mexico City, this time filling more than 22,000 seats in the New Mexico City Arena.
Marquez wasn't able to knock Serhiy out for the fans that night, he was too awkward and cautious. Marquez looked good, but had to go out of his comfort zone as Fedchenko wasn't going to play Marquez's game and waited for the Mexican veteran to attack. Marquez clearly won, but Fedchenko was able to sneak in some good, sneaky jabs.
Fedchenko was almost out on his feet in the 12th round, but was able to survive Marquez's onslaught to lose by unanimous decision. The scores where 119-109 and 118-110 twice. It was odd that his corner was celebrating after Fedchenko's loss, either they were excited that he survived, or they actually thought he won.
With that win in his pocket, Marquez looks to fight one more time at Cowboys Stadium in Texas on July 14th. He hopes that after his summer fight, he'll be able to secure a fourth match with Manny Pacquiao to try his hand again at gaining that win on his record.
A couple of names were thrown around as possible summer opponents for Marquez prior to his Fedchenko fight. Two of the names that were the most popular or brought up the most were Brandon Rios and Mercito Gesta. 
Rios was the leading candidate before this weekend to take on Marquez. Bob Arum, Pacquiao's agent, when talking to Cowboys Stadium officials, mentioned Rios as the opponent for July. That might have changed though after Rio's win on Saturday against Richard Abril.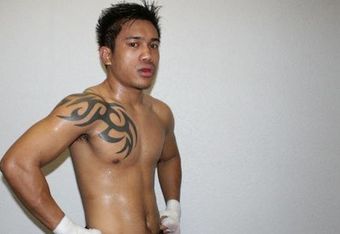 Rios won a heavily disputed split decision against Abril where he looked to have only won two rounds. He was attempting to pressure Abril all night long into submission, but Abril was able to fight against it and control the pace of the fight. 
Unless Arum really doesn't care about one of his biggest stars losing their undefeated record, I think he might opt to put Gesta in the ring with Marquez.
Gesta is also scheduled to fight on July 14th at Cowboys stadium and wouldn't be a bad tuneup for Marquez.
First off, Rios is a little dangerous. Yes, his come forward and brawling style is better suited for Marquez, but he'll get hurt in the process. Fighters like this have hurt and knocked Marquez down in the past. He wouldn't want to risk injury if he's planning to fight in a mega fight in the fall. 
Next, Gesta is a southpaw and has been compared by many people to be a similar fighter to Pacquiao. I personally don't see it, but the kid has good hands and foot movement with some stamina problems. Marquez also said he wanted a left-handed opponent to help prepare him for Pacquiao. 
One final reason is the Mexico vs Philippines rivalry. Arum had talked about it before, and that might be the theme of the card come July 14th as Nonito Donaire (28-1, 18 KO) will be fighting Cristian Mijares (44-6-2, 20 KO) at the same venue as well. 
With that said, Gesta is probably the front runner now for a shot against Marquez on July 14th. Whoever the next opponent may be, we should find out within 30 days as both men will need ample time to train, prepare and confront the media.
Follow me on Twitter 
Follow my group on Facebook