Marquez vs. Fedchenko Highlights: Win Gives Pacquiao Easy out from Mayweather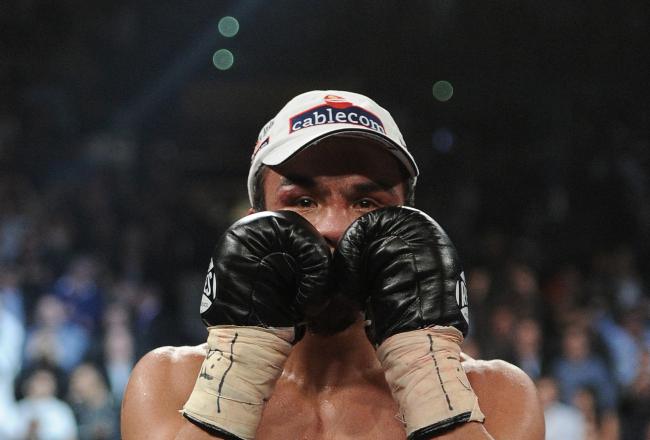 Harry How/Getty Images
By defeating Sergey Fedchenko in Mexico City on Saturday night, Juan Manuel Marquez once again entered himself as yet another hurdle standing between Manny Pacquiao and Floyd Mayweather.
It's no secret that Dinamita wants a fourth shot at Pac-Man. Marquez has come agonizingly close to upending the Filipino superstar in each of their three previous fights. Their last meeting, at the MGM Grand Garden Arena in Las Vegas in November of last year, resulted in a somewhat controversial majority decision in Pacquiao's favor, albeit one that hailed a chorus of boos from the attendant crowd and suspicions of foul play by the judges on the part of some media members.
Even in defeat, it was clear that Marquez had flustered Pacquiao, as he had the times before, his plodding, defensive style proving once again a tough nut to crack for Pac-Man.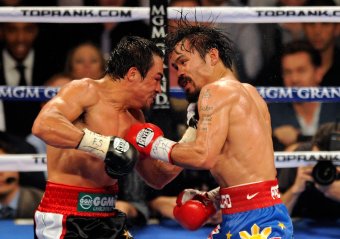 Ethan Miller/Getty Images
Even clearer was the opportunity created by the controversy. Another date between Pacquiao and Marquez, while seemingly rote at first glance, would draw the attention of the whole boxing world to see if Marquez could finally turn the tables and play the foil.
And grant both men another financial windfall as a result.
Marquez is certainly game for it. The 38-year-old Mexican legend looked fit and muscular against Fedchenko and while Marquez didn't seem quite at his best, it was clear that he still has plenty left in the tank, presumably to throw at Pacquiao.
Pac-Man, on the other hand, is preparing for a bout with Timothy Bradley on June 9th in Vegas. Once that's out of the way and Pacquiao has picked up his 55th professional victory, he'll likely be faced once again with a choice between Marquez and Mayweather.
Both are dangerous options for Pacquiao, who at times has appeared hesitant to truly put his title on the line in the ring. Marquez has given Pacquiao trouble before and very well could should they meet again. Then again, the mystery of Money May, as well as his superb defensive style, makes that matchup all the more dangerous for Pac-Man.
Though the lure of a record-setting purse could ease those concerns.
Which fight would you rather see?
The ultimate decision, though, probably won't have anything to do with the fighters themselves. As always, it'll come down a matter of negotiations between promoters and coming to terms that both parties can agree to. That's proven to be an annoyingly Herculean task whenever Bob Arum, the head of Top Rank and Pacquiao's personal promoter, has wound up at the table with Oscar De La Hoya, the Golden Boy boss and Mayweather's point man.
Working things out with Marquez's camp would be much easier for Pacquiao's, seeing as how they're one in the same. There's be no concern over which promoter is getting a bigger share of the coin because it'll all end up in the same pocket—Arum's.
And so, once Mayweather's done with Miguel Cotto on May 5th and Pacquiao's punched his way past Bradley in early June, it'll be back to the same old circus between these two wandering welterweight icons, with Marquez once again cast as the red herring to distract from the event that everyone really wants to see.
This article is
What is the duplicate article?
Why is this article offensive?
Where is this article plagiarized from?
Why is this article poorly edited?