2012 NFL Draft: Do the Panthers Have a Trade Partner in the New York Jets?
April 15, 2012

Andy Lyons/Getty Images
During the 2007 NFL draft, the Carolina Panthers traded away the 14th overall selection to the New York Jets in exchange for the 25th and 59th overall selections. 
After New York obtained that Carolina first-rounder, it drafted some guy from Pittsburgh named Darrelle Revis. Not bad, huh?
The Panthers didn't do too shabby, either. Marty Hurney and the rest of the front office used the Jets' first- and second-round picks to select linebacker Jon Beason and center Ryan Kalil. Just as Revis is with the Jets, both Beason and Kalil are extremely solid pillars for their franchise.
Between Revis, Beason and Kalil, there are ten Pro Bowl selections, as well as six All-Pro selections. 
So the trade worked out pretty swimmingly for both teams, wouldn't you say?
Now how about trying to revisit that magic in this year's draft?
Recent reports have indicated that the Jets are enamored with South Carolina's Melvin Ingram. The versatile defensive end/outside linebacker is one of the draft's top pass rushers and would immediately give Rex Ryan's defense a much-needed presence.
Ingram, however, will not last to the Jets if they remain at the 16th spot in the first-round. The 6'2",264-pounder will certainly catch the attention of teams currently drafting ahead of the Jets. Some interested may include the Jacksonville Jaguars, Miami Dolphins, Seattle Seahawks, Arizona Cardinals and possibly even the Dallas Cowboys.
But if Ingram happens to slip past Jacksonville and Miami, perhaps Hurney will call or will get a call from Mike Tannenbaum and his war room in New York.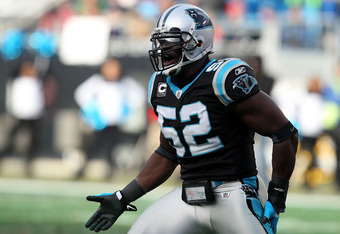 Streeter Lecka/Getty Images
As the Jets are looking to move up in the draft order, the Panthers are seeking a possible trade down anywhere into the middle of the first round.
If the two front offices end up making a deal, the Panthers would receive the Jets' first-rounder (16th overall) and second-rounder for the Panthers' first-rounder (ninth overall), as well as their fourth rounder, according to a trade value chart.
That would give the Panthers three picks (one in the first and two in the second) within the first 47 spots in the draft. They could use that very solid group of picks to address current needs at the defensive tackle, cornerback and wide receiver positions.
Here are just some of the prospects that could be available for the Panthers if they move down to No. 16.
Stephon Gilmore, CB, South Carolina
With Dre Kirkpatrick and Janoris Jenkins slipping up a bit, South Carolina's Stephon Gilmore is now regarded as the draft's second-best cornerback prospect.
Gilmore has nice size and good ball skills and is an intelligent player. He's just another one of those very good corner prospects this deep draft has to offer.
If the Panthers end up missing on Morris Claiborne (which they will), grabbing Gilmore to strengthen up their secondary would be a very nice consolation.
He should be the pick if the Panthers move down to the spot.
Quinton Coples, DE, North Carolina
Coples dropping to No. 16 may be a reach, but its certainly a possibility at this point.
A poor man's Julius Peppers, Coples is easily one of the top pass rushers in the draft and would give Ron Rivera a much-needed presence on a shaky defensive line.
The concerns surrounding his motor and interest to play may prompt teams to pass up the North Carolina product.
Michael Brockers, DT, LSU
Prior to the NFL Combine, LSU's Michael Brockers was slated right into the top-10 of the first round. But after a fairly unimpressive performance at the combine, there has been some doubt regarding the 6'6", 306-pounder.
But unlike fellow defensive tackle prospect Dontari Poe, Brockers does show some promise on tape. He displays great quickness, has very powerful legs and is an overall freakish athlete.
Dre Kirkpatrick, CB, Alabama
Here's the guy that was consistently mocked to the Panthers before the season's end.
At 6'3", Dre Kirkpatrick is a considerably tall cornerback. He has great speed, elite size and a knack for making big plays. He is also extremely effective against the run thanks to his anticipation and that speed.
Kendall Wright, WR, Baylor
As we edge closer to draft day, Kendall Wright is a name that has been picking up some steam as the potential selection.
Wright has great hands, killer speed and the ability to break off big plays.
He would be the second version of Steve Smith and give Cam Newton another viable deep threat.
Here are some prospects, if available, that would be considered in the second round for the Panthers:
Alshon Jeffery, WR, South Carolina
Rueben Randle, WR, LSU
Devon Still, DT, Penn State
Kendall Reyes, DT, Connecticut
Andre Branch, DE Clemson
Zach Brown, OLB, North Carolina
Janoris Jenkins, CB, North Alabama
So if the Panthers and Jets can strike a draft day deal, can they make some magic once again?
They did it with Revis, Beason and Kalil in 2007. Why not this year?