NBA Relocation: Is There Room for a Second Franchise in Chicago?
April 17, 2012

Ezra Shaw/Getty Images
Los Angeles has two NBA franchises. With the move of the Nets, New York is about to get their second NBA franchise.
Could Chicago support a second NBA team?
Before New Orleans Saints owner Tom Benson swooped in to buy the Hornets, the NBA had two teams potentially looking for new homes. The Hornets were in limbo being owned by the NBA and the Sacramento Kings were threatening to relocate.
The Kings had been in talks with the city of Sacramento, hoping they could get a new arena built. Just six weeks ago it looked like a sure thing, but this last week it all fell apart.
Now with the clock ticking, there is talk the Kings could be on the move. They are locked into staying in Sacramento for next season, but after that they are free to leave.
There has been talk of Las Vegas or Anaheim, but isn't it time the Kings finally found a real home and stopped jumping from town to town? Originally the Rochester Royals, they have called Cincinnati, Kansas City and Omaha home before spending the last 27 years in Sacramento.
Chicago is the third-largest media market in the country. They support every major sports team, including their two baseball teams and, at one time, two NFL franchises as well.
It is a basketball hungry town. Even when the Bulls were bad after Michael Jordan retired, they were still able to sell out the United Center for years, and once they made the playoffs again they became the hottest ticket in town.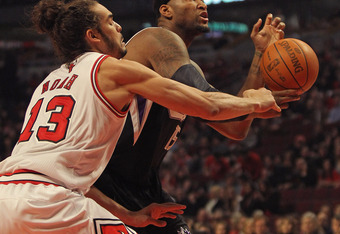 Jonathan Daniel/Getty Images
For some teams it might not seem ideal to move into a market with an established team that is a title contender, but isn't that better than going to a market where you are unsure if it can support the team?
The Kings have young exciting talent, and with the Bulls having Derrick Rose, they could build a nice rivalry for the next decade or so. 
They currently have the fourth-worst record in the league and will most likely get another top-five draft pick to go along with DeMarcus Cousins and Tyreke Evans. They could be an exciting, young, up and coming team and should be an easy draw for a city without any real college basketball programs.
If they did move to Chicago, they could stay in the Western Conference since it isn't that much further east than Memphis or Minnesota. It would also allow the city to see much more of the Western Conference rather than just more of the Eastern Conference.
Could you imagine a Chicago vs. Chicago NBA Finals?
They could also keep the Kings name, which might not be the case if they moved anywhere like Seattle. I would assume the city of Seattle and its residents would like to see the Sonics name used.
I'm sure Bulls' chairman of the board Jerry Reinsdorf might not be in favor of the move, but for what it's worth, he also doesn't like the idea of hosting an All-Star game.
The United Center, while almost 20 years old, is still one of the best arenas in either the NBA or NHL and could easily support another team. Maybe the presence of a third team would put an end to the annual circus and ice show road trips?
So what do you think Chicagoans, could we support a second NBA franchise? I sure think so and think that NBA commissioner David Stern should look into the idea.
Make sure to follow me on Twitter @dachicagofan, and check out my weekly Bulls podcast every Wednesday on my site, The MG Experience.