2012 WNBA Mock Draft: Nnemkadi Ogwumike and Stars Who Will Dominate Right Away
April 16, 2012

Ezra Shaw/Getty Images
The WNBA Draft brings with it all the optimism and potential that any other sports draft does, with the biggest difference being we don't have to wait months on end to see the talent on display. 
The festivities get underway on Monday afternoon. Then, on May 18th the season tips off. With so many of the top college stars deciding to return to school, there is a feeling that this draft is light on talent. 
Actually, there is plenty of talent available, there is just a lot more risk involved because these players have yet to show the consistency needed to make them look like superstars-in-the-making. 
Here is a look at the WNBA Mock Draft, with a special emphasis on the players who will shine right away. 
No. 1: Los Angeles Sparks - Nnemkadi Ogwumike, F, Stanford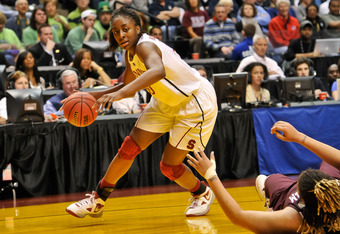 Jamie Sabau/Getty Images
The consensus best player in the draft, Ogwumike will be the new face of the Sparks. Her combination of size, feel for the game and presence on the court make her a natural. 
Even if Ogwumike doesn't turn into the next Lisa Leslie, the Sparks will have the missing piece they need to get back to the top of the WNBA mountain. It is going to take time, but this franchise is headed in the right direction. 
No. 2: Seattle Storm - Shekinna Stricklen, G/F, Tennessee 
The Storm need someone who can replace Swin Cash. That is a tall order, obviously, but Stricklen has the raw talent to become that kind of player. 
No. 3: Minnesota Lynx - Glory Johnson, F, Tennessee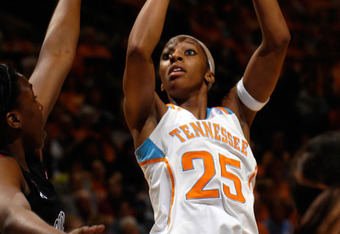 The rich just seem to get richer. Not only did the Lynx finish the season with a 27-7 record, but they also snagged the third pick in this draft. 
For their troubles, they will land one of the hardest working players and most fierce competitors in the country. Johnson doesn't have the upside that you would think for a top-three pick, but her floor is much higher than anyone else available. 
No. 4: Tulsa Shock - Devereaux Peters, F, Notre Dame
Peters has to be a star for the Shock to at least approach respectability. 
No. 5: San Antonio Silver Stars - Shenise Johnson, SG, Miami 
The Silver Stars are just one or two players away from being a real player in the Western Conference. 
Johnson is the best pure shooting guard in this class. She has a natural stroke from anywhere on the court and her defense continues to impress. 
No. 6: Phoenix Mercury - Samantha Prahalis, PG, Ohio State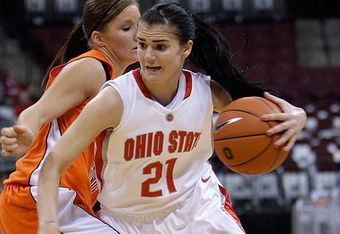 Prahalis could be the steal of the draft. She has a great combination of scoring and passing ability, which makes her lethal at the point guard position. 
If she can find any consistency in the WNBA, Prahalis will be an MVP candidate. That is a big if, because she often found herself in poor offensive and defensive situations at Ohio State. 
No. 7: New York Liberty - Riquna Williams, F, Miami
Williams' character might be a concern to some, especially after she was suspended for the first two games of the NCAA Tournament. 
Still, it is hard to overlook her smooth shot when she has the ball in her hands. Even if Williams causes headaches, she will score enough to be worth some of the problems. 
No. 8: Washington Mystics - Natalie Novosel, G, Notre Dame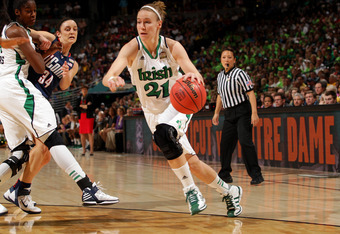 Doug Pensinger/Getty Images
If you like passion, intensity, drive and determination, Novosel is going to be the player to watch. She isn't as naturally talented as someone like Ogwumike, Prahalis or Peters, but she will give you everything she has every single night. 
No. 9: Connecticut Sun - Sasha Goodlett, F, Georgia Tech
Even with Tina Charles on the roster, the Sun can use another body in the paint to create more matchup problems. Goodlett has a great feel for the game and an uncanny ability to score the basketball at the most critical moments. 
No. 10: Washington Mystics - LaSondra Barrett, G/F, LSU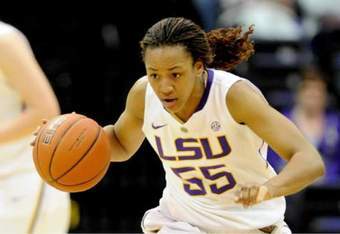 Barrett has the kind of versatility that teams dream of. She is fast and athletic enough to play the point, with enough size and strength to handle herself in the paint. 
Wherever the Mystics put her, she will be a huge asset, and this franchise needs someone to get excited about. 
No. 11: Indiana Fever - Tiffany Hayes, G, UConn
Hayes is a force to be reckoned with on both sides of the ball. She can score at will by creating her own shot. 
Defensively, she is as intense as anyone in the draft. She makes life miserable for opposing players, even if they don't have the ball. 
No. 12: Minnesota Lynx - Lynetta Kizer, F/C, Maryland
Not that the Lynx need it, but Kizer is going to be a versatile post player. Her rebounding is far more advanced than her shot. As long as she is able to add at least five points on the offensive side of the ball, she will have a long career.