Miami Heat vs New York Knicks: Live Stats, Highlights and Analysis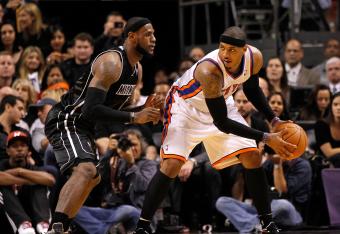 Carmelo Anthony and the Knicks host LeBron James and the Heat at 1pm today.
Mike Ehrmann/Getty Images
The struggling Miami Heat pay a visit to Carmelo Anthony and the New York Knicks today at 1 p.m. The Heat have been terrible on the road and the Knicks are battling for playoff position. Keep it here for up-to-the-minutes updates, stats and analysis.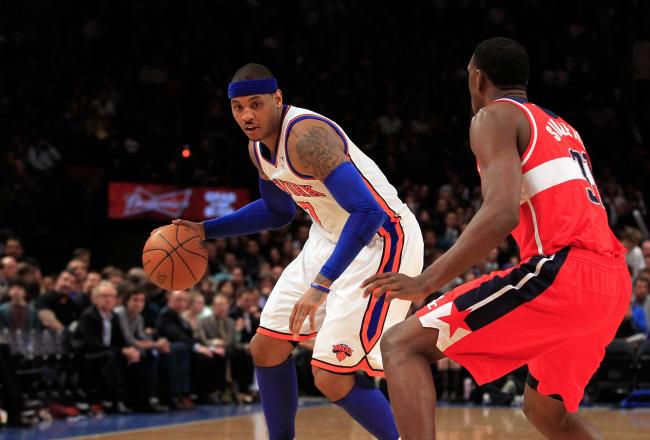 Heat 93 Knicks 85: Final Score.
Critics of the Heat will claim that the team is comprised of Dwyane Wade, LeBron James,Chris Bosh and a collection of nothing more than role players.
What does that make the current Knicks though? Yes they're injured and missing key parts but no one stepped up for a consistent period of time in today's game other than superstar Carmelo Anthony who had to carry his team into the fourth quarter and then seemed understandably gassed as the game came to it's conclusion.
With 8:07 left in the game J.R. Smith scored to make it a 79-75 Knicks lead. From that point on it was an 18-6 run. That was the run the Heat were waiting for all day and it could not have come at a worse time for the Knicks.
For three quarters Carmelo Anthony was easily the best player on the court but he started the fourth quarter with 35 points and finished it with 42. On the day Anthony had the 42 points along with nine rebounds, five assists and just one turnover. Anthony was an impressive 14 of 27 from the field. His teammates however were collectively just 17 of 46.
Miami got nice games from all three of their stars. James had 29 points, 10 rebounds and three assists. Wade finished with 28 points, nine rebounds and four assists and Chris Bosh had 16 points and a game high 14 rebounds.
The Knicks are a better defensive team than they were under previous head coach Mike D'Antoni. They are inconsistent on offense though and while that may very well be a product of the injuries they've sustained it's still something they'll need to rectify if they hope to get out of the first round of the playoffs.
Thanks for reading and commenting. Feel free to follow me on Twitter
Heat 93 Knicks 85: 1:10 left in 4th Quarter
Carmelo Anthony has gone cold at the worst possible time. Carmelo might be tired, he might be frustrated or he could be just due to miss a few shots. In all fairness it's probably a little of all three.
With the Knicks falling behind by eight points and time running out on this game he's keenly aware of how crucial he is to his team's fortunes. Carmelo only has one field goal and four points in the fourth quarter.
The Knicks have as a team folded down the stretch but give credit to the Heat as well who have stepped up on both sides of the court as the game was looking a lot like a potential nail biter.
Heat 87 Knicks 80: 4:16 left in 4th Quarter.
LeBron James has taken on the defensive assignment of guarding Carmelo and it's actually yielded some good results. Anthony is beginning to look as if he's forcing things on he offensive end of the floor for the first time all afternoon.
In addition the Heat's advantage on the glass is also paying dividends. Miami owns a 44-31 rebounding advantage and got a big offensive rebound and put-back from Joel Anthony with 5:07 left in the game to extend the lead to three points.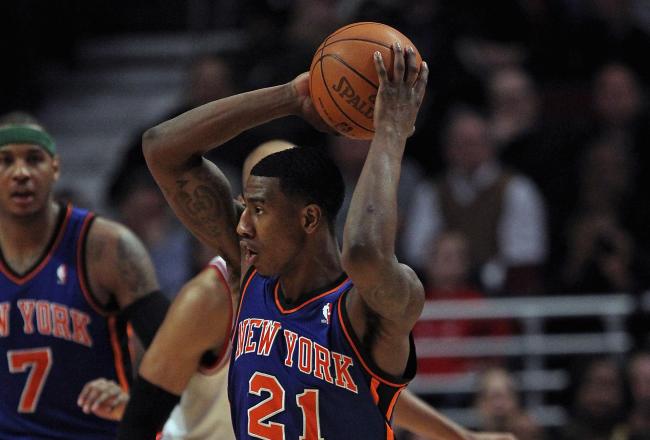 Heat 81 Knicks 79: 6:24 left in 4th Quarter.
Iman Shumpert and J.R. Smith have done great work on defense today. Especially on Dwyane Wade who has been forced into a few turnovers.
The play of Chris Bosh since the middle of the third quarter has been impressive. He clearly realized that the Knicks don't really have anyone who can stay with him underneath the basket and he's scored points, rebounded and come up with a blocked shot as well.
The Heat continue to look like a team that's picking and choosing when to play at their hardest while the Knicks continue to struggle to generate offense from anyone not named "Carmelo."
This game will be close down to the wire and the difference will be the Knicks ability to continually feed Carmelo versus Miami's effort- or lack of it.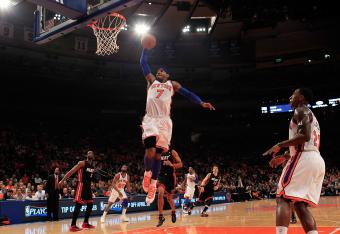 Heat 75 Knicks 75: 8:26 left in the 4th Quarter.
Tyson Chandler is on the bench getting ice applied to his knee. He's still on the bench but he's also not getting up off it as of now. The loss of Chandler for either the remainder of the game or even worse any future games would be a devastating blow to the Knicks.
Chris Bosh has taken advantage of Chandler's absence and scored four points in the fourth quarter. Bosh now has 14 points and a game high 12 rebounds.
Heat 71 Knicks 68: Start of 4th Quarter
This just in: Carmelo Anthony is still in a zone today.
It's getting increasingly difficult for him to get his shots but when he's been given an opening he's taking advantage of it.
Even better news for Knicks fans J.R. Smith hit two three pointers down the stretch in the third quarter.
Anthony starts the fourth quarter with 35 points, his career high is 50 and well within reach.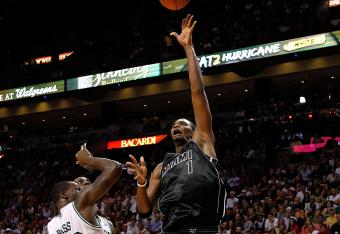 Heat 65 Knicks 58: 2:21 left in 3rd Quarter.
Jeff Van Gundy is having a near meltdown over the issue of drawing fouls and the technique of "flopping." While Mike Breen tries to navigate the company line and defend the league while at the same time trying to change the subject Van Gundy proposes treating "flops" like technical fouls or advocates fining players for the practice.
Carmelo Anthony has gone cold and the Knicks offense has stagnated. The Heat still can't get easy points against New York's defense but they've extended the lead a bit.
The Heat are also crushing New York on the glass they have a 36-25 advantage and on the offensive glass they lead 10-4.
Anyone that has opinions on the practice of "flopping" should feel free to chime in on the comment thread.
Heat 60 Knicks 54: 4:35 left in 3rd Quarter.
What's interesting about this game is that when you watch the two teams play it feels like the Knicks are really outplaying the Heat. However a look at the scoreboard reveals that this is anyone's game.
Miami has been unable to either piece together a run of consistent offense or stop Carmelo Anthony on defense.
For the Knicks Anthony has 29 points and the rest of the team has 25.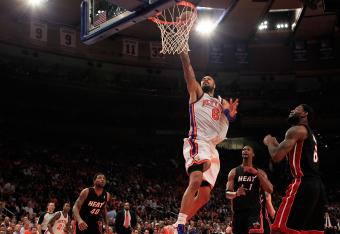 Heat 54 Knicks 50: 8:36 left in 3rd Quarter.
It's early in the third quarter and the Heat have looked okay on offense but it's still worth mentioning that the Heat have yet to take the ball directly at Tyson Chandler.
With Amar'e Stoudemire out with an injury Chandler is without question the most important Knick not named "Carmelo." Chandler started the second half with two fouls and an early third personal would probably get him out of the game and put the Knicks in real trouble as far as rebounding goes.
Heat 52 Knicks 48: 9:56 left in 3rd Quarter
Most of South Florida holds their collective breath as a break in the action has been caused by what appears to be a twisted ankle for LeBron James.
James who came out firing away to start the second half had just nailed an impressive long range jumper but he landed awkwardly and was not able to get up off the Madison Square Garden floor without Miami taking a timeout.
He appears okay and just needed a little breather.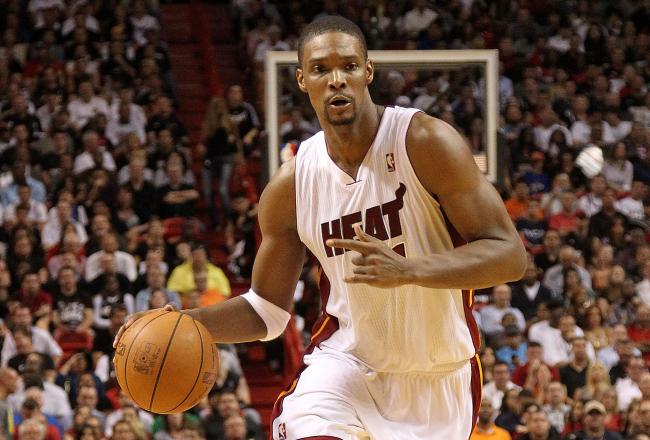 At The Half: Heat 46 Knicks 44
Are the Heat on cruise control and just buying their time until the playoffs begin?
If that's not the case then there is a problem with this team that seems to be able to dominate....and then just magically disappear for periods of time.
The Heat have a great record and they have not one, but two of the very best players in the entire NBA but they also seem to be out-of-focus.
Where was the push to get Chris Bosh involved in the offense as the first half wore down while the Knicks most indispensable defensive player Tyson Chandler was on the court with three fouls?
Why isn't LeBron James who seems as comfortable creating offense out of the low-post as he ever has throughout his career actually setting up in the low post and channeling the offense through that part of the court?
Even with these concerns the Heat are winning this game. It's both a blessing and curse. The Heat can't play games like this and hope to win a NBA title but they can put together a few wins during the regular season.
For the Knicks the big question has to be who else will step up on offense and take some of the burden off of Carmelo Anthony? He can't be counted on the score another 22 points in the second half. Even if he does can he do it with the same type of efficiency?
New York can't ask for anymore than it got from their superstar in the first half. Someone else or a combination of other players must step up and contribute in the second half if the Knicks want to extend their nine game home winning streak.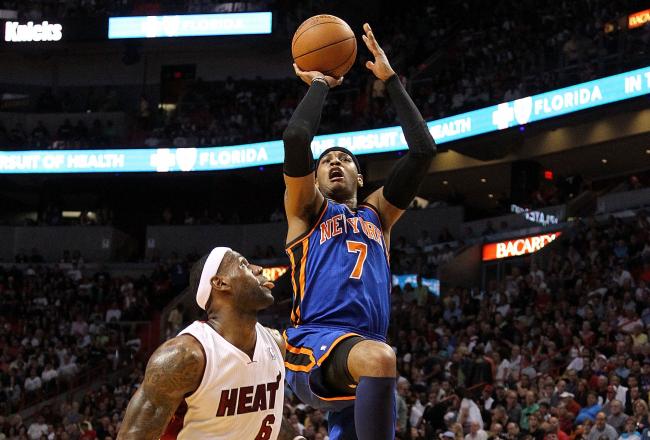 Heat 46 Knicks 44: Halftime
Carmelo Anthony just concluded one of the best all around halves of basketball that I've seen him have. He's been great on both ends of the floor. He has 22 points, seven rebounds and three assists but more importantly no turnovers and he's looked so totally in control on nearly every touch.
Meanwhile the Knicks defense has been stingy. Miami scored only 17 second quarter points. The Heat are shooting 17 of 38 from the field.
LeBron James had a strong half with 15 points, seven rebounds and two assists. He struggled from the free throw line going just two of four.
Dwayne Wade was red hot at the start but cooled in the second quarter and finished the half with 14 points, four rebounds and three assists.
The combination of Chandler's foul trouble and the Knicks lack of depth have put them in a 24-17 rebounding hole. Chris Bosh has five rebounds to go along with six points.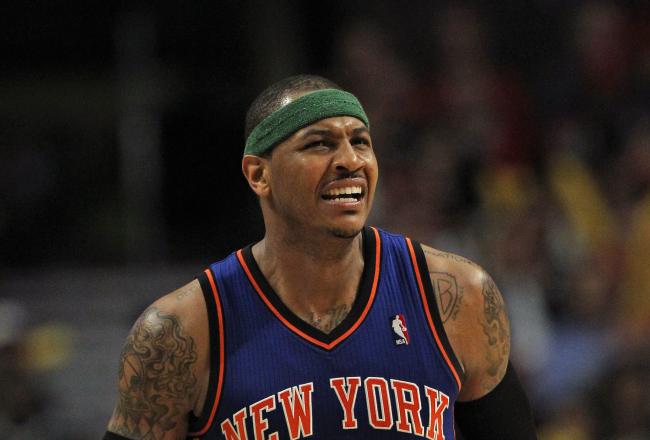 Knicks 38 Heat 35: 2:47 left in 2nd Quarter.
It's tough to not like what Carmelo Anthony is doing these days.
He's the Knicks' scoring leader but he's aware that he can't win these games on his own. Dribble penetrating and then kicking the ball to open teammate is a great way to get other players involved in the offense.
Miami is suffering from some of the on-court effort and awareness issues that have plagued them throughout this late season swoon they seem to be stuck in.
Not stopping the ball, not facing the ball, not communicating on the court. All signs of a team too relaxed and without urgency or a sense of the moment.
Miami can be one of the best teams in the league but they won't reach that level if they're not playing hard for a full 48 minutes.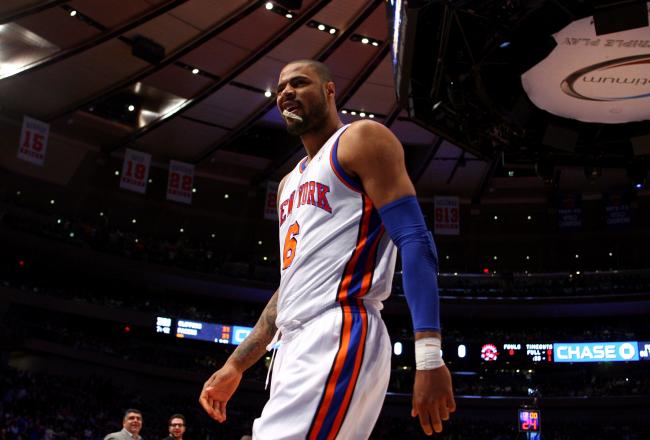 Heat 31 Knicks 29: 6:26 left in 2nd Quarter.
Tyson Chandler has re-entered the game. He's crucial to the Knicks as their only viable center and his early two fouls could have spelled trouble for New York. Instead the Knicks kept pace with Miami while Chandler sat. Will Miami feed Chris Bosh in an effort to draw Chandler's third foul before halftime?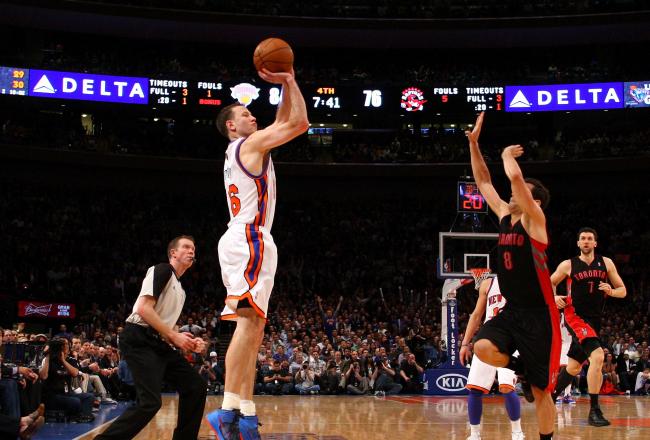 Heat 31 Knicks 24: 8:27 left in 2nd Quarter.
Miami may very well be missing out on some real good opportunities to get out to a big lead on New York. The Knicks are having a terrible day from three point range. They're shooting 2 of 10 from long range and aside from Carmelo Anthony and his 14 points the entire Knicks team has only 10.
It's all about the defense though. In spite of fruitless offensive possessions the Knicks are playing very tough defense.
Miami has only 31 points and 19 of them are from Dwayne Wade and LeBron James.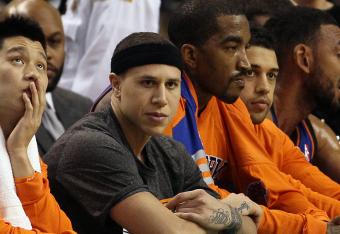 Heat 29 Knicks 24: 9:26 left in 2nd Quarter.
New York opened the second quarter with a lineup that won't produce points unless they hit three-pointers.
Baron Davis, Mike Bibby, Jared Jeffries, J.R. Smith and Steve Novak is a solid defensive crew but lack anyone who can consistently create their own shot.
If they can shut down Miami's offense then that won't be a problem at this point in the game.
Heat 29 Knicks 22: End of the 1st Quarter.
Miami knows that Carmelo has been the main reason for the Knicks most recent success.
Today they've had either LeBron James or Shane Battier defending him. Both players are exceptional defenders and yet neither player has been able to keep Anthony from producing points.
Carmelo is 4 of 9 from the field and has a game high 14 points. He's been getting to the line where he's 6 of 8.
Miami is led by Wade with 12 points on 4 of 6 shooting.
The smaller Knicks lineup is having problems on the glass as Miami holds an 11-6 rebounding edge. Adding to those problems is Tyson Chandler's early foul trouble. The Knicks center picked up his second foul with about 5:30 left in the first quarter and has yet to return.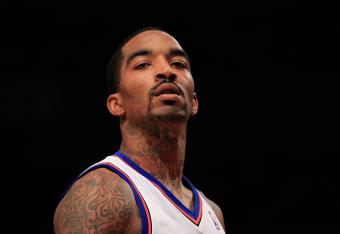 Heat 23 Knicks 15: 2:44 left in 1st Quarter.
A combination of poor shooting and some flat footed defense by New York have allowed Miami to jump out to an early lead. Miami is 9 of 15 from the field.
Dwayne Wade has been leading the way with 12 points on 4 of 6 from the field.
New York's starters are only part of the Knicks' offensive arsenal. They can bring sharpshooter like J.R. Smith and Steve Novak off the bench. Both players can get hot from three point range and change the course of a game.
Miami had a 23-12 lead but a J.R. Smith three cut it to 23-15.
Heat 20 Knicks 7: 4:44 left in 1st Quarter
Miami can't just hope that LeBron and Wade have big days today. They really have to get great performances to have a good chance at winning.
Luckily of course those are two of the league's best players. It's not going to be that easy with rookie Iman Shumpert on the court. The rookie out of Georgia Tech has become one of the Knicks' best defensive players on a team that has made huge strides defensively.
Shumpert tends to occasionally force things on the offensive end of the court but his defense is very good.
Tyson Chandler is the other defensive anchor for the Knicks and he picked up his second personal foul with just over 5:30 left in the quarter.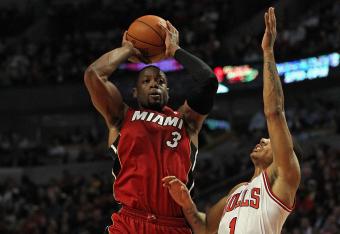 Heat 14, Knicks 7: 6:48 left in 1st Quarter
The Heat are struggling as of late and some of it has to do with Dwyane Wade's health but a lot of it may be the overall lack of depth. LeBron, Wade and Bosh are increasingly being called upon to provide nearly all of the offense in Miami.
For the Knicks one would think that placing so much of a burden on Anthony would put the team in tough spot but the team and Anthony in particular have responded.
Don't underestimate the Knicks' defense either. Interim head coach Mike Woodson has really changed the defensive culture on the team and they've turned into one of the better defensive teams in the league.
Anthony must score but the team has been getting stops too and that takes removes a degree of offensive burden from the whole team.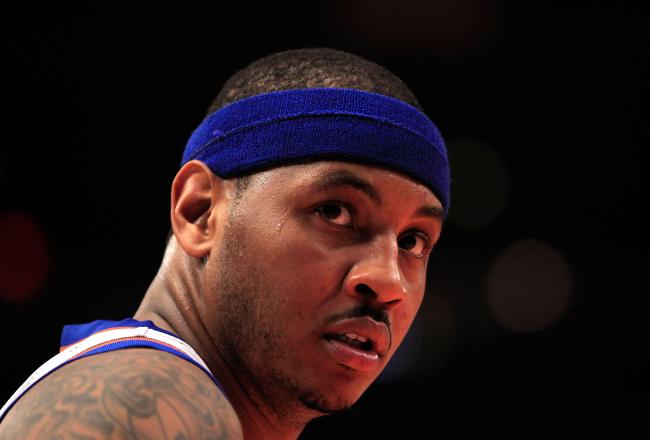 The Knicks are starting three guards today. Baron Davis, Iman Shumpert and Landry Fields. New York is in the midst of a nine game home winning streak and Carmelo Anthony who is basically playing power forward while Amar'e Stoudemire is out of the lineup has been playing some of the best basketball of his career.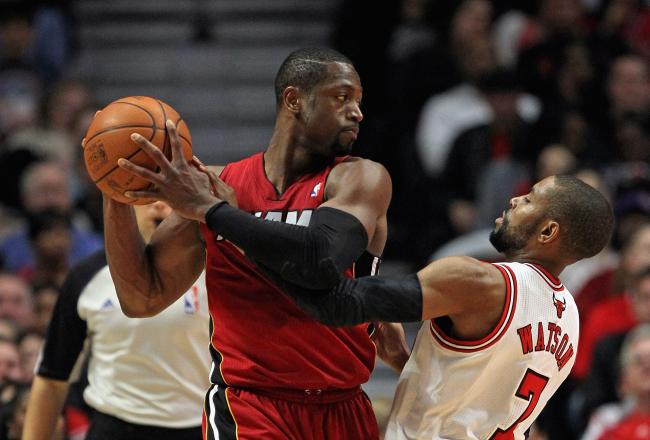 Yes there are those that feel that the NBA has too many regular season games. Even those who feel that way would have to admit that today's Heat-Knicks game is one well worth tuning into.
The Heat were coasting toward the playoffs a few weeks back. All of that has changed though. They're still in a good position to claim the Eastern Conference's number two seed but the team is only 14-10 since the all-star break.
The New York Knicks have a had a season with high highs and low lows but now after lineup changes, injuries and a midseason coaching change they find themselves in position to make the playoffs again.
They're going to have to do it without upstart point guard Jeremy Lin and for the time being Amar'e Stoudemire as well. Lin is out after undergoing arthroscopic surgery to repair a partially torn meniscus. Stoudemire is nursing a bulging disk in his back and could return for the playoffs but won't be on the court today.
Here are the starting lineups for today's game which tips off at 1:05pm on ABC live from Madison Square Garden is New York City.
Miami Heat ( 41-17, 16-13 away)
PG: Mario Chalmers
SG: Dwyane Wade
SF: LeBron James
PF: Chris Bosh
C: Udonis Haslem
New York Knicks ( 31-28, 20-10 home)
PG: Baron Davis
SG: Iman Shumpert
SG: Landry Fields
SF: Carmelo Anthony
C: Tyson Chandler
This article is
What is the duplicate article?
Why is this article offensive?
Where is this article plagiarized from?
Why is this article poorly edited?