Michigan Spring Game 2012: Denard Robinson Set to Make Wolverines a Powerhouse
April 15, 2012

Matthew Stockman/Getty Images
Denard Robinson and the Michigan Wolverines are set to make a plethora of noise next season—make no mistake about it.
Michigan football held its annual spring game on Saturday in what could only be a positive atmosphere in Ann Arbor, as the Wolverines will go into the 2012-13 season fresh off of a nationally-ranked season and Sugar Bowl victory.
Despite throwing the ball just three times in the game on Saturday, AOL Sporting News' report makes clear that it was a decision solely based on just how strong of an impression Robinson has continued to make on this team.
Michigan's senior leader played sparingly in the Wolverines' spring game in front of 25,000 Saturday.

Robinson attempted just three passes. That was by design, though. Robinson has  made such progress this spring, according to offensive coordinator Al Borges, that it was more beneficial for coaches to get a closer look at Robinson's backups, Devin Gardner and Russell Bellomy.
Considering the type of season that Robinson had last year, there is no telling just how dominant the QB is expected to be in the 2012-13 season.
Last season, Robinson posted 2173 yards, a total of 36 touchdowns—with 20 coming through the air—and a whopping 1176 yards on the ground.
As you can see, the production and sheer versatility that this QB brings to this Michigan offense is outright ridiculous.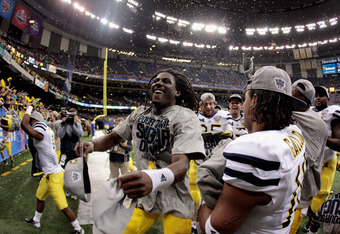 Chris Graythen/Getty Images
If Robinson has gotten better since then, there is no question that Michigan is bound to be a national threat next season. To end the 2011-12 campaign, the star QB led his team to a No. 11 national ranking and a Sugar Bowl victory over Virginia Tech in OT.
The Wolverines shocked the nation with an impressive 11-2 season, winning six of eight conference games on the year, including their last three.
This Michigan team will be a force to reckon with if indeed Robinson had made the significant strides this spring, as was implied by Borges. Expect Michigan to compete for a top ranking in the nation come November.