Yoenis Cespedes: Can He Be a Consistent 40 Home Run Threat in the MLB?
April 16, 2012

Jason O. Watson/Getty Images
It took only two games for A's fans to get a glimpse of Yoesnis Cespedes' immense potential.  In the seventh inning, facing Mariners reliever Shawn Kelley, Cespedes scorched a breaking ball straight into the left center field seats of the spacious Tokyo Dome.
In each of the next two games, Cespedes would do the same.  On April 6th, Cespedes launched his first homer in the Coliseum, driving a Jason Vargas fastball an estimated 462 ft.  Then in the following night against M's right-hander Steve Delabar, Yoesnis deposited one over the right center field wall. 
Since then Cespedes has gone on a bit of a dry-spell.  In the following six games, the young Cuban outfielder is a combined 3-for-20, with zero home runs and zero RBI.  What's more concerning, however, is how many strikeouts Cespedes is amassing.  In those six games, Cespedes has eight K's, making for 15 total in only 10 games.  
This should hardly come as a shock however.  It was expected that Cespedes would need some time to adjust to American pitching and refine his approach at the plate.  
There are signs that his approach is coming along though.  Since his last home run on April 7th, Cespedes has had four walks during that six-game stretch.  This coming after he didn't have a single walk in any of the first four games.
If Cespedes is to become a more sound and better overall hitter then his approach must continue to improve.  Cespedes has the potential to be a five-tool player.  He does have the ability to hit for average, it's just a matter of adapting to how pitchers are attacking him.
The more bombs Cespedes drops, the less likely it is that he'll see pitches that he can take deep, especially if the players around him continue to struggle.  If continues to go up to the plate hacking then he will become susceptible to swinging at poor pitches.  He needs to become a more patient hitter and prove to opposing pitchers that he can drive a breaking ball the other way if they decide to try and pitch around him.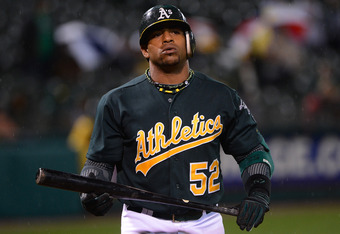 Thearon W. Henderson/Getty Images
Only by showing he's willing to settle for a single or walk will pitchers then be forced to come after him. Otherwise, what will happen is he will continue to be aggressive, forcing the count in the pitcher's favor resulting in less opportunities for not only home runs but hits in general.
At his very best, Cespedes has the potential to turn into a Jose Bautista type of hitter; hitting for a high average with a lot of home runs and RBI, he can turn into a legitimate game changer in the middle of the A's lineup.
At the very worst, it's safe to expect a Mark Reynolds type of hitter, a lot of power but not much else. He'll have a lot of home runs but at the same time he'll have a lot of swing and misses.  In Oakland's case, however, they would probably be OK considering how power starved they've been in recent years. Just having a guy like Cespedes will drastically improve their lineup, forcing opposing pitchers to respect his power every time he steps to the plate.
When Manny Ramirez returns late next month, expect a charge in Cespedes' game.  Not only will Manny be able to protect Cespedes when he's hitting behind him in the lineup, but he'll also better prepare him before he ever gets to the batter's box.  Ramirez can teach a lot to Cespedes in terms of what it takes to succeed against Major League pitchers, and Cespedes would be wise to listen. 
How Cespedes continues to perform is all up to him.  The physical talent is there.  You'd be hard pressed to find another player with his raw power, it's just a matter of consistenly being able to tap into that power.  If he learns American pitching like many expect him to, then doing so shouldn't be a problem. 
Cespedes can absolutely adapt and become one of the game's scariest hitters, or he can end up like Willy Mo Pena.  Like a cheap firecracker, Pena let out a few booms early before fizzling out way too soon.  Oakland's only concern, however (and rightfully so), is that their firecracker happens to cost $36 million.  If Cespedes does end up disappointing, it'll be an expensive nightmare to watch as the promise of what could've been goes down in flames.