Boston Red Sox: Potential Replacements for Jacoby Ellsbury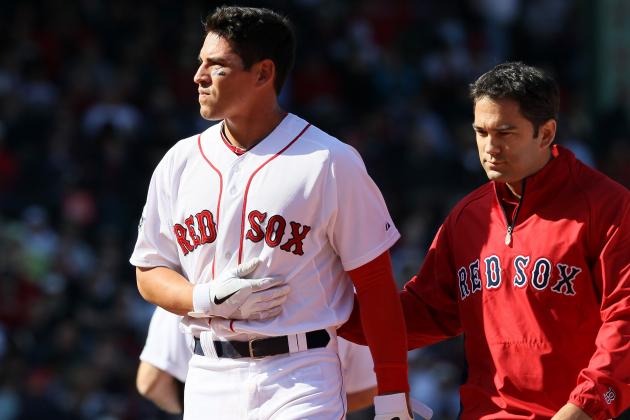 Elsa/Getty Images
Jacoby Ellsbury's injury will keep him out of action for 6-8 weeks leading to the question of who will replace him in his absence.
It is now confirmed that Red Sox superstar, Jacoby Ellsbury will miss six to eight weeks of baseball following a collision with Tampa Bay Rays shortstop, Reid Brignac at second base. With Ellsbury now out of the picture for almost two months, it puts the Red Sox at a definite disadvantage.
With Ellsbury presumably heading to the disabled list, the Red Sox must now rely on an outfield consisting of Ryan Sweeney, Cody Ross and Darnell McDonald. Bobby Valentine can now also use minor league call ups, Jason Repko and Nate Spears.
Needless to say that the outfield situation looks ugly.
While it is only April, Boston needs to find a significant substitute for Ellsbury in his absence. Coming off of an MVP caliber season in 2011, his presence will be sorely missed and truly irreplaceable. However, Boston does need to seek outside intervention.
Ben Cherington will now face his first major in season endeavor. Replacing arguably the most valuable asset to this roster will be undoubtedly impossible, but relying on minor league players and the combination of Sweeney and McDonald will not get the job done for two months of the season.
Today I will look at some possible options to alleviate the pain of Ellsbury's absence. There is no doubt that Cherington and his staff will have their hands full and I will look at some possible solutions. None of these players will be able to replace Ellsbury, but they are all better than Ryan Sweeney at his best.
Begin Slideshow

»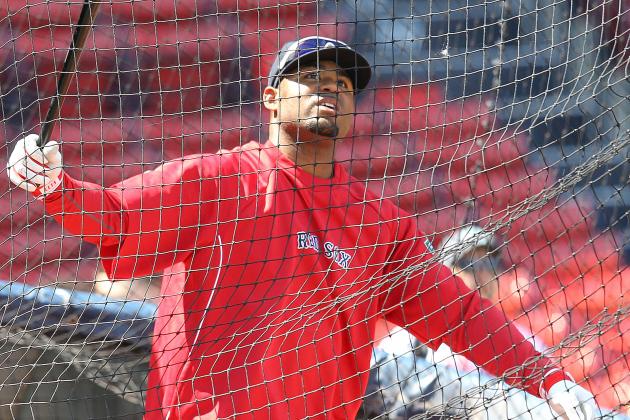 Jim Rogash/Getty Images
Red Sox LF, Carl Crawford is about two weeks away from joining the Red Sox. Should the Sox just wait it out?
Before truly going into other possible trade options, one must ask themselves if Boston really needs to make a move with Carl Crawford a few weeks away from returning to the big league club.
Coming off of a wrist injury, as well as a lingering shoulder problem, Crawford is closer to a return than many think.
However, the question is whether or not he can bounce back after an abysmal 2011. With Ellsbury out of the picture, there is more weight on Crawford's shoulder than possibly imaginable. Carl Crawford will now have to fill the shoes of Jacoby Ellsbury, who put up fantastic numbers in 2011.
If Crawford can truly return to his Tampa Bay Rays form, Boston's issue has become much easier to solve, but can he?
Of course, Crawford will have a better year than he did in 2011. He is still in his prime years and is too athletic to continue his struggles from last season. While I am confident in a bounce back season, it is difficult to determine whether or not Red Sox Nation can rely on Crawford to fully return to form.
Can Boston rely on someone who has struggled with injuries over the past season and has never been comfortable in a Red Sox uniform just yet? Is it worth waiting two weeks for Crawford's return, rather than going out and getting a decent outfielder to replace Ellsbury in center field?
When at the top of his game, Crawford can live up to his sizable contract. He can run, hit and defend with the best of them. However, there are so many questions upon Crawford's return that may incline Ben Cherington to make a move just in case Crawford doesn't pan out.

He will have massive expectations coming out of the gate, and that may be Crawford's downfall or his drive this season.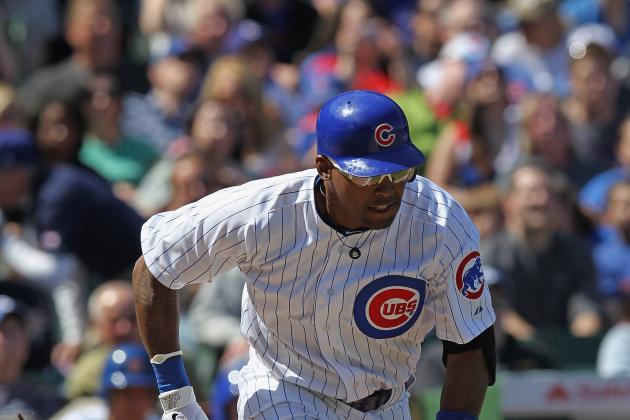 Jonathan Daniel/Getty Images
Ben Cherington may have to call up his good friends Theo Epstein and Jed Hoyer to inquire about Byrd
Theo Epstein may have finally found his suitor for Marlon Byrd.
Although off to a very slow start in 2012, Marlon Byrd may be the most realistic option for the Boston Red Sox.
Ben Cherington has very close ties down in Chicago with Theo Epstein and Jed Hoyer, meaning that a deal may be able to get through. However, one of the true downfalls to this deal would be the cost for Boston.
What the Red Sox would presumably acquire would be the best option in the outfield, which isn't saying all that much. The 34-year-old outfielder has many questions that come with him, but his expectations are high this season following a very impressive training regiment this past offseason.
Being back in shape with a new outlook, Byrd could be a solid option for the Red Sox to put in the outfield until Ellsbury returns to form. He has some solid numbers at the plate and he has entered the season in the best shape of his career.
In return, one could only assume Epstein and Hoyer will want help in the pitching department, something Boston severely lacks. Byrd may not be worth trading one or two decent pitching prospects in exchange for a questionable outfielder.
While being one of the more likable options for Boston, Ben Cherington may not want to lose any pitching for another question mark in the outfield.
Byrd is surely better than Ryan Sweeney, but will he be that drastic of an improvement? He may not be worth the dough, but Boston will definitely check in with the Cubs for Byrd's services.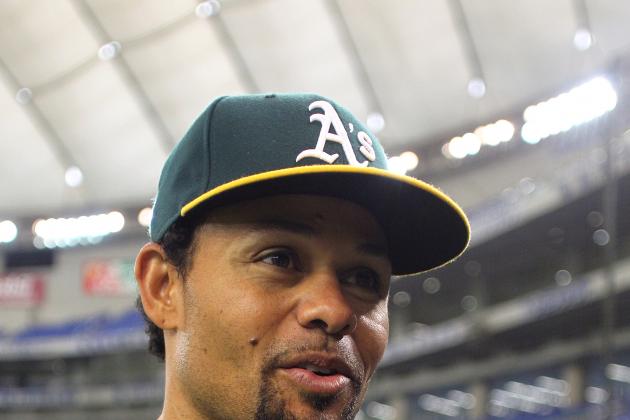 Koji Watanabe/Getty Images
Former Red Sox outfielder, Coco Crisp may find himself back in Boston
Another player who is off to a slow start in 2012, former Red Sox outfielder, Coco Crisp would be a very solid option in the outfield in Ellsbury's absence.
At one point dueling with Ellsbury for time in center field, it seems as though Crisp could once again be taking Ellsbury's job for at least six to eight weeks. The speedy baserunner as well as a former favorite to many Red Sox fans would love to see Crisp back in a Red Sox uniform.
Being a fairly big upgrade from Sweeney and McDonald, Crisp's only true downfall is his contract status. Signing a two year, $14 million dollar extension with Oakland in January, Boston may not want to pay Crisp $7 million per year or even keep him around next season.
Of course, he can be traded by the Trade Deadline in July, but it all depends how Crisp plays.
Either way, Coco Crisp could potentially be a low cost option for Boston that would reap high rewards. He has good range in the outfield with a great glove. He has won a World Series with Boston in 2007 and left on seemingly good terms. While he may not have the bat he once had, he still remains to be a solid pickup if necessary.
Boston may need to let go of a decent prospect, possibly Lars Anderson who was almost traded to Oakland last season in a mid season trade, and it wouldn't be as bad as losing pitching. Anderson may be expendable because the Red Sox already have Carl Crawford at left field and Adrian Gonzalez at first base both locked up to long term contracts.
Crisp is a likable option that I am confident Ben Cherington will inquire over.
J. Meric/Getty Images
When in doubt....Scott Podsednik is still there.
The bright spot to Scott Podsednik is that he'll be a cheap option. Currently in the Philadelphia Phillies AAA club, Podsednik would not cost a whole lot to acquire.
However, what he brings to the table may not be worth it. The 36-year-old outfielder still has solid range in the outfield as well as his speed, but his bat may not be desired in the starting lineup. To say he is a better overall player than a Darnell McDonald or a Ryan Sweeney at this point may be a question.
While Podsednik may not bring all that much to the table, he does have experience, especially in the playoffs that other options do not for the most part. How he'll play is questionable, especially at the plate, but he may be worth a low level prospect.
He certainly would not cost much either, which makes his availability more pleasing to the Red Sox, who rather not dish out the money on Coco Crisp, when Scott Podsednik has similar speed and defensive capabilities.
Would he truly make a difference on the team?
Probably not, but he is a cheap alternative that could provide some stolen bases and experience that others do not. While not being an ideal option to replace someone of the magnitude of Jacoby Ellsbury, he is a cheap option, which automatically makes him attractive to Red Sox ownership.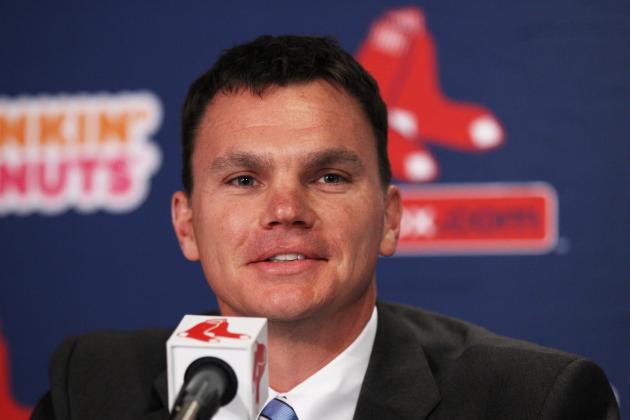 Elsa/Getty Images
Ben Cherington has quite the situation on his hands, as he has to try and replace an elite outfielder.
While there are many other outfield options including Clete Thomas and Bret Carroll, amongst others, the options listed were some of the most notable. It is not a very glamorous list, but each player could possibly provide a solid replacement in the outfield until Ellsbury returns to the frame.
Each player does have some questions when it comes to their services, but they may be far more valuable than what Boston has. Their minor league options are scarcely low with Ryan Kalish also injured at the moment. Jason Repko, Nate Spears and Che-Hsuan Lin all have qualities that make them attractive, but none are developed enough for this major of a role.
Seeking outside help may be Ben Cherington's best option, if he can find a low cost player that will provide at a higher level. That, or Boston can wait on Carl Crawford and hope he returns to top-form upon his return.
Boston could also rely on Ryan Sweeney, who is currently hitting .400 with four RBIs to begin the season, but one can only imagine that those numbers will decrease sooner, rather than later. Sweeney has never been a top hitter, rather a good defender and a speedster on the base paths.
To say that Boston's outfield is currently weak would be a complete understatement. The Boston Red Sox need to find some sort of solution for Ellsbury and do it quickly. Unless Carl Crawford comes back and becomes the All Star he once was, the Red Sox are in deep trouble. They have lost one of their most valuable players and Ben Cherington needs to take some action early on.
As I stated in the introduction, Jacoby Ellsbury is irreplaceable. This slideshow was not to find a new Jacoby Ellsbury, rather to point out some names that could produce at a decent level in his absence.