Alabama Football: Post Spring-Game Two-Deep Depth Chart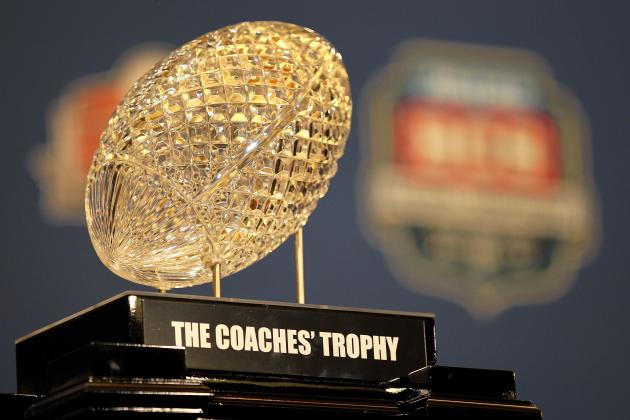 Andy Lyons/Getty Images

Article last updated May 17, 2012 at 3:30 PM. (ET)
The spring game is over, and the next thing 'Bama fans are looking forward to is simply the 2012 kickoff against Michigan.
The summer voluntary workouts will likely cement the receiving candidates in their places, and the health of certain players, like Eddie Lacy, will play a gigantic role in the depth chart.
In the meantime, assuming the injured players return as expected, here is the projected depth chart for the 2012 season. (Some sleeper candidates may rear their heads, as they did in the spring game on Saturday.)
Begin Slideshow

»
Chris Graythen/Getty Images

Starting Quarterback: A.J. McCarron
Backup Quarterback: Phillip Ely or Blake Sims

The McCarron vs. Sims battle is a distant memory, and McCarron's happy-go-lucky style on Saturday spoke of his confidence at the starting position.
Phillip Sims had a great game and led the White team along with (Phillip Ely) to victory. However, Sims would have had to almost triple McCarron's output to have a legitimate shot at earning the starting job.
With Phillip Sims departing the Capstone for Virginia, the backup position is wide open. Phillip Ely, Blake Sims or Alec Morris could be the backup. Fall camps will separate them from each other. If not, then a few of the "cake" games in 2012 will be excellent opportunities to hold competitions on the field.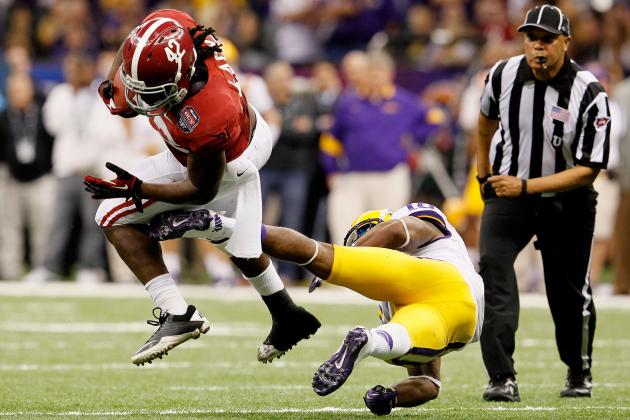 Ronald Martinez/Getty Images

Starting Running Back: Eddie Lacy
Backup Running Back: Jalston Fowler

The star running back is still recovering from surgery and was not involved in the spring game.
T.J. Yeldon took advantage of the opportunity to make a ridiculously strong effort toward claiming the backup position as his own.
With over 170 yards of total production and a touchdown to his credit, Yeldon emerged as the "Dixie Howell Most Valuable Player of the Game" award winner.
While Jalston Fowler and Dee Hart are great candidates, they have certain specialties at their positions. According to Saban (in the previously linked article), "T.J. is one of those guys who can do everything."
Yeldon has been moved back to fourth position for the time being (link currently broken via tidesports.com, I will post it as soon as I can access it again), but I'm sure he will make another run at second chair before 2012 kicks off.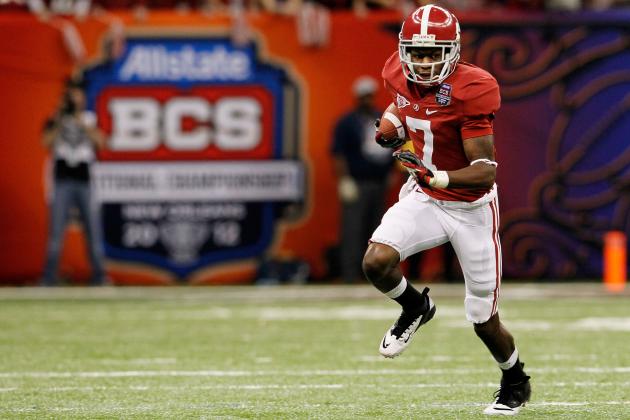 Kevin C. Cox/Getty Images

Starting Wide Receiver: Kenny Bell
Backup Wide Receiver: DeAndrew White
This position is about as wide-open as any on the field, with a slew of talented player vying for starting positions. Kenny Bell has been a consistent performer at the position and is only a junior.
He is one of the on-field leaders of the offense, and should be capable of coaching some of the newer kids into the receiving slots in the near future.
I'd look for him to have a breakout season in 2012; it's coming.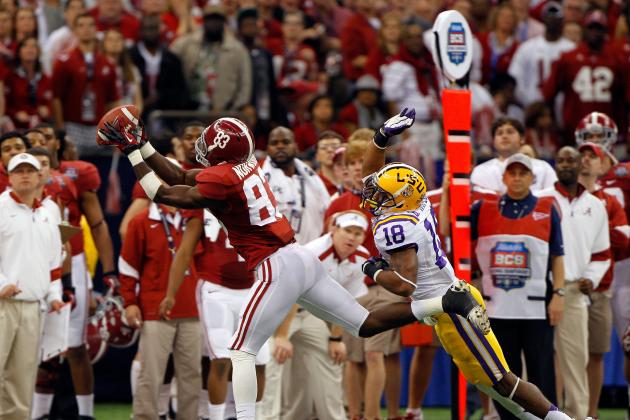 Chris Graythen/Getty Images

Starting Wide Receiver: Christion Jones
Backup Wide Receiver: Kevin Norwood
Chrisiton Jones came out this spring and earned himself a starting spot. Jones earned himself a name in the national championship game when he stepped in as the returner in place of Marquise Maze.
After taking a pretty big hit fielding one of those kicks, 'Bama fans were ready to see what this kid could do. Well, he's a starter now, so we'll all get our chance.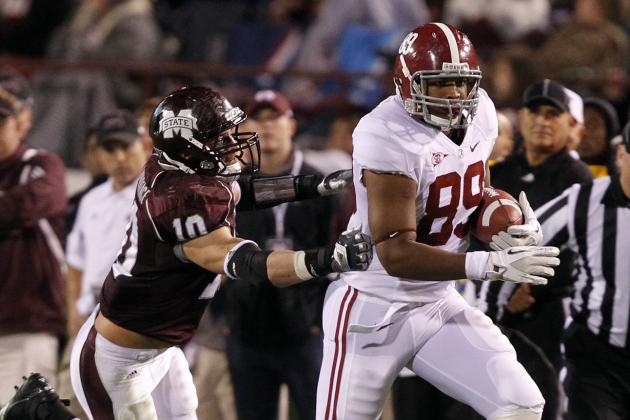 Butch Dill/Getty Images

Starting Tight End: Michael Williams

Backup Tight End: Malcolm Faciane
Williams gave no reason through the spring for Saban to demote him from his position. McCarron will have quite a few new faces as targets in 2012.
In the unlikely event that McCarron gets flustered at any point, look for the familiar faces to be the playmakers.
Michael Williams is definitely one of those familiar faces, especially with Brad Smelley gone. Williams could be a third-down-conversion machine in 2012.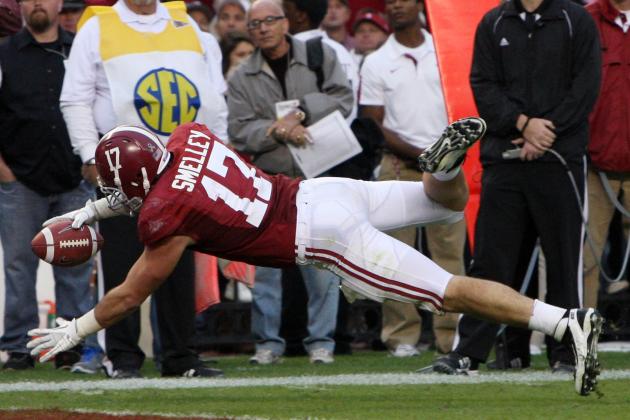 Mike Zarrilli/Getty Images

Starting Tight End: Harrison Jones
Backup Tight End: Brent Calloway
These two guys will be trying to fill Brad Smelley's shoes in 2012. Smelley was a potential go-to guy, and converted quite a few third downs throughout the 2011 season.
Although it's not impossible to replace Smelley, he will be missed in the early going of next season. The impact of his loss should dull sometime right after the Arkansas game. (Or during that game, should these two prove they have what the Tide needs.)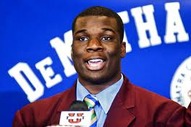 Starting Left Tackle: Cyrus Kouandjio
Backup Left Tackle: Kellen Williams
The Crimson Tide returns one of the best offensive lines in the nation, if not the best. Led by senior Barrett Jones at center, they are in very capable hands on the field as well as off.
Barrett Jones's move to Center has left a hole at left tackle. Let's hope that Kouandjio and Williams can combine to make his move less of a liability than it could be.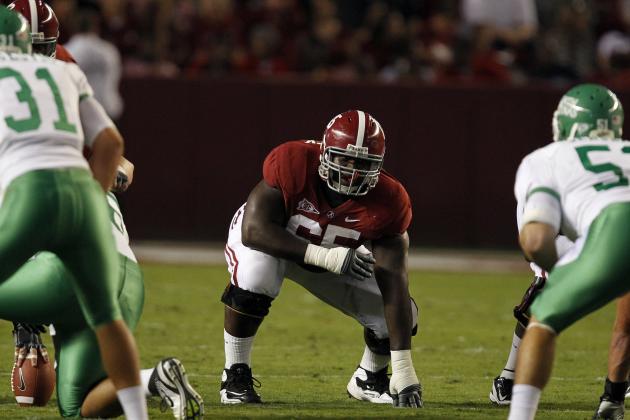 Butch Dill/Getty Images

Starting Left Guard: Chance Warmack
Backup Left Guard: Chad Lindsay
Warmack is a junior this year, and will be one of the many experienced players on the 2012 Tide offense. Carrying the weight of the younger defense will be a chore, but the experience on the line will allow McCarron plenty of throwing time to carve up opposing defenses.
Warmack's 320-pound frame will be a blitz-crushing presence during the upcoming year. The biggest question arising from the 2012 offensive line is, "What will we do in 2013?"
THe good news is, it doesn't matter for another year.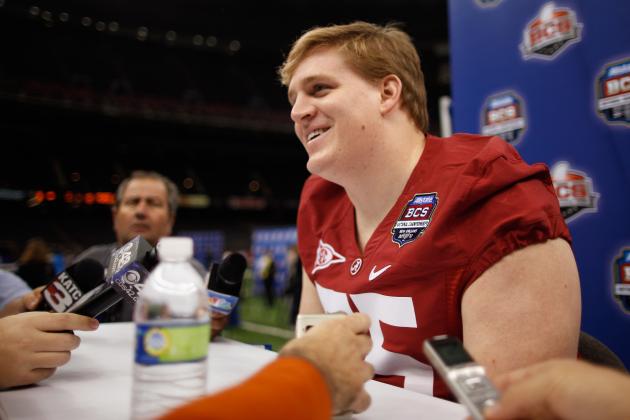 Chris Graythen/Getty Images

Starting Center: Barrett Jones
Backup Center: Ryan Kelly
It should come as no surprise to Tide fans that Jones is the new Center. Jones has now played Right Guard, Left Tackle and Center at the Capstone.
In his last year for the Tide, he can earn a top draft spot simply by being a great center. That kind of offensive-line versatility is not easy to come by, even in the NFL. With another award-winning year on the offensive line, Jones can become a legend at the Capstone. (As if he already isn't.)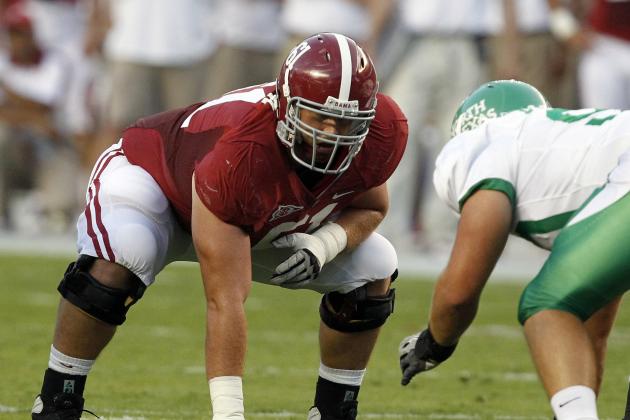 Butch Dill/Getty Images

Starting Right Guard: Anthony Steen
Backup Right Guard: Isaac Luatua
Steen is no stranger to Right Guard. He started in nine games at the position in 2011. Alabama's offensive line is going to be one of the more experienced groups in recent memory.
Fans should look forward to watching the Michigan defense try to figure out how to get through this wall. If everything plays out how it should on paper, the Wolverines are in for a long, long evening.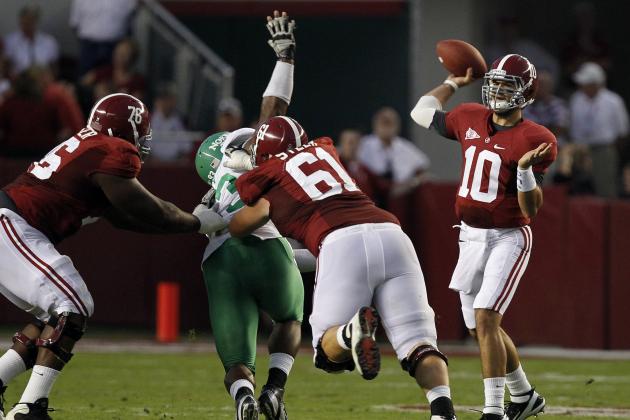 Butch Dill/Getty Images
Fluker (left) assists in flattening a North Texas would-be pass rusher.
Starting Right Tackle: D.J. Fluker
Backup Right Tackle: Austin Shepherd
Fluker is no rookie, and he will step into the position well-acquainted with the responsibilities. After an entire season at right tackle, Fluker should continue to man that spot very well.
No worries on the horizon for Tiders at right tackle. Rest assured that Shepherd has earned his backup spot, too. Saban's not going to put guys on the line that can't handle the jobs.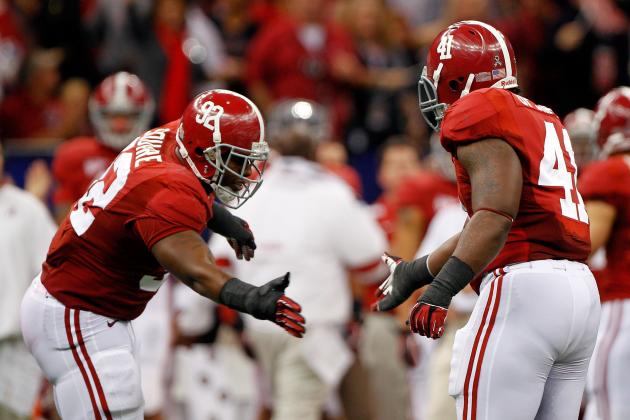 Chris Graythen/Getty Images

Starting Defensive End: Damion Square
Backup Defensive End: Jeoffrey Pagan
Square is in his junior year, and experience is one of the best statistics for these positions.On a defense that is marked by graduation and especially the NFL Draft, experience is priceless.
Square started in 12 games in 2011 and earned six starts in 2010 as a freshman. All those starts were at the Defensive End position. At least that's one position on defense that Tide fans don't have to sweat over.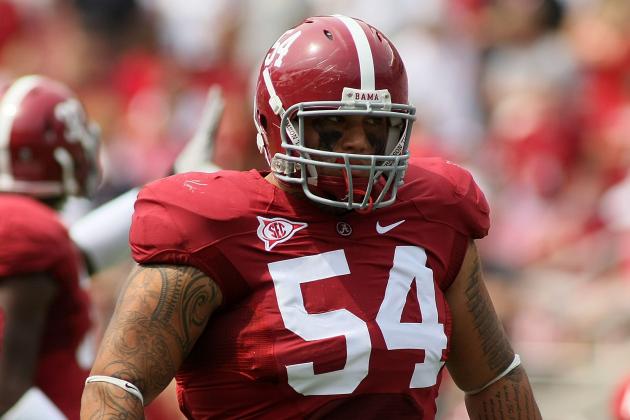 Greg McWilliams/Getty Images

Starting Nose Tackle: Jesse Williams
Backup Nose Tackle: Brandon Ivory
Although this battle may be far from over, the nose position on the Tide defense is one of the toughest positions to play.
The nose is required to eat space unlike any other member of the defense. Essentially, if you can't command a double-team on almost every play, the 3-4 scheme will not work properly.
The starter at this position has a good 11 pounds on his backup, but both are capable of doing the job quite well.
(For those of you wondering what happened to Brandon Ivory, there he is.)
Greg McWilliams/Getty Images

Starting Defensive End: Quinton Dial
Backup Defensive End: Ed Stinson
Dial earned playing time repeatedly last year, and it's time for him to step up and be the go-to guy on that side of the Nose Tackle.
Dial's resume is pretty thick, much like his 300-plus pound frame. He will continue to rack up tackles, solo tackles and tackles for loss in 2012.
His presence will be missed in the coming years, but will be very highly appreciated in 2012.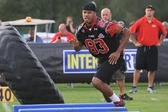 Starting Jack Linebacker: Adrian Hubbard
Backup Jack Linebacker: Jonathan Atchison
Linebackers are the playmakers of the defense. The Tide operates a suffocating defensive line that allows the linebackers to enter the backfield at-will and take down the ball-carriers almost instantly upon contact.
The 21-0 shutout of LSU in the national championship game was a perfect example of that.
The 2012 edition of the Tide looks to be as menacing as last year's squad, especially after Hubbard's performance on A-Day. (All seven of his tackles were for loss, and three were sacks.)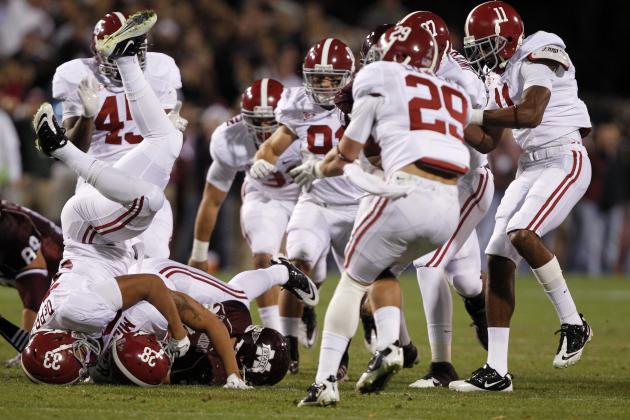 Butch Dill/Getty Images
Trey (bottom left, #33) helps school a Bulldog
Starting Mike Linebacker: Trey DePriest

Backup Mike Linebacker: Tana Patrick
DePriest came to the Capstone rated the top middle linebacker in the nation and the sixth-ranked overall prospect in his class.
DePriest will be expected to perform to his potential, but may make some rookie mistakes early on. DePriest will be expected to mature a little faster than others on the defense.
He came out of high school as a 5-star prospect. Now is his time to shine on the collegiate level. Let's hope he takes advantage of his opportunity.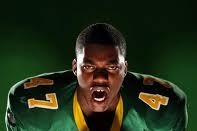 Starting Sam Linebacker: Xzavier Dickson
Backup Sam Linebacker: Adrian Hubbard, Ryan Anderson
Dickson is a backup-turned-starter from 2011 to 2012. An outstanding player who earned significant time as a backup to the defensive front last year, Dickson will likely encounter some growing pains as he progresses through the 2012 season.
He will gel into a lethal inside linebacker. The experience in the backfield will likely be enough to weather whatever mistakes he should make at his position.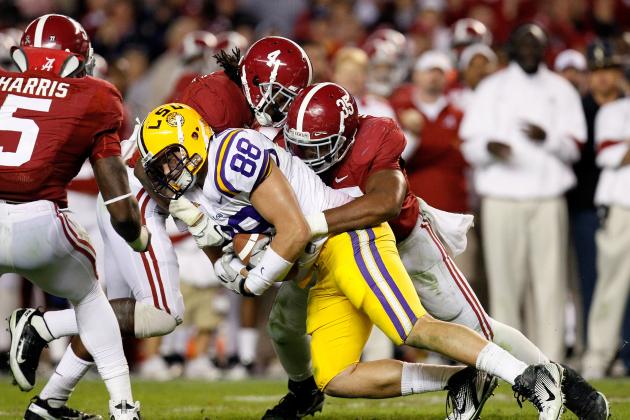 Kevin C. Cox/Getty Images
Nico Johnson (#35) makes flapjacks out of ball carriers
Starting Will Linebacker: Nico Johnson
Backup Will Linebacker: C.J. Mosley
Johnson is a senior this season, and one of the most experienced players on the field. Johnson will not only be expected to perform his duties on the field as a football player, but will also be required to take on a leadership role.
Leaders like Johnson will make or break this team when the dust settles in the 2012 Iron Bowl. Individual responsibility plays a huge part, of course, but great leaders turn 10-3 teams into 14-0 national champions.
Let's hope that Johnson and his fellow leaders can make a legitimate run for championship no. 15 in 2012.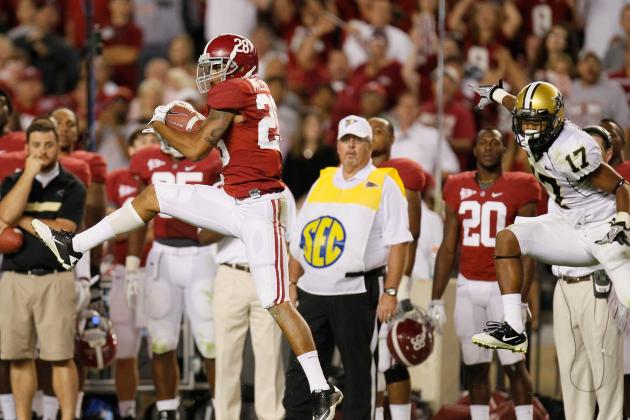 Kevin C. Cox/Getty Images

Starting Cornerback: Dee Milliner

Backup Cornerback: Travell Dixon

Bradley Sylve is behind Dixon at the moment but has the talent to earn valuable playing time in 2012.

Dixon is one of the JUCO transfers that have come to the Capstone to provide instant experience at their positions. To have Dixon earn a backup spot so quickly, though somewhat expected, is confirmation that Nick Saban has something going on that no other coach in college football does.
Dixon will fall right into the starting spot in 2013, if not sometime in 2012.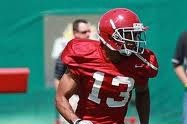 Starting Cornerback: Deion Belue
Backup Cornerback: John Fulton
Deion Belue has had a great spring, and he has been praised by Saban along the way. Seeing his name as a starter should not be a huge shock to Tide fans.
Belue will be a lockdown corner before the season is over, but don't expect him to play perfect football from day one. He will likely experience some lapses in playbook memory or just plain judgement in the process of solidifying himself as a star corner.
However, expect him to be just plain nasty by the time the LSU game rolls around.
(Of course, passing Fulton on the depth chart could light a fire under Fulton. Fulton may have something to say about Belue's position before 2012 kicks off.)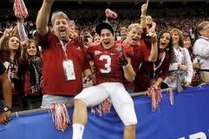 Starting Safeties: Vinnie Sunseri

Backup Safeties: Ha-Ha Clinton-Dix
Vinnie Sunseri was already a favorite for the starting position at safety, and he solidified that with his A-Day performance.
He recovered a fumble for a TD and picked off A.J. McCarron's last pass attempt to seal the win for the White squad on Saturday.
Sunseri combines with the starter from the next slide to form what may be the best safety tandem in the nation for the 2012 season. (If not, he's only a sophomore, so he'll get more shots at that title before he gets drafted.)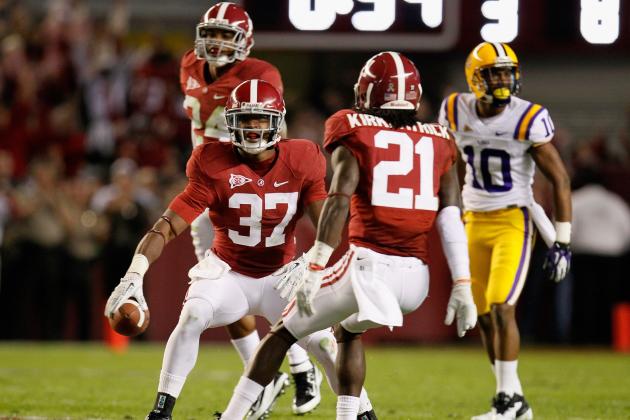 Kevin C. Cox/Getty Images

Starting Safety: Robert Lester
Backup Safety: Nick Perry
Lester started all 13 games for the Tide at Safety in 2010. He is a senior this year, and will combine with Nico Johnson to form the leadership core of the Tide's monstrous defense.
Lester will be a force on the field, and will have a golden opportunity to raise his draft stock all year. As the more experienced safety on the field, he can also prepare Sunseri for taking over his role as backfield leader in 2013.
Lester is one of the reasons that Tide fans can be hopeful for the 2012 season. The safeties are the last line of defense, and there is a senior back there in command.
Roll Tide!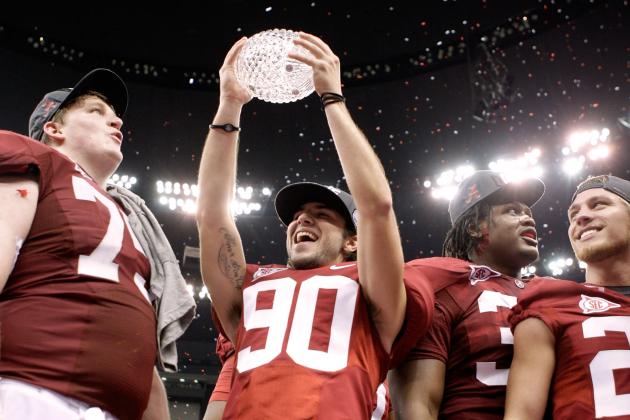 Andy Lyons/Getty Images

Many times during the 2011 regular season, the Tide's special teams unit either made or broke the game.
Against LSU, the kickers broke the game. Against Auburn, the special teams unit accounted for 50 percent of the Tigers' points.
In 2012, the unit looks pretty solid. You may recognize some of the names, like Christion Jones, from the national title game in January.
These guys may take some time to get their rhythm together, but should form more than just a solid unit in the coming season.
Punter: Cody Mandell
Kick Returner: Dee Milliner (backup: Christion Jones)
Punt Returner: Christion Jones (backup: DeAndrew White)
Holder: A.J. McCarron
Long Snapper: Carson Tinker
Placekicker: Cade Foster (backup Jeremy Shelley)
Of course, Tide fans are not going to forget that Adam Griffith comes into town before 2012 kicks off. He's a threat to take over kickoff, punting and placekicking duties.
May the competition be fierce and may the best man win. Roll Tide!