NHL Playoffs 2012: Predicting Sunday's Winners and Losers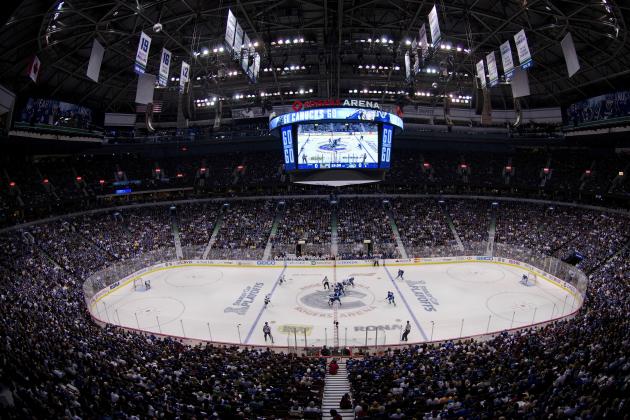 Rich Lam/Getty Images

The NHL playoffs have been nothing short of amazing until this point and it's only getting better. This Sunday we have some important matchups. It's possible we'll see a Western Conference powerhouse fall into a 3-0 series deficit.
Sunday's action plans to be a great one with Nashville and Detroit squaring off in the Motor City for Game 3 after splitting the first two in Nashville.
Then a interstate rivalry will see Game 3 of the Flyers-Pens. Will Philly fly away with the series just yet, or does Crosby, Malkin and Co. have some say left?
The New Jersey Devils are heading into their second game with the Florida Panthers and after a 26-shot, three-goal period in Game ,1 can the Panthers cool them off in South Florida for Game 2?
The Presidents Trophy, Vancouver and the eighth-seeded LA Kings will go into Game 3 with LA leading the series 2-0. Will we see the underdogs of So-Cal take complete control of the series, or does Vancouver put its foot down in Hollywood for Game 3?
Today's Matchups are:
Nashville Predators @ Detroit Red Wings (Series 1-1)
Pittsburgh Penguins @ Philadelphia Flyers (Series 2-0, Philly)
New Jersey Devils @ Florida Panthers (Series 1-0, NJ)
Vancouver Canucks @ Los Angeles Kings (Series 2-0, LA)
Begin Slideshow

»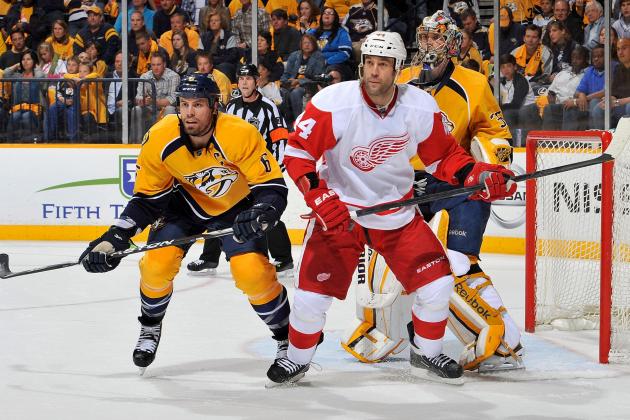 Frederick Breedon/Getty Images

Prediction
This is an interesting matchup. Detroit showed dominance at Joe Louis Arena this season; they boast the league's best home record in the NHL and 23 straight wins in Detroit. Although the last time Nashville visited they won, underlying the fact that the team is not intimidated.
Nashville did good taking one of the two in their homestand and can create a dramatic finish is they can take one more from Detroit in the next two games.
I think Detroit looked better in Game 2 and their ability to control puck possession and create traffic seems too good for Nashville.
Detroit wins and brings series to 2-1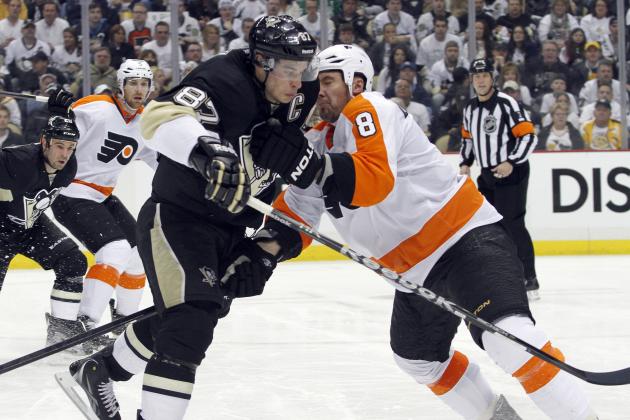 Justin K. Aller/Getty Images

The Flyers have pretty much surprised everyone in their 2-0 series lead over the Penguins. Not that anyone didn't think they can do it, but when you actually see it done, it seems a lot more vivid.
Flyers came back from a 3-0 hole in Game 1 and beat the Pens in overtime. Then in Game 2 they came back from trailing again, and took the second game.
Does home-ice advantage play a role in this Pennsylvania rivalry?
The Flyers have had a better team on the road than at home all season long. The Flyers were 25-13-3 on the road this season but were just 22-13-6 at home.
Interestingly enough, the road team has dominated this series as well; the Flyers have won eight of their last 11 visits to Pittsburgh, but the Penguins have won six of their last nine trips to Philadelphia.
Although the Flyers are confident and playing well.
Pre-game Prediction: Philly wins and the Series goes 3-0
Joel Auerbach/Getty Images

Game 1 of this series saw a red hot New Jersey team score three goals and take 26 shots on Jose Theodore.
Florida responded well and scored two goals and closed the game out 3-2. The Devils top line was held scoreless and the Parise line is not used to that, although they managed 14 shots on net.
Florida played well in the final two periods and they can transition that into a good game here Sunday, and if they don't, expect the Devils to come out fully armed and on attack mode.
The main aspect is that both teams need is to play the full game. There can always be setbacks when a team begins to fall back. Hockey is 60 minutes, boys.
That being said, New Jersey just has too much balance and playoff experience and it just doesn't look like Florida's time.
Pre-Game Prediction: New Jersey Devils win and take the series 2-0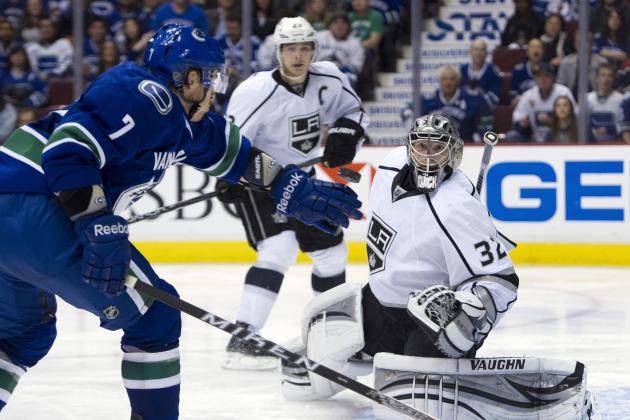 Rich Lam/Getty Images

Okay, so let's get this straight. The back-to-back President's Trophy winner and defending Western Conference Champion Canucks are down 2-0 to a Kings team who barely made the playoffs? Yes.
The seeds in the NHL seem to mean nothing at times, which is why the Canucks have to find their form in Game 3 and avoid a disaster of a fall and early exit.
The Kings were one team expected to go one-and-done, but their gritty, scrappy hockey has proved to be effective in Vancouver.
If the Canucks can fix their mistakes and start playing their normal hockey, I can see them winning this one. The Kings have played the series at their pace and control it in most categories. Although, the Canucks do or die situation can alert them to try and win this, I don't see it happening.
Pre-Game Prediction: Los Angeles wins and goes 3-0