Georgia Football: Post-Spring Game, 2-Deep Depth Chart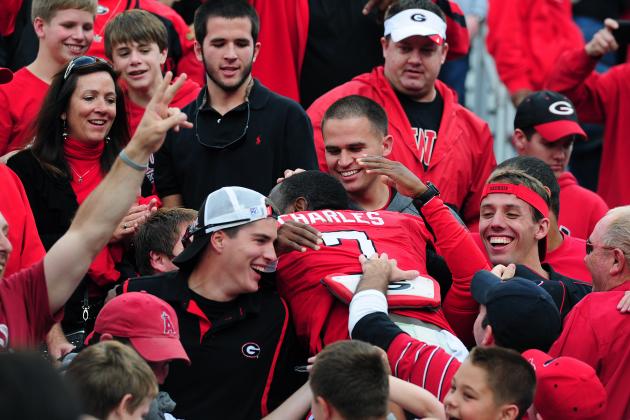 Scott Cunningham/Getty Images

Spring practice has come to an end, and the Georgia Bulldogs will have some time to do some more offseason workouts before they get back on the field this summer.
Some players had outstanding practice sessions, and some players still have some work to be done. Before spring practice began, I predicted the depth chart for the Bulldogs. Now that spring is over and the position battles have become a little more clear, I wanted to take a look at the depth chart again because there have been some changes from top to bottom.
So here's the post-spring, two-deep depth chart for the Bulldogs.
Begin Slideshow

»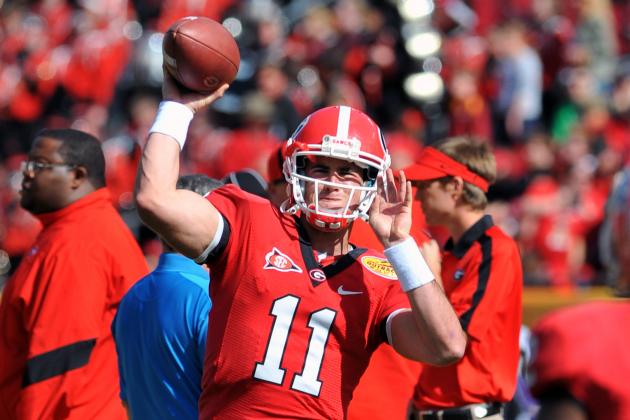 Al Messerschmidt/Getty Images

Starter: Aaron Murray
Backup: Christian LeMay
Murray did not have a stellar game day, completing only seven of his 17 passes, but he was awarded Spring Offensive MVP along with Hutson Mason before the game because he did have a strong spring practice.
What Murray has to do is get better with his accuracy in order to lead the Bulldogs to an SEC title. I think he will be able to do that because he is working with the virtually same group of receivers as last year.
Starter: Ken Malcome
Backup: Isaiah Crowell, Keith Marshall
Ken Malcome got the start for the Red team, and he did not disappoint as he rushed for 32 yards on eight carries and scored two touchdowns.
This was not a surprise to the coaching staff because he was running like that all spring. In fact, Malcome was award Most Improved Player for the spring.
Isaiah Crowell and Keith Marshall will see a lot of playing time if they don't win the starting job in the fall.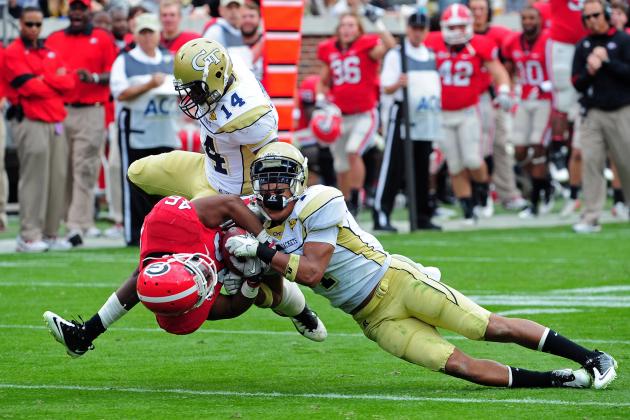 Scott Cunningham/Getty Images

Starter: Alexander Ogletree
Backup: Merritt Hall
With Bruce Figgins gone, it's Alexander Ogletree's job to lose. He played in all 14 games last year and was effective. He also was solid in the spring game and was able to open holes for Malcome and Crowell.
Merritt Hall is an interesting player to watch because he is a walk-on from Alpharetta, Ga. who has really impressed the coaching staff. I would not be surprised if he got a chance to start in the fall.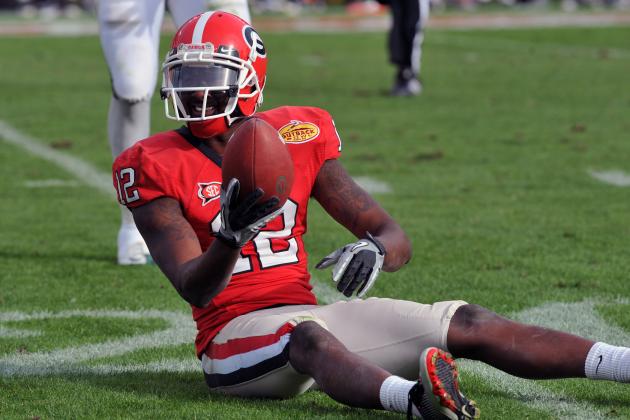 Al Messerschmidt/Getty Images

Starter: Tavarres King
Backup: Justin Scott-Wesley
It looks like Tavarres King is picking up where he left off in the Outback Bowl in January. He caught two passes for 47 yards and scored one touchdown. He will have to be the No. 1 receiver since Malcolm Mitchell is focused on defense this year.
Justin Scott-Wesley led the Red team with three catches for 46 yards on Saturday.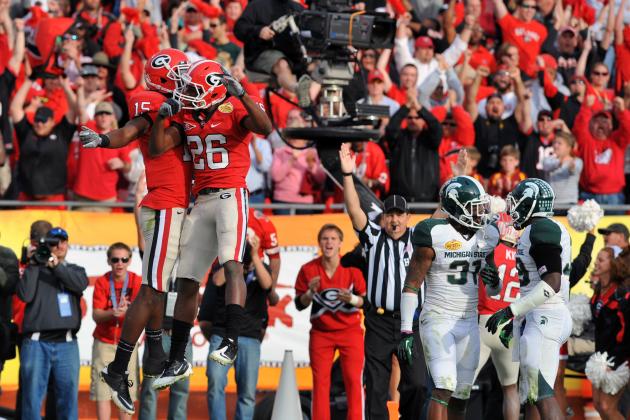 Al Messerschmidt/Getty Images

Starter: Marlon Brown
Backup: Michael Bennett, Chris Conley
Marlon Brown has not had the career everyone had hoped for, but he is still good enough to be a solid No. 2 receiver. He caught two passes for 32 yards in the G-Day game.
Michael Bennett and Chris Conley had strong rookie seasons and will expect to play bigger roles in the offense this season.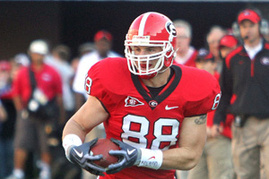 Starter: Arthur Lynch
Backup: Jay Rome
This could go either way because both Jay Rome and Arthur Lynch proved they can handle the duties. Lynch had two receptions for 16 yards, and Rome had two receptions for 73 yards, including a 66-yard TD catch in the fourth quarter.
I think Lynch will be the starter when fall arrives, but Rome will eventually take over.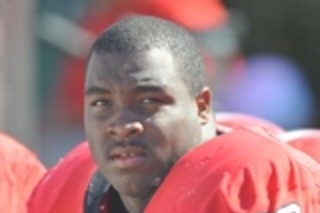 Starter: Kenarious Gates
Backup: Austin Long
Kenarious Gates will be counted on once again to be a big contributor for the O-Line. After playing guard the last two seasons, Gates will play left tackle and protect Murray's blind side.
He looked strong during spring practice and hopefully, it will continue in the fall.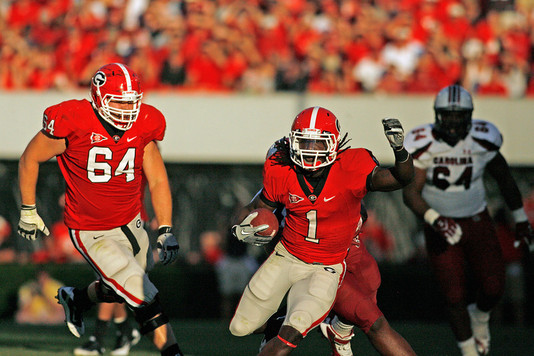 Starter: Dallas Lee
Backup: Mark Beard
After missing nearly half of last season with a broke leg, Dallas Lee is back, and the Bulldogs are glad to have him return.
If Lee can't go or gets hurt again, expect Mark Beard to take his spot because Beard got a lot of looks at guard as well as tackle.
Murray apparently loves Beard because he said he's very impressive.
Starter: David Andrews
Backup: Hunter Long
David Andrews will have some big shoes to fill because Ben Jones was one of the best centers in the country. He did play in 10 games last year, and he looks like he is ready to anchor the O-Line.
Hunter Long played in three games last year and is the younger brother of teammate Austin Long.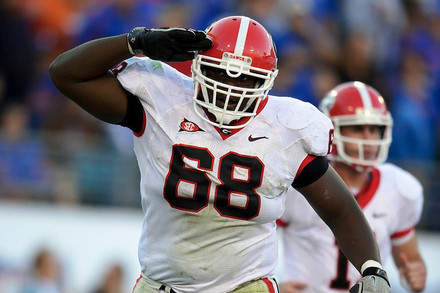 Starter: Chris Burnette
Backup: Watts Dantzler
One of the mainstays of the offensive line last year was Chris Burnette, and he is going to be counted on as one of the leaders of the group this season. Part of the reason the running game was effective for the first-team offense in the G-Day game was due to Burnette's ability to get penetration off the line.
Watts Dantzler is the biggest lineman on the roster (6'7", 310 lbs) and has really worked hard to fight for a starting spot this season.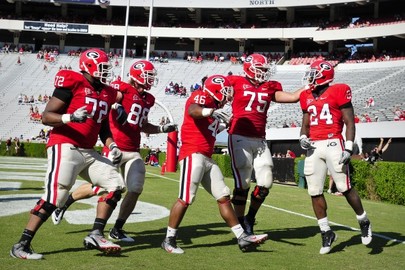 Starter: Kolton Houston
Backup: Eddie McQuillen
Kolton Houston has received much praise since retuning to the team this season, and it looks like he's a lock for the right tackle spot. If for some reason he's not the right guy at tackle, the coaching staff will find a place for him.
Eddie McQuillen is a redshirt freshman from Newnan, Ga. who made the team as a walk-on last year.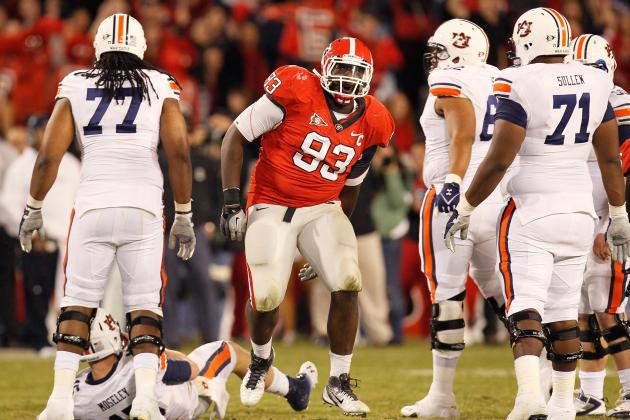 Kevin C. Cox/Getty Images

Starter: Abry Jones
Backup: Ray Drew, Ricky Lowe
Abry Jones came on strong last season and showed no signs of slowing down this spring. He is part of one of the most formidable defensive lines in the country.
Ray Drew is moving to defensive end after playing linebacker last year. Ricky Lowe is a senior reserve who was on the scout team last year.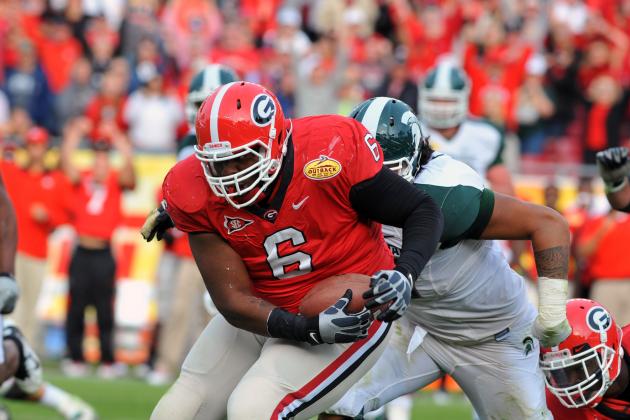 Al Messerschmidt/Getty Images

Starter: John Jenkins
Backup: Kwame Geathers
Both John Jenkins and Kwame Geathers are as good of nose tackles you will find in the SEC. I think Jenkins will have a monster season because he wants to end his college career on a high note.
But Mark Richt has noted that both players are at the top of their game right now, and they continue to improve.
Kevin C. Cox/Getty Images

Starter: Cornelius Washington
Backup: Garrison Smith
Like Drew, Cornelius Washington is changing from linebacker to defensive end and seemed to be more comfortable, tallying four tackles and two tackles for losses in the G-Day game.
Garrison Smith played in all 14 games and started in two of them. He had one tackle in Saturday's game.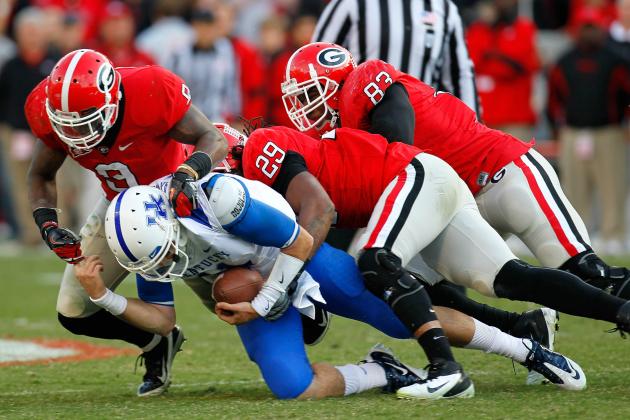 Kevin C. Cox/Getty Images

Starter: Jarvis Jones
Backup: Ramik Wilson, T.J. Stripling
Jarvis Jones was quiet in the G-Day game, but what does he have to prove? He was awarded the top linebacker award for 2011 during halftime and was awarded spring defensive MVP on Friday.
It was good to see Ramik Wilson and T.J. Stripling making plays on Saturday. Wilson finished with seven tackles, one sack and one interception while Stripling had one tackle and one fumble recovery.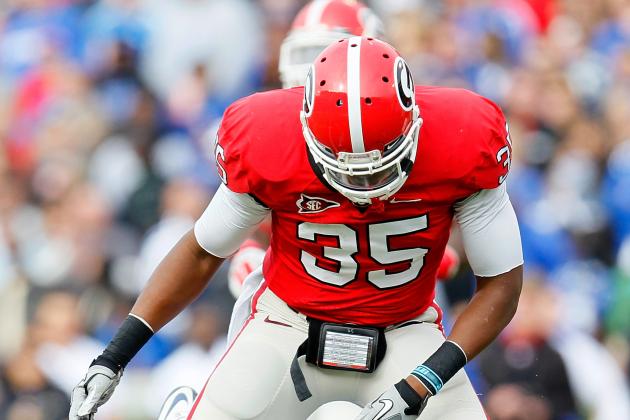 Kevin C. Cox/Getty Images

Starter: Mike Gilliard
Backup: Amarlo Herrera
Both Mike Gilliard and Amarlo Herrera played a lot last year and were effective. They were also effective in the spring game as Gilliard finished with three tackles and one sack, while Herrera had six tackles and one pass breakup.
Expect both players to make great strides this fall, which will make the defense much better.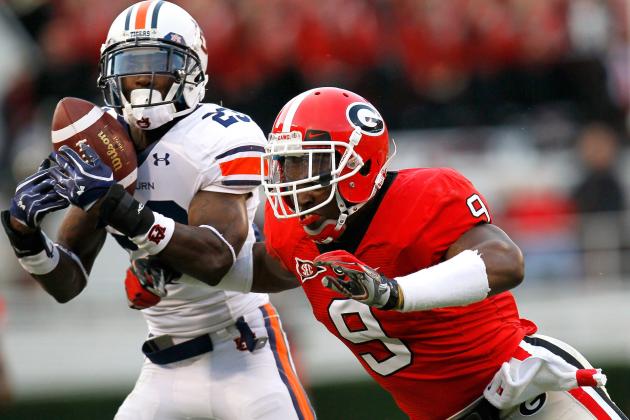 Kevin C. Cox/Getty Images

Starter: Alec Ogletree
Backup: Christian Robinson
Alec Ogletree was on top of his game on Saturday, racking up four tackles and one interception. However, he will miss the start of the season due to a suspension.
That will not be an issue because Christian Robinson can fill the void and is one of the emotional leaders on the team. He had three tackles and a forced fumble in the spring game.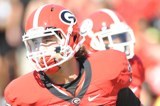 Starter: Chase Vasser
Backup: Reuben Faloughi
With Washington moving to defensive end, that opened the door for Chase Vasser, who played sparingly last year.
He looked like a starter on Saturday as he totaled five tackles and one pass breakup.
Rueben Faloughi played in eight games last year but is expected to see more time this season.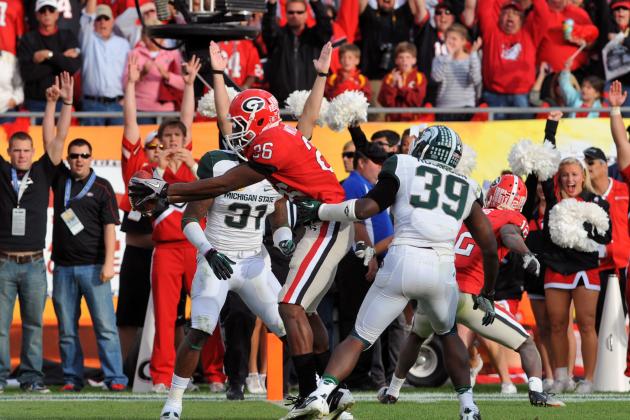 Al Messerschmidt/Getty Images

Starter: Malcolm Mitchell
Backup: Blake Sailors
If Malcolm Mitchell does not start at wide receiver, which is a real possibility, he will start at corner. He did not play in the G-Day game because he had a hamstring injury.
Blake Sailors played mostly on special teams last year, but he will be expected to contribute right away. He had one tackle in the G-Day game.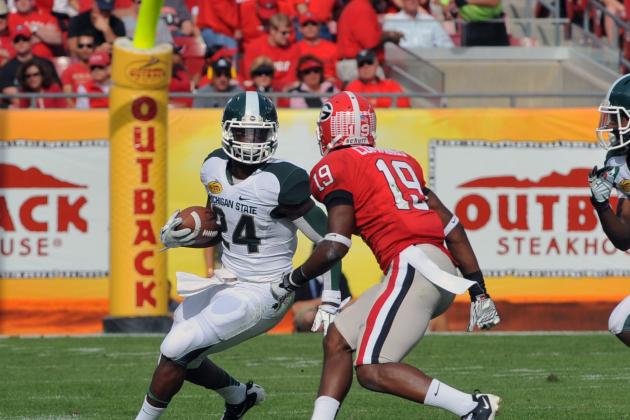 Al Messerschmidt/Getty Images

Starter: Sanders Commings
Backup: Branden Smith, Damian Swann
Sanders Commings will not start the season at corner because he will be suspended. So expect Branden Smith and Damian Swann to see a lot of action early in the season.
Before the G-Day game, Swann was awarded Most Improved Defensive Player and he could be the starter when the Bulldogs play Buffalo.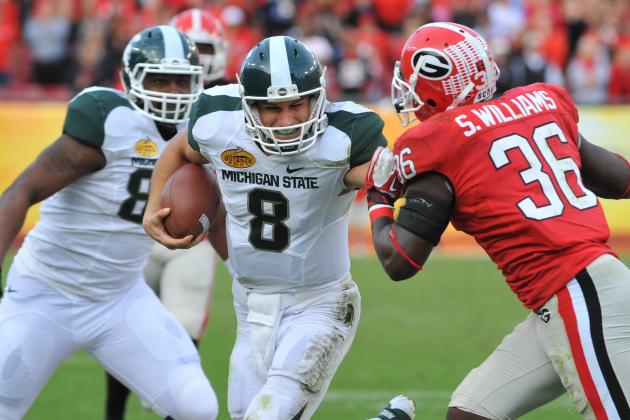 Al Messerschmidt/Getty Images

Starter: Shawn Williams
Backup: Corey Moore
Shawn Williams did not play in the game on Saturday due to a knee injury. But he is the only starting defensive back who is not suspended, so there was really no reason for him to play.
Corey Moore improved his play during the spring and he will be ready to go if something happens to Williams. But let's hope nothing happens to Williams because the secondary will be in a world of hurt if he goes down.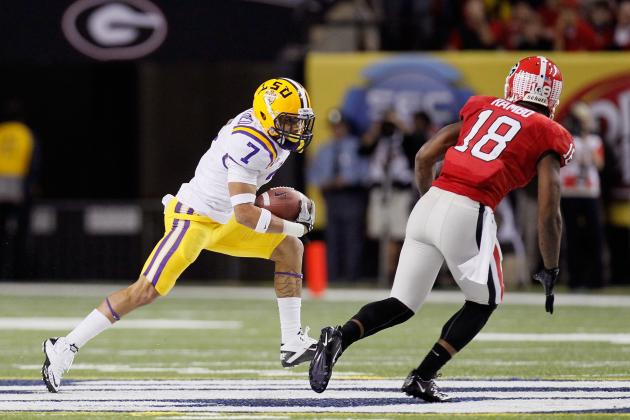 Kevin C. Cox/Getty Images

Starter: Bacarri Rambo
Backup: Conner Norman
It's uncertain how many games Bacarri Rambo will miss, but it's safe to say he will miss the first quarter of the season. He did have a strong spring game as he ended the day with four tackles.
Connor Norman won the award for Outstanding Walk-On (defense) so he will get a better look once summer workouts begin. But until further notice, it looks like Norman will be the starter on opening weekend.