2012 NFL Mock Draft: First-Round Busts Waiting to Happen
April 15, 2012

Joe Robbins/Getty Images
With the 2012 NFL draft just a few weeks from consuming everything that is football talk, it's time to start sifting through the talent to find the first-round busts waiting to happen.
All of the following stars a first-round talent in NFL scouts eyes, but some are destined for greatness. The others are destined for mediocrity or even worse.
Just hope your team doesn't snag one of the italicized busts.
1. Indianapolis Colts—Andrew Luck, QB, Stanford
There is little doubt that the Indianapolis Colts will pick Andrew Luck at No. 1.
2. Washington Redskins (via trade with St. Louis Rams)—Robert Griffin III, QB, Baylor
As sure as most insiders are that Andrew Luck will go No. 1, the same assurance about Robert Griffin III to Washington surrounds the No. 2 pick.
3. Minnesota Vikings—Matt Kalil, OT, Southern California
While the Minnesota Vikings have many options at No. 3, taking a franchise left tackle like Matt Kalil is too great of an option for them to pass it over.
4. Cleveland Browns—Morris Claiborne, CB, LSU
While there has been talk about Cleveland trading out of the No. 4 spot, there are too many holes to fill for that to be feasible. If they pick here, they must take cornerback Morris Claiborne.
5. Tampa Bay Buccaneers—Trent Richardson, RB, Alabama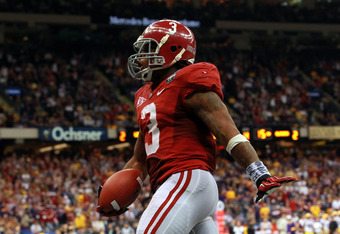 Ronald Martinez/Getty Images
The possible tandem of LeGarrette Blount and Trent Richardson in the Buccaneers backfield is a possibility too amazing for Tampa Bay to pass up.
6. St. Louis Rams (via WAS)—Justin Blackmon, WR, Oklahoma State
St. Louis may be inclined to move back from this spot, especially if Justin Blackmon doesn't fit exactly what Jeff Fisher wants to do with the St. Louis Rams.
7. Jacksonville Jaguars—Quinton Coples, DE, North Carolina
With a serious need for help from the defensive end position, the Jaguars will take a player in Quinton Coples who comes in with more questions than answers. It's the upside that makes the pick worth it.
8. Miami Dolphins—Ryan Tannehill, QB, Texas A&M
The Miami Dolphins missed out on the two biggest free-agent QBs on the market this offseason in Peyton Manning and Matt Flynn, and that leaves them in a bad spot.
With most teams in front of the Dolphins on draft day knowing exactly how much Miami wants the Texas A&M star, you could see a team select him and use him as bait to get more picks and players.
No matter how they get the star, if Ryan Tannehill doesn't end up a Miami Dolphin by the end of Day 1, the draft will be a bust.
9. Carolina Panthers—Michael Brockers, DT, LSU
The Carolina Panthers are in a rebuilding mode, so their long-term projection will get much better by taking a raw prospect like Michael Brockers who can take his time to develop.
10. Buffalo Bills—Riley Reiff, OT, Iowa
The Buffalo Bills need depth on their strong offensive line, and Riley Reiff will be too perfect to pass up at No. 10.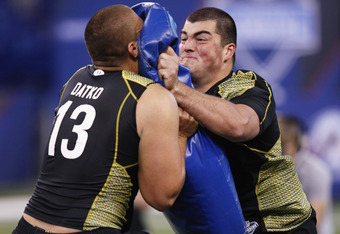 Joe Robbins/Getty Images
11. Kansas City Chiefs—David DeCastro, OG, Stanford
Arguably the best pure offensive lineman in the draft, David DeCastro is the kind of difference maker at guard that could give Matt Cassel and the Kansas City Chiefs the protection they need.
12. Seattle Seahawks—Luke Kuechly, ILB, Boston College
The need for an inside linebacker is one that Luke Kuechly could remedy from Day 1 in Seattle.
13. Arizona Cardinals—Nick Perry, OLB, Southern California
The Arizona Cardinals need for a pass rusher off the edge will lead them to USC's Nick Perry.
14. Dallas Cowboys—Melvin Ingram, OLB, South Carolina
Melvin Ingram offers the versatility to do anything in a Rob Ryan defense that his heart desires. Expect the young star to blitz one play and drop into coverage the next.
15. Philadelphia Eagles—Dontari Poe, DT, Memphis
While the hype machine around the combine had crowds drawing around the amazing talents of Dontari Poe, it has been mostly just that, hype.
Poe was less-than-stellar at Memphis, and if it wasn't for his outstanding combine, most fans wouldn't even know his name.
It's true that the Eagles need a strong run-stopping defensive tackle, but they need a stellar player at any position instead of a reach at a position of need. I see the Eagles trading out of this spot.
16. New York Jets—Michael Floyd, WR, Notre Dame
With Mark Sanchez and Tim Tebow under center, Michael Floyd will feel right at home with the mediocrity under center.
17. Cincinnati Bengals (via OAK)—Kendall Wright, WR, Baylor
A.J. Green takes much of the attention from the defense, which would leave Kendall Wright enough of a window to turn on the burners.
18. San Diego Chargers—Stephon Gilmore, CB, South Carolina
While there are serious needs at offensive line and at wide receiver, the need for a top-tier cornerback to shore up the weak secondary will see San Diego taking the safest pick at the position.
19. Chicago Bears—Coby Fleener, TE, Stanford
With Mike Martz out of town, the Bears can finally utilize their tight end again.
20. Tennessee Titans—Alshon Jeffery, WR, South Carolina
The Tennessee Titans need a serious weapon at receiver for either Matt Hasselbeck or Jake Locker, and Alshon Jeffery may just be their man.
While the team's previous history with diva wide receivers like Randy Moss isn't good, there is enough leadership on the team to overcome a rookie ego.
While he may buy into what the team is selling, it's uncertain exactly how he will respond to possible criticism as he learns the NFL style. If Jeffery does go to Tennessee, it could be a bumpy ride.
21. Cincinnati Bengals—Dre Kirkpatrick, CB, Alabama
With a previous arrest, Dre Kirkpatrick fills the Bengals' qualifications perfectly.
22. Cleveland Browns (via ATL)—Lamar Miller, RB, Miami-FL
Peyton Hillis' replacement in Cleveland will be Miami star Lamar Miller. Watch for Miller as a fantasy sleeper in 2012.
23. Detroit Lions—Cordy Glenn, OG, Georgia
With a history of injuries, the Detroit Lions showed that they need Matthew Stafford healthy. They will protect him with offensive lineman Cordy Glenn.
24. Pittsburgh Steelers—Courtney Upshaw, OLB, Alabama
The Pittsburgh Steelers are getting old on defense fast, so drafting an outside linebacker to start taking the protégé role with James Harrison is the smart move.
25. Denver Broncos—Fletcher Cox, DT, Mississippi State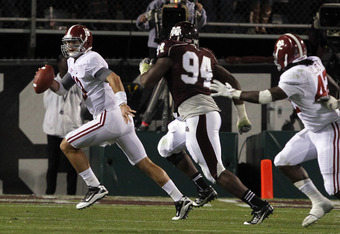 Butch Dill/Getty Images
John Fox wants a huge defensive tackle for his 4-3 scheme and will find it with Fletcher Cox. Watch out for Denver this season.
26. Houston Texans—Stephen Hill, WR, Georgia Tech
The lack of Andre Johnson this year exposes a serious lack of depth at wide receiver for the Texans. Stephen hill is a stretch for me, but a player that fits the team's style and mindset.
27. New England Patriots (via NO)—Andre Branch, OLB, Clemson
With no pass rush costing the New England Patriots all season, the team will spend their first first-round pick on an outside linebacker that can absolutely bring the heat from the edge.
28. Green Bay Packers—Whitney Mercilus, OLB, Illinois
While still very raw, Whitney Mercilus has the versatility to play defensive end or outside linebacker for the Packers. Wherever he plays, he will be the ultimate compliment for Clay Matthews.
29. Baltimore Ravens—Dont'a Hightower, ILB, Alabama
Ray Lewis will find the player he will eventually hand the torch to. Hightower will have the best on-job training you could ever wish for.
30. San Francisco 49ers—Peter Konz, OG, Wisconsin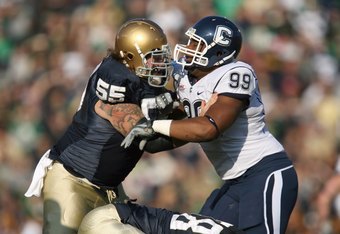 Jonathan Daniel/Getty Images
If Peter Konz falls this far, I don't think Jim Harbaugh could pass him over.
31. New England Patriots—Kendall Reyes, DE, Connecticut
While the Patriots' first pick was an outside linebacker that can rush the passer, their second will be just as big of a key. Kendall Reyes is the 3-4 defensive end that New England has been searching for over the last four years.
32. New York Giants—Mike Adams, OT, Ohio State
With a need at middle linebacker already addressed, the New York Giants can go back to fixing the offensive line that needs as much help as any Super Bowl-winning line possibly could.
Check back for more on the National Football League as it comes, and check out Bleacher Report's NFL Page to get your fill of all things football.