Chinese Grand Prix 2012: Nico Rosberg Takes Perfect Victory at Superb Event
April 15, 2012

Clive Mason/Getty Images
It took seven long years, but Nico Rosberg finally kicked two long-standing monkeys off his back at the Chinese Grand Prix. First, by taking his first ever pole, and then by converting that into his first ever race victory (and Mercedes's first pole/victory since 1955).
The 2012 Chinese Grand Prix weekend was great from start to finish and it was very welcome and refreshing to view such a close qualifying session.
Of course, Q1 was a waste of time. I think it is worth mentioning how impressive Heikki Kovalainen was for Caterham, but in that car, a driver of his quality just can't get any higher than P18 unless there is a crash or something.
If you ask me, get rid of all of the new teams and put Kovalainen in a decent car… Simple as that.
Fortunately, Qualifying two and three more than made up for the joke that has become Q1. Many commentators were shocked to see just how close the field was and it was great to see the likes of Lotus, Sauber and Williams fighting it out on an even footing with Ferrari and Red Bull.
It quickly became clear that the fight for pole was going to be between McLaren and Mercedes GP. This fight was made ever more exciting by the fact that Lewis Hamilton was to take a five-place grid drop after a gear box change.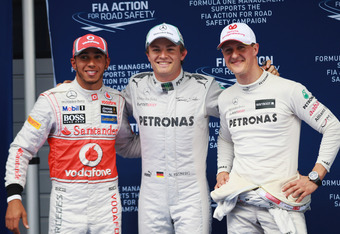 Mark Thompson/Getty Images
Perhaps the biggest shock of qualifying was the early exit of Sebastian Vettel after the Red Bull man just couldn't find the speed to survive. This was a double blow for Vettel, as he was running an older spec car than his teammate. (Vettel doesn't seem to like the way the Red Bull is developing and so reverted to the same chassis used in the Barcelona tests, whilst Mark Webber used the latest chassis with visible aerodynamic evolutions.)
The Ferraris were again embarrassed by their sister team Sauber and Lotus did an excellent job to finish qualifying where they did. In the end, Mercedes were just too quick for McLaren and Rosberg's first hot lap time of Q3 was enough to give him the confidence to get out of his car before the session was over.
So after a close qualifying session, the pieces were set for some fantastic action on Sunday and although we did eventually get a rocket show, it would be more than fair to say that the race was a slow burner.
Rosberg got off to a great start and left Schumacher behind in P2. Both McLarens were strong off the line and both Red Bulls went backwards.
After the usual initial chops and changes, the race developed into an early lull. The top 10 drivers at this point were: Nico Rosberg, Michael Schumacher, Jenson Button, Kimi Raikkonen, Lewis Hamilton, Sergio Perez, Kamui Kobayashi, Fernando Alonso, Mark Webber and Felipe Massa.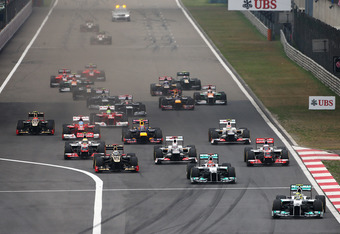 Clive Mason/Getty Images
Webber caused a stir on Lap 7 when he pitted very early for some new tyres. This did seem like a very premature pit stop, but it concerned the other teams enough to bring their drivers in soon after.
These stops caused a few minor position changes, but the positions of the front runners were unaffected. There were some great little pit exit battles between the likes of Schumacher, Alonso, Webber and Raikkonen.
Schumacher provided the day's first and only retirement on Lap 13, when he was forced to retire after his front left tyre was not fitted correctly. This was a real shame for both driver and team, as a Mercedes one/two finish was looking very possible even in these early stages.
The race then calmed again until Webber triggered round two of the stops on Lap 22. These stops brought some welcome action, though, as both McLarens found themselves in unwanted traffic having worked so hard to close the gap on Rosberg over the previous laps.
It was also very interesting to see Alonso opt for the soft tyres on his second stop, illustrating a Ferrari strategy split. This all contributed to some close racing and some great overtakes.
Button was the man in form and by this stage had established himself as the most likely man to upset a Mercedes victory. However, whilst Button was able to get past his rivals, Hamilton looked a lot less sure of himself and struggled to make key early places. The McLaren man found his mojo eventually, but I would argue that his early caution cost him the victory.
It was also at this stage that teams began to think about how long they could keep drivers out and this inadvertently made the race exciting. As the likes of Massa, Raikkonen and Perez wrestled with older tyres, they created tantalising trains of fast cars behind them.
Desperate attempts and superb overtakes followed over the following laps and it was clear that the race had finally ignited by Lap 35.
Unfortunately, the race for first place was effectively killed after McLaren struggled to fit Button's left rear in a crucial pit stop. In reality, after Rosberg's final stop, I don't think Button had done enough during his time out in front to open up a big enough gap, but it was a shame to lose the prospect of a similar finish to the one we were treated to in Malaysia.
A few laps later, a fascinating train had developed. Rosberg was out in front and cruising, but from P2 to P11, the race was on and nobody's result was confirmed. This train was a result of some fantastic driving and tyre management from Massa in second and Raikkonen in third.
The following laps gave us some awesome racing with fights between Alonso, Perez, the Red Bulls, McLarens and even Lotus and Williams.
Both Williams drivers drove fantastically and held up Hamilton and Alonso for many laps. The McLaren man was able to get through eventually but Alonso's overeagerness to get past saw him go ever so slightly wide coming out of Turn 6. In normal circumstances, this would be no big deal, but the 2012 Chinese race seemed to be killing tyres and the rubber "marbles" were so thick off the racing line that the Ferrari man found himself almost aquaplaning off the track and losing a place to Perez.
Alonso eventually repassed his foe from Malaysia but struggled to get any higher. His teammate was eventually forced to pit, eliminating one of the hurdles from the front, but Raikkonen stayed out.
Unfortunately for Raikkonen, around Lap 49, his tyres just fell away and the Lotus man dropped from P2 to P10 in the space of one lap. This released the pack, though, and craziness ensued.
The last six laps were a desperate race to confirm the points-paying positions and gave us some ace stuff, particularly from the Red Bulls and McLarens. In the end, Button was able to hold onto P2 and Hamilton did a great job to fight to P3.
My driver of the day was probably Webber, though, as he was able to take his teammate on the penultimate lap at the final corner to secure a super P4 finish in a below par car.
I was a little worried coming into the Chinese Grand Prix that McLaren were about to pull away like Red Bull did last year, but I can't remember the last time I saw such great close racing. Personally, I was so glad to see such a great race without the significant use of DRS (it was just too slippery off the racing line).
I like Nico Rosberg, so I was pleased to see him finally win, but I think the best thing we can draw from this result is that in three races, we have seen three different winners from three different teams.
McLaren clearly have the edge and the current championship positions show this, but if the rest of the pack can perform like they did today in future races, it'll be far from a cake walk for Button and Hamilton.
(I would also just like to add at the end that I thought the BBC coverage was excellent. This was our first chance to see the BBC take on a full race weekend after they were raided by Sky F1. Also, I was impressed with James Allen in the practice session. Allen has taken a lot of stick in the past, but I think he did very well when you consider the boots he had to fill.)
Drivers' Championship top three
Lewis Hamilton 45
Jenson Button 43
Fernando Alonso 37
Constructors' Championship top three
McLaren 88
Red Bull 64
Ferrari 37
Final result:
1 Nico Rosberg, Mercedes
2 Jenson Button, McLaren-Mercedes
3 Lewis Hamilton, McLaren-Mercedes
4 Mark Webber, Red Bull Racing-Renault
5 Sebastian Vettel, Red Bull Racing-Renault
6 Romain Grosjean, Lotus-Renault
7 Bruno Senna, Williams-Renault
8 Pastor Maldonado, Williams-Renault
9 Fernando Alonso, Ferrari
10 Kamui Kobayashi, Sauber-Ferrari
11 Sergio Perez, Sauber-Ferrari
12 Paul di Resta, Force India-Mercedes
13 Felipe Massa, Ferrari
14 Kimi Räikkönen, Lotus-Renault
15 Nico Hulkenberg, Force India-Mercedes
16 Jean-Eric Vergne, STR-Ferrari
17 Daniel Ricciardo, STR-Ferrari
18 Vitaly Petrov, Caterham-Renault
19 Timo Glock, Marussia-Cosworth
20 Charles Pic, Marussia-Cosworth
21 Pedro de la Rosa, HRT-Cosworth
22 Narain Karthikeyan, HRT-Cosworth
23 Heikki Kovalainen, Caterham-Renault
RET Michael Schumacher, Mercedes