Paul Konerko: Will the Chicago White Sox Legend Play into His 40s?
April 15, 2012

Brian Kersey/Getty Images
Riddle: What do Santa Claus and Paul Konerko have in common?
Answer: They continue to thrive despite their increasing age.
(Then again, does Old St. Nick really ever get "old?")
At the rate things are going for Paulie, he might as well trade in his White Sox uniform for a Santa suit. Although Konerko would make a great Santa Claus, Sox fans would like to see him stick around the starting lineup for a while.
The real question is, how old will Konerko be when he finally decides to hang his cleats up?
If all goes well, No. 14 could hypothetically be manning first base for the Pale Hose for many years to come. If you really think about it, Konerko's got a couple things working in his favor.  
Throughout the duration of his career, this veteran really hasn't had to deal with a ton of injuries.
Yeah, he's had the occasional nick or that nagging hand injury. Nonetheless, Konerko has consistently been on the field throughout his 14 seasons with the club. Freak injury aside, he clearly knows how to stay on the field. Only once has Konerko played less than 140 games as a member of the White Sox.  
Talk about a guy who doesn't call in sick to work too often.
As slow-footed as the Rhode Island native might be, his physical shortcomings might actually keep him around longer.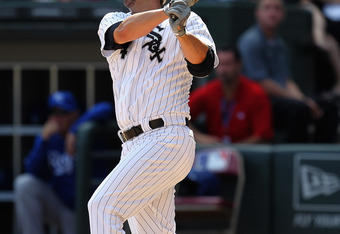 Jonathan Daniel/Getty Images
Typically, athletes who rely on athleticism and brawn have a harder time playing into their later years than guys like Konerko.  
A student of the game, Paulie has grown wiser throughout his many years of experience.
To his credit, he's become a patient and selective power hitter—and not many people can say that. In his last two seasons, Konerko has not only hit more than .300 but he has also slugged more than 30 home runs and driven in 100 RBI. Those feats don't happen by accident.  
While Konerko might not be getting faster any time soon, I expect to see the Sox legend playing at a high level for at least the next two seasons.  
Who knows, maybe Konerko can become the next Julio Franco and play until the age of 49.