Jamie Moyer and 10 MLB Stars Who Stuck Around Too Long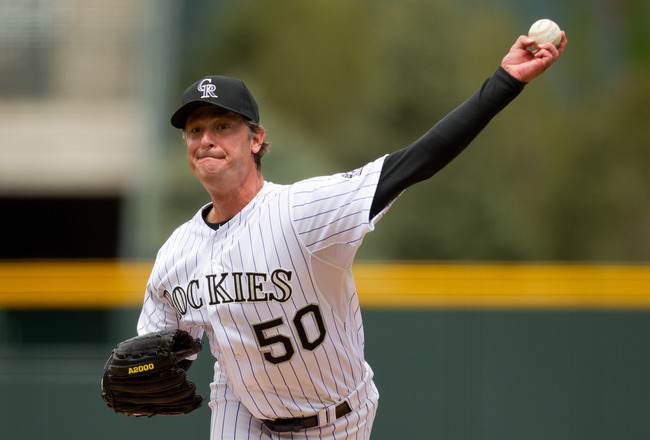 Justin Edmonds/Getty Images
Ever feel like your dad could play baseball? Well, with the age some players are reaching, your dad could be younger than many MLB players.
Jamie Moyer embodies the sort of player who has competed for too many years. At 49-years-old, Moyer is among the oldest to ever play the game.
Moyer and 10 other MLB stars from the recent past have stuck around too long, and as a result have hurt their franchises. Read on to find out who.
Jamie Moyer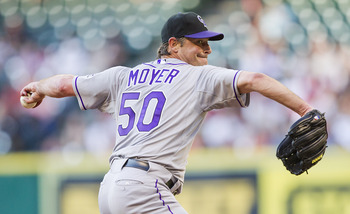 Bob Levey/Getty Images
How could this guy not make this list? Colorado Rockies pitcher Jamie Moyer is 49 years old and still landed a starting spot in the Rockies' rotation.
Moyer currently has 267 wins and his next victory would make him the oldest winning pitcher in the history of the sport. He should have retired almost an entire decade ago, when he was 40. Since turning 41, Moyer is 82-74 with a 4.59 ERA.
Moyer has faced 8.9 percent of MLB hitters—all-time. While the story of a 50-year-old pitcher still pitching well is nice, it's time to take the glove off and call it a career.
Moyer won't listen and has a chance to become one of the worst pitchers to ever record 300 wins. Including this season, Moyer needs to average 11 wins per season for the next three to reach that plateau.
Tim Wakefield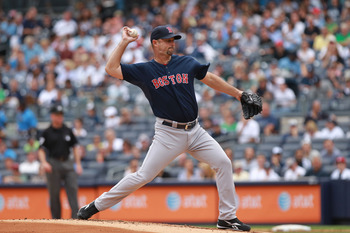 Nick Laham/Getty Images
Like Moyer, retired Red Sox pitcher Tim Wakefield stuck around too long. One of the few knuckleball pitchers in MLB, Wakefield was still lit up in his twilight years.
Wakefield's last six years, all with the Red Sox, were painful to watch. Wakefield was 56-57 with a 4.74 ERA during those years, and finally made the right call last offseason by deciding to retire.
Chipper Jones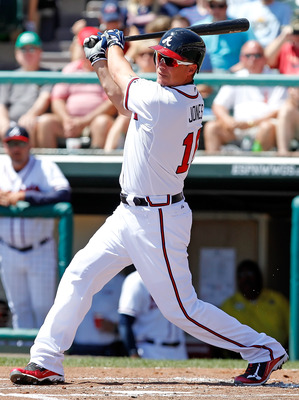 J. Meric/Getty Images
After the 2012 season, Braves third baseman Chipper Jones will call it a career.
Jones always seems to suffer minor injuries and has spent more days listed as "day-to-day" than any player in recent memory.
His body cannot stay healthy for a sustainable period of time and this has crippled the Braves' franchise over the past few years.
Jones' production also has begun to decline ever since winning the batting title with a .364 clip in 2008.
From 2009 to the present, Jones has a .270 batting average and 48 homers, spanning a little more than three seasons.
Omar Vizquel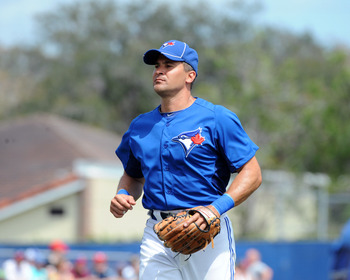 Al Messerschmidt/Getty Images
At 44-years-old, Blue Jays shortstop Omar Vizquel is one of the oldest active players in baseball. And he turns 45 in a week.
Vizquel was never a great offensive player and his legacy will be characterized by his defensive abilities, but now he is playing at below-replacement level.
In his last four years, he has a combined WAR of -0.4 according to baseball-reference.
It's time to hang up the cleats. If he still loves the game of baseball, a team could use him as an assistant coach.
Greg Maddux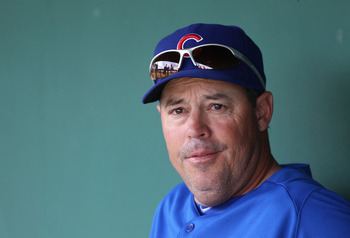 Christian Petersen/Getty Images
Greg Maddux is one of the greatest pitchers of the last generation, but he stayed around too long. Maddux had 19 seasons with 15 or more victories, but clearly declined after he left Atlanta via free agency.
Since he left the Braves after the 2003 season, Maddux was 66-64 with a 4.16 ERA, clearly much worse than his Cy Young winning seasons.
Ken Griffey Jr.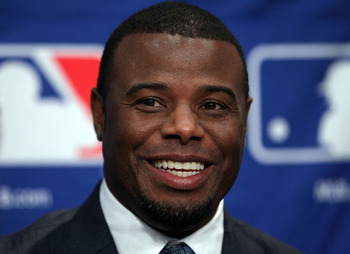 Doug Pensinger/Getty Images
Ken Griffey was on his way to becoming one of the greatest hitters to ever play, but then he got hurt. Again. And again. And again.
Since turning 30, Griffey hit .260 with an average of 19 homers per-season.
The 10-time gold glove winner's incredible defense led to his downfall, as one of his famous crashes against the wall resulted in an injury.
Griffey was never the same after that injury and attempted to play baseball for a longer period of time than his body allowed.
In 2009 Griffey returned to the place where he got his start—Seattle, but ended up being a distraction and ultimately retired in 2010.
Jim Thome
Jonathan Ferrey/Getty Images
Jim Thome is the second player on this list in the 600 home run club, but this is his second year past the point when he should've retired.
His return to Philadelphia is a nice story, but he's not receiving any playing time right now even with Ryan Howard out. He is better suited to playing designated hitter in the American League.
Last year, he hit .256 with 15 homers and is currently 1-for-10 in 2012.
Ivan "Pudge" Rodriquez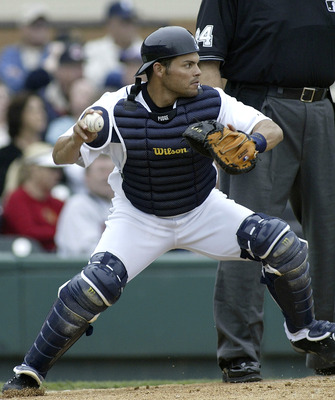 Rick Stewart/Getty Images
Ivan "Pudge" Rodriquez won't give it up. At 40-years-old, which is equivalent to 50 in catcher years, Rodriquez still wants to play. My question is, why?
Rodriquez is one of the more decorated catchers in recent memory, winning an MVP award in 1999. He is also famous for his defensive mastery behind the plate.
He has already played well-past his prime, and as a consequence, has seen his career batting average dwindle from .301 after the 2008 season to the .296 clip he currently owns.
In the last four years, Rodriquez has played for five teams. Clearly, they all realize he can't play anymore and he should come to that realization too.
Jason Varitek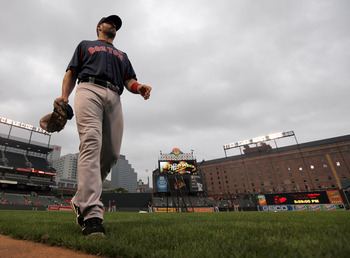 Rob Carr/Getty Images
Jason Varitek used to be one of the most popular Red Sox players after playing a central role in the 2004 ALCS where the Sox famously came back from a 3-0 deficit to defeat the New York Yankees.
But since then, Varitek hasn't risen to the level we saw in that series.
From 2006 to 2011, Varitek had a .230 batting average, prompting his emotional retirement early last month.
Rickey Henderson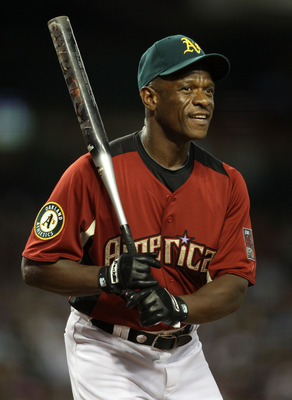 Christian Petersen/Getty Images
Obviously, Rickey Henderson is the greatest leadoff man of all-time, with 1,406 career steals, a record that won't be broken for quite some time.
Outside of his steals, Henderson was a mediocre player in the twilight of his career. From 1996 until he retired in 2003, Henderson hit .247 with an OPS+ of 99, when 100 is considered average.
During that time he played for seven different teams, and clearly none thought he was valuable enough to the ballclub to bring him back.
When he retired in 2003 at age 44, it was about time.
Manny Ramirez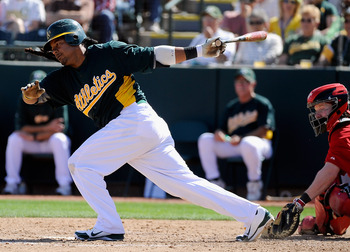 Kevork Djansezian/Getty Images
Did you know Manny Ramirez is still in the major leagues? Currently he is serving a 50-game suspension for testing positive for human chorionic gonadotropin (hCG), a women's fertility drug.
He "retired" in 2011, and should have stayed that way. Instead, he is a major distraction, but he is the only person that could make the A's franchise relevant.
He can probably still play, but his effort has always been in question and prefers to just "be Manny."
Keep Reading

Colorado Rockies: Like this team?